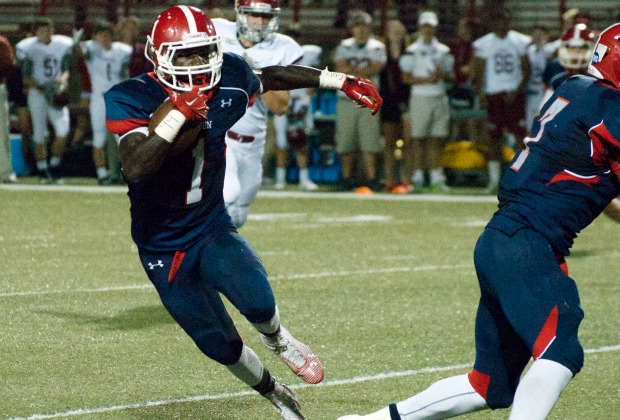 Photo by David Wilson
Blessed Trinity is expected to wrap up the No. 1 seed in Region 4-AAA when it faces the other sub-region winner, Cedar Grove, in Friday's championship game. The play-in games in that region are North Clayton at Westminster and Jackson at Washington. The Jackson-Washington clash is a rematch of a regular-season game played on Sept. 12, won by Jackson 28-27.
Elsewhere in Class AAA, Central-Carroll is traveling to Callaway for the Region 5 title game. The undefeated Lions had two 100-yard rushers (Jayleen Terry and Byron Brown) in last week's win over Rockmart that clinched their sub-region. Lumpkin County is paying a visit to West Hall for the Region 7 championship game and Hart County is hosting Jefferson with the No. 1 seed in Region 8 at stake. Traditional powerhouses Washington County (Region 3) and Calhoun (Region 6) have already clinched top seeds in the state playoffs.
Class A will crown region champions this weekend but the playoff seeding will not be determined until the power rankings sort out the Class A-Public and Private brackets. The championships in Class A Regions 3, 6 and 7 will be decided by head-to-head collisions on Friday. Emanuel County Institute is playing at Calvary Day in Region 3, Mount Paran is hosting Mount Pisgah for the Region 6 title and Aquinas will try to take care of business at home against Tattnall Square in Region 7. Region 8 also has to be decided, although the picture is less clear.
Commerce, Prince Avenue Christian and Athens Christian are locked in a three-way tie at 6-1 and they are all 1-1 in the proverbial round-robin meetings between the three teams. All three are playing at home on Friday: Lakeview Academy at Commerce, Providence Christian at Prince Avenue Christian and Hebron Christian at Athens Christian.