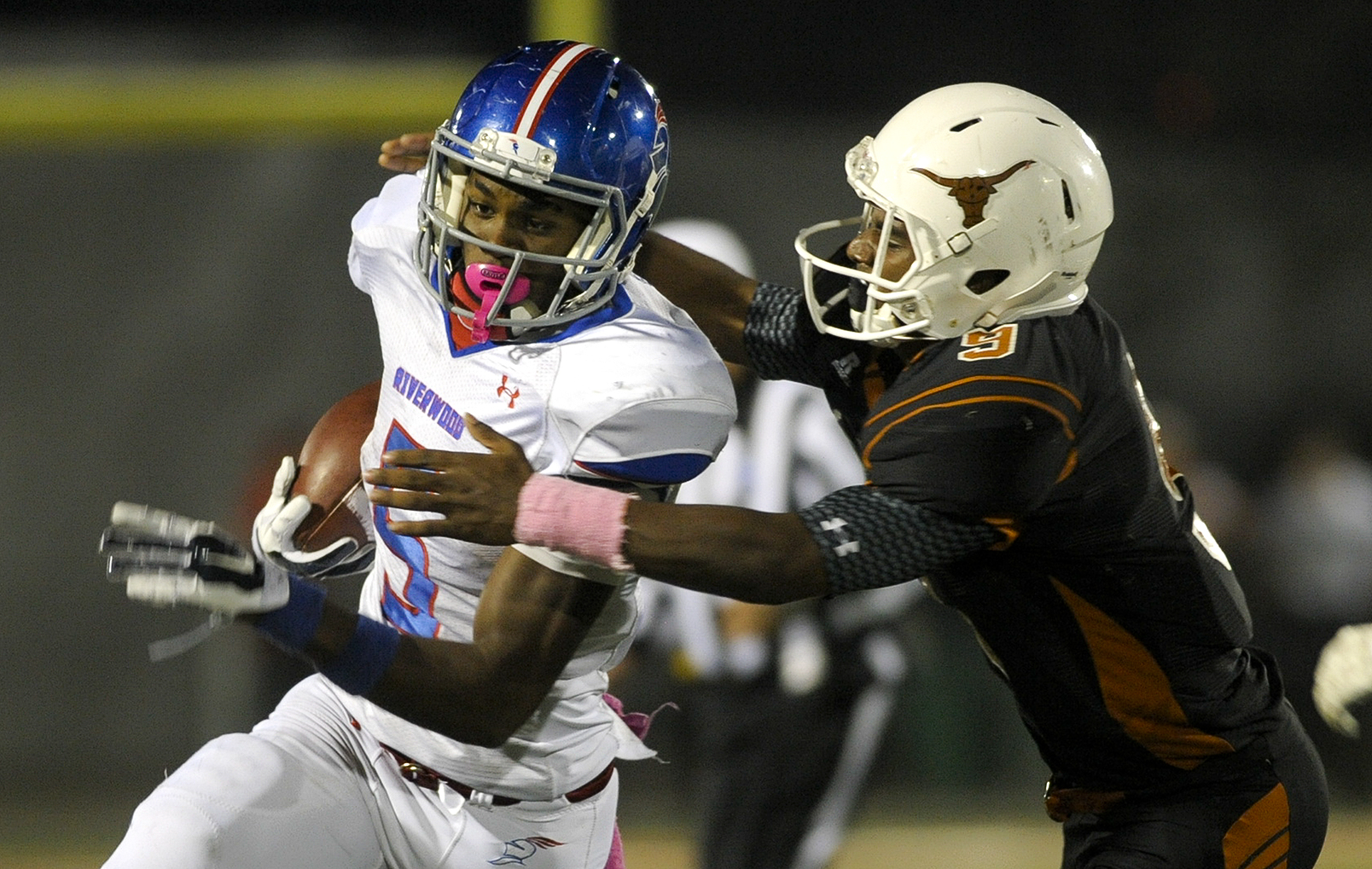 AJC.com
It is the last week of the regular season but the playoff picture remains a fight to the finish in every classification across the always competitive Class AAAAA. Here is the breakdown of all the scenarios.
Region 1 (faces Region 4 Round 1)
Carver-Columbus clinched the top seed out of Region 1. Northside-Columbus (4-1) can clinch the No. 2 seed with a win over LaGrange (3-2). LaGrange lost to Carver-Columbus and Columbus (3-3) and would go into a tie for the third seed with a loss to Northside. LaGrange would drop to 3-3 with Columbus, who finished its season last Friday, and with Shaw, who can move to 3-3 with a win at Harris County this Friday.
Region 4
Undefeated Northgate and unbeaten Stockbridge play for the 1 and 2 seeds out of Region 4 Friday night. Drew (5-1) and Woodland (4-1) square off for the third seed and Dutchtown and Starr's Mill play for the fourth seed.
Region 2 (faces Region 3 Round 1)
Northside-Warner Robins (8-0), Houston County (7-1), Jones County (7-1) and Warner Robins (6-2) are guaranteed playoff spots out of Region 2.  Warner Robins' only chance at avoiding the No. 4 seed is with a win over Jones County this Friday and a Houston County win over Northside, since Jones County defeated Houston County and all three teams would then have two losses. If Northside-Warner Robins beats Houston County and Jones County defeats Warner Robins, Jones County will take the No. 2 seed and Houston County would drop to No. 3.
Region 3
Coffee (6-1) can clinch the Region 3 title with a win over 0-9 Bradwell Institute Friday night. The only way the Trojans will not take No. 1 is if they drop Friday's match with the winless Tigers and Glynn Academy (6-1) defeats South Effingham (5-2) to move to 7-1. Glynn Academy will be the No. 2 seed if they can defeat South Effingham. If South Effingham wins to improve to 6-2 and Ware County beats Brunswick to improve to 6-2, it would force a three-way tie with Glynn, Ware and South Effingham all sitting at 6-2. Effingham County (4-3) can only sneak in with a win over Statesboro and a Ware County loss to Brunswick.
Region 5 (faces Region 8 Round 1)
Allatoona (7-1) can clinch the No. 1 seed with a win over Chapel Hill Friday night. East Paulding (6-2) is still alive for a possible region championship as the only team that has topped the Bucs in region play this year. It is highly unlikely, but East Paulding could take No. 1 if Allatoona loses to Chapel Hill, Alexander (6-2) loses to New Manchester and South Paulding loses to Hiram.  East Paulding's two losses came to South Paulding and Alexander. South Paulding, which beat Alexander and East Paulding this year can clinch No. 2 with a win over Hiram. Alexander needs a win over New Manchester and a South Paulding loss to claim No. 2. The only way Paulding County (5-3), which beat South Paulding 32-28 this year, can sneak into the playoffs is with a win over Lithia Springs and a South Paulding loss to 3-6 Hiram.
Region 8
Region champion Lanier has already clinched the No. 1 seed as the 9-0 Longhorns host Apalachee. Gainesville (6-2) controls its destiny for the No. 2 seed and can clinch with a win over Flowery Branch (5-3). Loganville is also 6-2 but lost to Gainesville (and Lanier). The Red Devils would need a Gainesville loss and a win over Clarke Central to clinch the No. 2 seed from the Red Elephants. Flowery Branch, which lost to Winder-Barrow (5-3) this season, can secure the No. 3 seed with a win over Gainesville and a Winder-Barrow loss to Heritage-Conyers. If Flowery Branch wins and Winder-Barrow wins, Gainesville, Flowery Branch and Winder-Barrow would all move to 6-3 in region play.  When you include Loganville, it is still possible for four teams to finish Friday night 6-3 in Region play.
Region 6 (faces Region 7 Round 1)
Two big matchups will take place as the sub-divided Region 6 clashes. Stephenson (8-1) travels to Lakewood Stadium to take on undefeated Mays (9-0) at 7:30 pm on Friday for the Region 6-5A championship. The Miller Grove Wolverines host Carver-Atlanta (6-3) at 7:30 pm on Friday at Hallford Stadium. Miller Grove (5-4) can secure a winning record for the first time in three years and tie the school record for wins with a victory. This winner will take the No. 3 seed.
Region 7
Sub-regions can lead to chaos entering the final week and this region's list of scenarios would make the BCS seem indisputable. Dalton, Creekview, Cambridge, Kell and Riverwood are all 5-1 entering this week. Dalton and Kell square off for the No. 1 and 2 seed. The winners of Cambridge at Creekview and Riverwood at Rome will take the third and fourth seed.