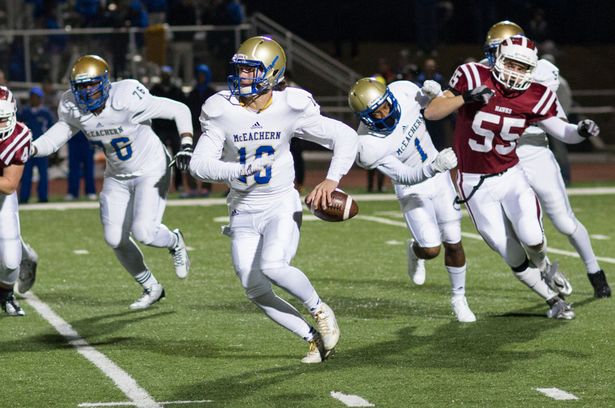 AJC.com
It is the last week of the regular season but the playoff picture remains a fight to the finish in every region across the state's highest classification. Here is the breakdown of all the scenarios.
Region 1 (faces Region 4 Round 1)
Undefeated Camden County and Colquitt County square off in Kingsland, Ga. Friday night to determine the No. 1 and 2 seed out of Region 1. Valdosta is currently in position for the No. 3 seed with a 2-2 region record and wins over Lowndes (1-3) and Tift County (0-4). Valdosta plays 1-3 Lee County Friday night for the No. 3 seed. If Lee County beats Valdosta and Lowndes (already beat Lee County) beats Tift County, it would force a three way tie for the final two spots with Valdosta, Lowndes and Lee County all finishing at 2-3.
Region 4
In Region 4, McEachern (5-0) plays Hillgrove (4-1) for the No. 1 seed. The Indians are guaranteed at least a No. 2 seed regardless of the outcome but Hillgrove is not. If Hillgrove loses to McEachern and North Cobb (3-2) defeats Kennesaw Mountain (0-5) it would give the edge to North Cobb for the No. 2 seed, since the Warriors defeated Hillgrove 19-7 this year and would own the tiebreaker. North Paulding finished its season last week at 3-3 and currently sits at No. 4 but Harrison (2-3) has a chance to take the final playoff spot with a win at Marietta on Friday. The Hoyas defeated North Paulding 35-13 this season and would own the tiebreaker with a 3-3 region finish over the 3-3 Wolfpack.
Region 2 (faces Region 3 Round 1)
Six-team Region 2 will likely see a three way tie for the No. 1 seed as Newton, Lovejoy and Tucker each sit at 3-1 entering the final week but it has already been determined by the 'Arkansas Point System' if the top three teams successfully defeat the three teams sitting at 1-3 in region play this weekend. If the three top seeds win, there will be no coin flip and Newton will get No. 1, Tucker will get No. 2 and Lovejoy will get No. 3 and Lakeside would get No. 4.
Thanks to Newton head coach Terrance Banks for breaking it down. The Arkansas Point System was capped at 15 as Newton beat Tucker by 15 this year and lost to Lovejoy by 4, giving the Rams 11 points. Tucker lost to Newton by 15 points but beat Lovejoy by 10 so they have -5. Lovejoy beat Newton by 4 but lost to Tucker by 10, so they have -6.
Lakeside lost to Alcovy by 4 but beat Rockdale by 15+, so they have 11. Rockdale got 15 points for the win over Alcovy and minus 15 for the loss over Lakeside to give them zero points. Alcovy received four points for the win over Lakeside and minus 15 points for the lost to Rockdale to cap them at -11.
Lovejoy plays a 1-9 Alcovy (1-3 Region), Tucker faces 4-5 Lakeside (1-3 Region) and Newton hosts 2-7 Rockdale County (1-3 Region).
Region 3
In Region 3, the four playoff teams are set but the seeding remains a question barring a few upsets. Newnan (5-1), Westlake (5-1), Hughes (5-1) and East Coweta (4-2) are guaranteed playoff spots. Westlake plays 1-9 Campbell Friday and controls its own destiny for the top seed. The Lions defeated Newnan and Hughes this season and their loss was to East Coweta, which has losses to both Hughes and Newnan. Newnan and Hughes play for the No. 2 seed Friday night unless Westlake loses to Campbell and East Coweta defeats South Cobb, which would complicate everything. Since Westlake lost to East Coweta, if Campbell found a way to beat the Lions, it would put Westlake, East Coweta and the loser of the Hughes-Newnan game in a tie at 5-2 and the winner of the Hughes-Newnan game would get the No. 1 seed.
Region 5 (Faces Region 8 Round 1)
Roswell (7-0) can clinch the No. 1 seed out of Region 5 with a win over Etowah (6-1) this Friday. An Eagles win over Roswell would force a three-way tie with Walton (6-1) if the Raiders can defeat Cherokee this Friday and move to 7-1 in Region play. If Roswell beats Etowah then Walton is guaranteed the No. 2 seed regardless of the outcome of their matchup with Cherokee. The No. 4 seed comes down to Lassiter, Wheeler and Milton which all currently sit at 3-4. Milton faces Pope and can keep its playoff hopes alive with a victory but needs help from Lassiter. Milton lost to Wheeler but would own the tiebreaker over the Trojans with their 18-12 victory. Lassiter's only hope to make the playoffs is a win over Wheeler and a Milton loss to Pope.
Region 8
Grayson earned the No. 1 seed after completing a perfect regular season last Friday and Archer clinched No. 2 as it gets set to close the regular season at home with Brookwood this Friday. Central Gwinnett (4-3) is most likely to take the No. 3 seed as they close the season against 0-9 Berkmar and own the tiebreaker over Parkview and Dacula (4-3). Dacula beat Brookwood (4-3) and could clinch the No. 4 seed with a win over Parkview (3-4).
Region 6 (Faces Region 7 Round 1)
Lambert (8-0) plays South Forsyth (7-1) for a chance to clinch the No. 1 seed Friday night. If South Forsyth wins, the War Eagles would be the top seed, but a loss could push them all the way to No. 3. West Forsyth can move to 7-2 in region play with a win over Johns Creek on Friday and would own the tiebreaker with South Forsyth after defeating them 38-34 this year. The No. 4 seed is still up for grabs. Johns Creek (4-4) needs the most help. Johns Creek (4-4) must beat West Forsyth on the road and needs Northview (4-4) to beat Centennial (5-4). This would force a three-way tie with 5-4 region records. A Centennial win over Northview would guarantee a No. 4 spot. If Northview beats Centennial and West Forsyth beats Johns Creek then the Titans will take the No. 4 seed.
Region 7
Region 7 faces only two scenarios. Mill Creek (6-0) hosts Peachtree Ridge (6-0) for the No. 1 seed and the loser will get the No. 2 seed. Norcross (4-2) will host Collins Hill (4-2) for the No. 3 seed and the loser will take No. 4.