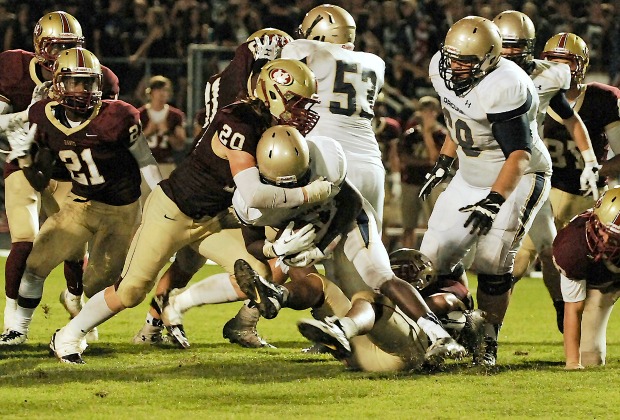 Photo by Sonny Kennedy
The GHSA is holding meetings regarding different proposals for the upcoming reclassification in 2016.  The populations of the school, travel, time out of class and playoff spots are the main factors when it comes to sorting out the regions and classes each reclassification cycle.  And what this year's discussions are proving is that everyone wants to make the playoffs. This year's discussions are pushing for new change with the creation of a "Big 44". The driving force of making a Big 44 is to separate the Class AAAAAA giants that have enrollments nearly doubling other Class AAAAAA schools.
The Big 44 will be a classification consisting of approximately 44 of the biggest schools in the state in terms of enrollment and would be known as Class AAAAAAA. Playoffs could look very different under this hierarchy because the plan is to still send 32 teams to the playoffs in sports like football. Using power rankings for the playoffs is something that is being addressed within the proposal as well.  Most of the talk surrounding Class A has been similar to the current divided Class A-Private and Class A-Public structure, so that leaves us with the big question. What do you do with the remaining schools in the middle?
Based on the math of having a Big 44 and keeping the current Class A structure, that will leave approximately 300 schools to be divided within classifications. GHSA executive committee member Dave Hunter suggests keeping the remaining teams in a traditional eight region, Class AA-AAAAA structure, but committee chair Earl Etheridge is proposing a tiered system to house the schools.  Etheridge's tiered system would create three classes in the middle with each one having an upper tier and lower tier. The tier's would be based off school size and play separate championships.
Under Hunter's proposal, the GHSA would continue to crown seven state champions in football, but Etheridge's would result in nine state champions each year. In sports with both genders like basketball, that would be 18 state title games.
Whatever structure is decided on, the other issues being discussed include out of zone students, selective enrollment and permissive transfers. All decisions must be made by August.