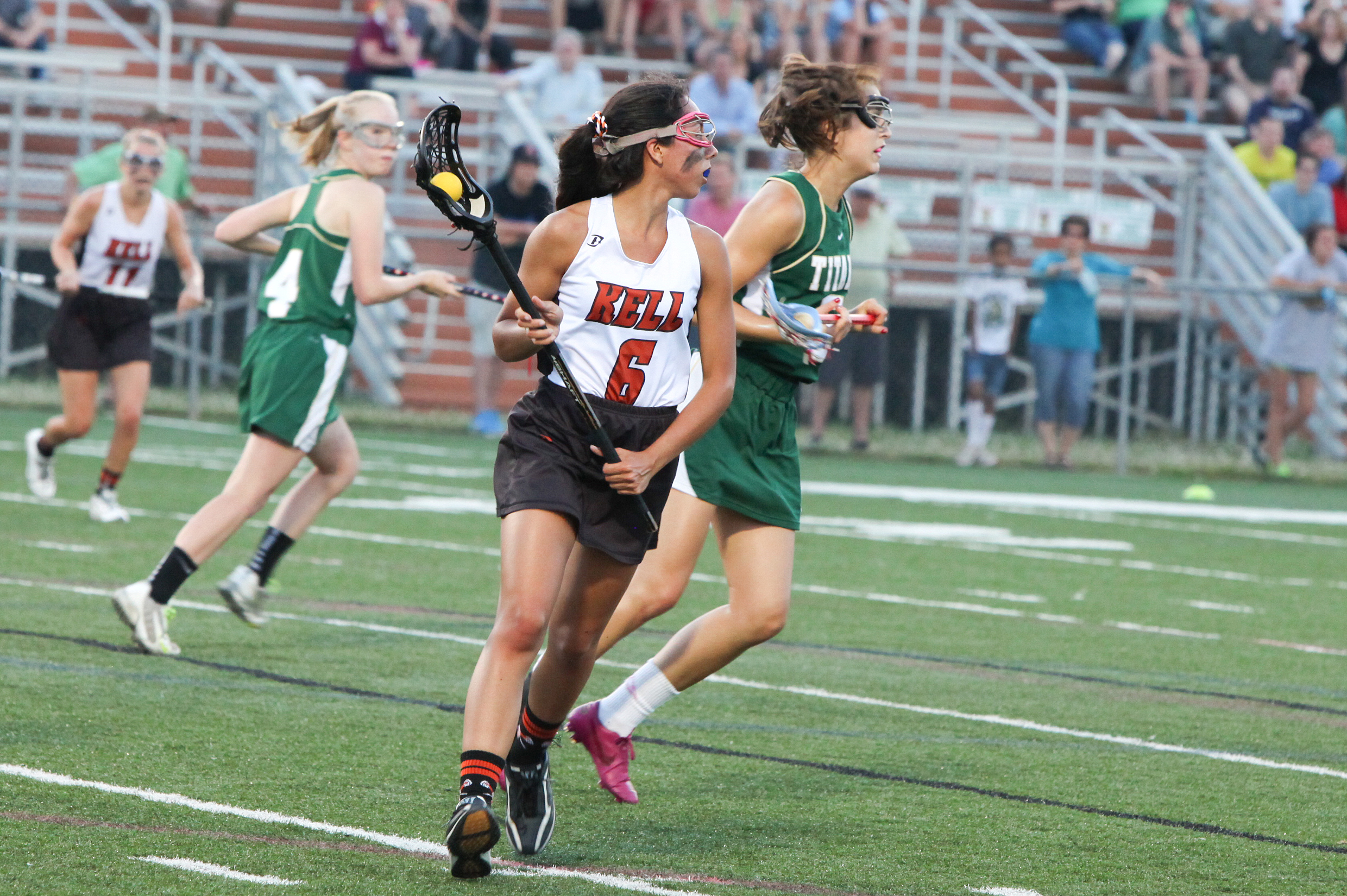 Photo by Deanna Fiveash
The Kell Longhorns used an 11-10 win over Westminster in last year's Class A-AAAAA state championship to become the first Cobb County girls team to ever take home a lacrosse state title.  Last year's playoff run tested the Longhorns and they had to hold off Blessed Trinity 12-11 in the semifinals before facing the four-time defending champs in the finals. This year's playoffs, however, have seen absolute dominance and after Kell closed its season with a 16-8 statement win over Westminster, they have outscored Holy Innocents' (21-4) and Woodward Academy (20-5) by a combined 32 goals in the first two rounds. As impressive as Kell has been, Cambridge, who will play host to the Longhorns on Wednesday has been equally impressive. The top-seeded Bears are a perfect 18-0 against instate opponents this season and have scored double-digit goals in every game this season. Kell's 32 goal advantage in the playoffs is matched with a notable 29 goal advantage by Cambridge and it came against a ranked Sprayberry team and Lovett in the first two rounds. These two schools only shared one common opponent this year, but the results only bring more light to both team's prowess. Cambridge defeated Holy Innocents' 23-4 on April 16 and Kell defeated the Golden Bears 21-4 in their first round playoff win.
In Wednesday's other semifinal matchup, Westminster will host Blessed Trinity. Westminster's only instate loss was to previously-mentioned Kell this season and they are coming off a 19-3 quarterfinal victory over a 15-4 St. Pius team. Blessed Trinity's only loss within the classification was to Cambridge (13-3) on March 20 and the Titans rolled past Creekview (16-7) in the first round before exploding for 21 goals in their 21-6 quarterfinal victory over McIntosh.
In Class AAAAAA, Tuesday's final four slate is a lot more familiar with one another. Area 2 sent the same three teams to the semis for the third straight year (Walton, Lassiter, Milton) and rivals Lassiter and Walton will battle for a spot in the championship game for a third consecutive season.  Lassiter took the 2013 edition 13-11 before falling to Milton 10-7 in the championship and Walton edged the Trojans 13-12 on the road last year, before Milton took home its fifth straight state title with a 16-13 victory.
Walton's only two losses to instate teams this season were to Milton (15-9) on March 4 and Lassiter (16-10) on April 22. However, the Raiders' playoff experience is showing once again as they opened the first two rounds in convincing fashion on the road while wearing the No. 3 seed. Walton  handled Northview 20-10 in the playoff opener and dominated Harrison 17-5 in the quarterfinals. Lassiter's playoff run consisted of a 12-5 win over West Forsyth and a 16-4 quarterfinal victory over a 16-3 North Gwinnett team.
Milton has not allowed an opponent from Georgia to score double-digit goals all season and that defense helped produced a 21-3 quarterfinal victory over Collins Hill last Friday. Chattahoochee is up next for the No. 1 ranked Eagles and they are battle-tested after a 12-10 win over Mill Creek in the quarterfinals. Chattahoochee will get to play at home and is riding a 10-game win-streak into the semis that has seen the Cougars average 19.3 goals per game along the way. Chattahoochee and Milton are the only two teams that have won the state title in Georgia's highest classification with Milton taking nine of the ten.