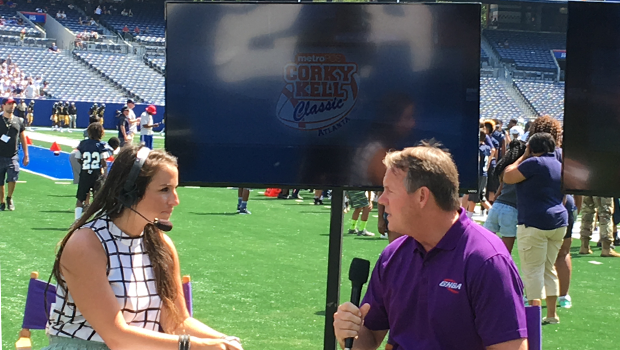 The television, radio and digital broadcasting lineups for the 2018 MetroPCS Corky Kell Classic are set, and the countdown to kick off on Aug. 16-18 is ready to crank up the pre-game coverage. Starting Monday, Aug. 13, 11Alive will begin airing features on each of the 18 teams playing in this year's Classic on its 6 p.m. and 11 p.m. nightly news. Additionally, team previews, rosters, stories, event history, tickets and information can be found on ScoreATL.com and CorkyKell.com.
As for game day, there will be numerous ways to catch all the action. Entering its second year as the Corky Kell's television and digital partner, WXIA Channel 11 is televising all nine games on WATL Channel 36 (MYATL) and using the 11Alive App and WXIA Channel 11 Facebook page to stream the games digitally, as is ScoreATL.com, CorkyKell.com and the NFHSNetwork.com.
The radio broadcasts this year will differ by location and day. On Thursday, Aug. 16 at Historic Barron Stadium in Rome, the opening matchups between Ridgeland and Calhoun and Marietta and Rome will be covered by a Rome station, two from Chattanooga and a Calhoun station.
Friday night's doubleheader at Georgia State Stadium featuring Buford vs. Tucker and Archer vs. Milton will be called on WAOK AM, an affiliate of the Corky Kell's radio partner 92.9 The Game, which is tied up calling the Falcons preseason game that same night; 92.9 The Game will call five of the games scheduled for Mercedes-Benz Stadium on Saturday. Mike Conti, Harper LeBel and Sam Crenshaw will call Games 1-2 on Saturday. Crenshaw will stay on the sidelines for Game 3 as Chris Goforth and Randy McMichael step in for Conti and LeBel to carry out the final three games. Tenitra Batiste is taking over for Crenshaw after the third game to join Goforth and McMichael for the final two.
All three days of the television broadcast include the MetroPCS Tailgate Show between games and a halftime show, all of which will be co-hosted by Atlanta United's Game Reporter and Mercedes-Benz Stadium Host Ashley Rose and former Atlanta Falcons defensive end Chuck Smith.
Play-by-play veteran Matt Stewart and color commentator Craig Sager II from Score Atlanta will be on the television broadcast for Thursday's doubleheader in Rome with 11Alive's Wes Blankenship on the sidelines. Stewart and Sager will be joined by 11Alive's Alex Blaze for Friday's doubleheader at Georgia State. Glaze will return to the sidelines for Saturday's first two games and Blankenship will sideline the final three games.
Longtime booth partners Fletcher Proctor and Bob Houghton lead off Saturday's telecast with the call of Kell and East Coweta at 9 a.m. Former UGA quarterback and Lassiter High School standout Hutson Mason joins Stewart for Walton vs. Mill Creek at 11:45 p.m. Stewart and Sager team back up for the middle game between McEachern vs. Colquitt County game at 2:45 p.m. and Mason returns with Stewart for North Gwinnett vs. Brookwood at 5:45 p.m. The final game between Norcross and Mays at 8:45 p.m. will be called by Sager and 11Alive's award winning sport anchor, Jeff Hullinger.
OTHER FEATURES
In addition to the broadcast, there will be live scoring of all the games updated on ScoreATL.com, the Georgia HS Sport Scoring App, the Score Atlanta Facebook page and the @scoreatlanta Twitter account. West Georgia Technical College is also providing live stats and game tracking that will be available at ScoreATL.com and CorkyKell.com. A 24-page official 2018 MetroPCS Corky Kell Classic program with previews and rosters will be available at all the games and a digital edition of the program will be free to download at ScoreATL.com and CorkyKell.com the week of the games.
The spotlight surrounding the Corky Kell Classic has never been bigger, nor has the cutting edge technology that this year's atmosphere is set to experience. Historic Barron Stadium is christening a brand new 36′x 21′ Daktronic Video Board to kick things off and all of Georgia State Stadium's digital assets will be in use for Friday's games. The patrons heading to Mercedes-Benz Stadium for Saturday's lineup will get to experience the 2 million square foot venue's gamut of revolutionary technology, including the 58-foot-tall and 1,100-feet in linear diameter Halo Board circling over the field, the ribbon board wrapping around the concourse and the massive 100-foot-tall Mega-Column that's backdropped by the Atlanta skyline and Mercedes-Benz Stadium's awe-inspiring Window to the City.
To request a credential visit HERE
2018 MetroPCS Corky Kell Classic Schedule
Thursday, Aug. 16 at ROME's BARRON STADIUM
5:30 p.m. Ridgeland vs. Calhoun
8:30 p.m. Rome vs. Marietta
Friday, Aug. 17, at GEORGIA STATE STADIUM
5:30 p.m. Buford vs. Tucker
8:30 p.m. Archer vs. Milton
Saturday, Aug. 18, at MERCEDES-BENZ STADIUM
9 a.m. Kell vs. East Coweta
11:45 a.m. Mill Creek vs. Walton
2:45 p.m. McEachern vs. Colquitt County
5:45 p.m. Brookwood vs. North Gwinnett
8:45 p.m. Norcross vs. Mays
*Tickets for Aug. 16th at Rome can be purchased HERE
*Tickets for Aug. 17th at Georgia State can be purchased HERE
*Tickets for Aug. 18 at Mercedes-Benz Stadium can be purchased HERE