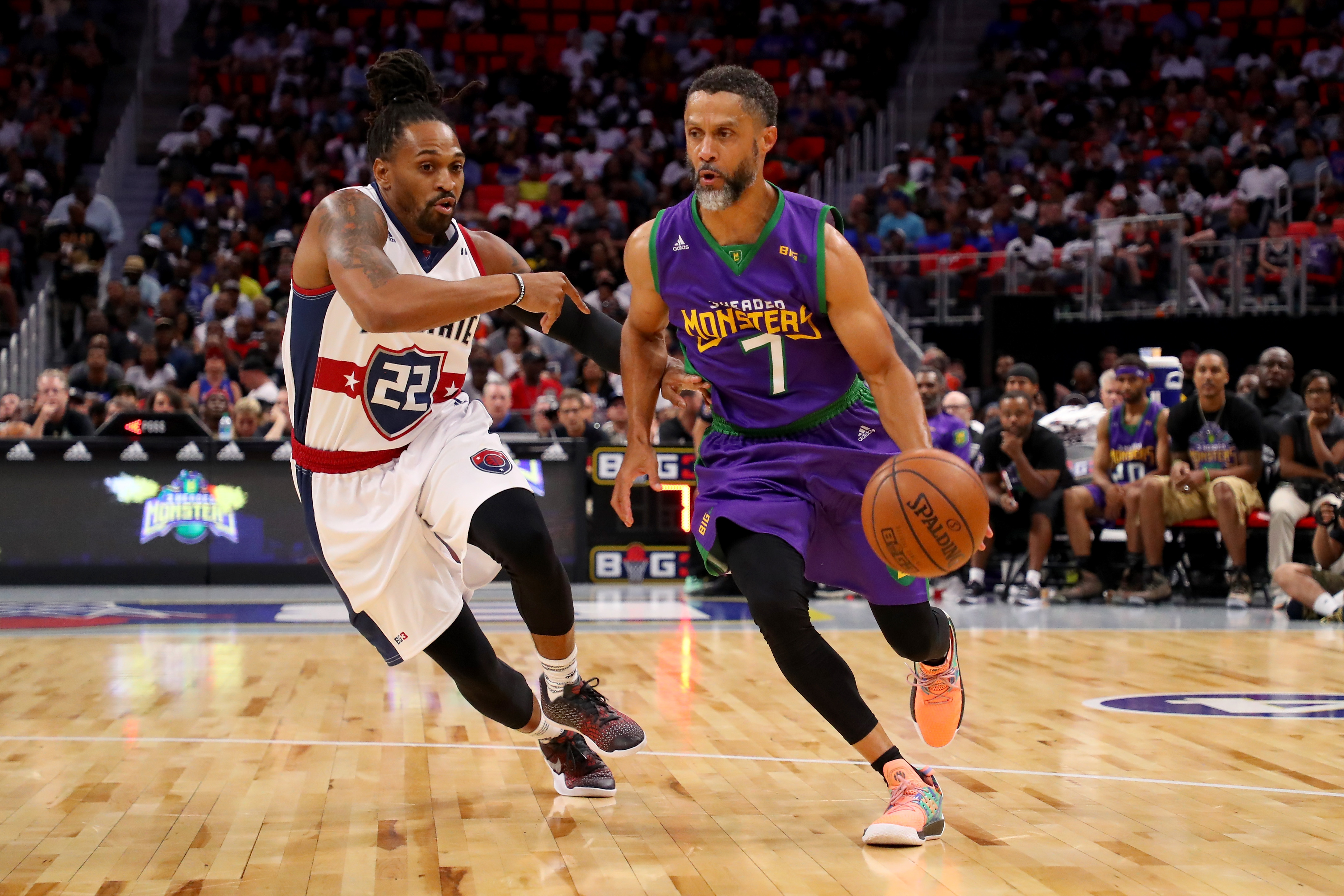 Getty Images
The BIG3 League and its one-of-a-kind blend of novelty, nostalgia and star-power are coming to Duluth's Infinite Energy Arena tonight (Friday, Aug. 10) to close out the 2018 regular season.
The 3-on-3 basketball league, which was co-founded by rapper Ice Cube and Jeff Kwatinetz, made its anticipated launch last year, but the brevity of an 8-week regular season schedule left Atlanta off the list of stops made along the inaugural circuit. Ice Cube, however, wasn't about to let that happen Year 2.
"We are excited to close out the regular season at Infinite Energy Arena," said Ice Cube, adding "Atlanta has been sweating me a lot about bringing the BIG3 here. Last year when they [Atlanta] saw it [the schedule], they were like 'Cube, why we ain't on the map?' So we definitely made sure we hit up Atlanta."
The 8-week regular season schedule used by the BIG3 is just one of many unique features of the league and its brand of 3-on-3 basketball. For starters, all eight of the league's teams share the venue and spotlight each week, bringing all the storylines and stars to a central location that treats the fans to a 4-game lineup. And once the regular season concludes, it only takes one more outing before the finals stage is set and The 'Julius Erving Championship Trophy' goes up for grabs, just 10 weeks after the season's tip-off.
The storylines can dramatically change week to week in BIG3, and when considering the wealth of experience pooled into the league by both the players and coaches, it is not surprising that there are adjustments, new strategies and game plans that are developing on a weekly basis too.
The pace of play also differs from a typical basketball game. There is a 15 second shot clock, but that is the only time-based determinant; halftime comes once a team reaches 25 points, and the first team to hit 50 points wins the game as long as they lead by 2 or more points when they do. As a result, every game closes with a game-winning shot.
WHAT'S IN STORE
The rising interest surrounding the BIG3 league reflects an even greater movement that is undergirding the rise of 3-on-3 basketball on an international scale. With strong support from The International Basketball Federation (FIBA) as well as the International Olympic Committee (IOC), 3-on-3 basketball is now an Olympic sport, set to to make its debut in less than two years at the 2020 Tokyo summer games.
Ahead of the action tonight, I caught up with Fox Sports play-by-play announcer Brian Custer, who leads the telecast of BIG3, and offered his insight about the league, the 3-on-3 brand of basketball and what fans will have in store tonight.
Among the top storylines are playoff seeding, the race for league MVP and the 2018 scoring title. Heading into the Week 8 action, Corey Maggette (124), Ricky Davis (121) and David Hawkins (121) are all right in the mix to take the scoring title and Custer explained why this will be so fun to watch unfold.
"I think it will be interesting [tonight] only because Ricky Davis is the leading scorer for his Ghost Ballers team and he knows that everything goes through him," explained Custer. "So he knows he is going to have big nights each time out on the court. But I think it is going to be close with Corey Maggette and David Hawkins because Ghost Ballers are out of the playoff hunt at 1-6 and these guys [Maggette and Hawkins] are on teams that will be battling hard for playoff seeding, and David told me last week 'I realize that I'm right there' and he says he is going to go for it, so you can see this being incredibly interesting."
At the top of the league standings is Power (6-1), which has won four-straight games and handed The 3-Headed Monsters (6-1) its first loss of the season this past week in Boston. 3's Company and Tri-State each sit a (5-2). The four teams out of the playoff hunt are Trilogy (2-5), Killer 3's (2-5), Ball Hogs (1-6) and Ghost Ballers (1-6). Tonight's matchups are a rematch of the Week 1 slate, which coincidentally pinned the four playoff teams against the four teams that are now out of the playoff hunt and all four of the playoff teams were victorious in their openers.
"Here's why I think that people love the experience and especially the in-game experience when they come out to watch the BIG3," explained Custer. "No. 1, you get four games. So you are paying an affordable price and you are getting four games and you are seeing some of the stars that you grew up idolizing out there competing. And the best thing about this experience is that you can walk up wherever you are sitting and come down, yell to the players, they'll turn around and come right up to you and sign things and take pictures. That's never going to happen in an NBA environment. And I think that's one of the things that Ice Cube has stressed to these guys. The fans are our product. We had 13,000-plus in Boston last week and the Yankees were playing the Red Sox that same night down the street. People recognize that when they come out, they will get a great in-game experience and that the players and stars are more willing to take pictures, sign autographs and you get to walk away with that great nostalgic feeling that man, I just saw my hero play, AND I got to meet him. What's better than that?"
In Game 1, Ghost Ballers vs. 3-Headed Monsters will tipoff at 7p.m. and the game will be streamed live on the Fox Sports Facebook page and Fox Sports App. Game 2: Trilogy vs. Tri-State, Game 3: 3's Company vs. Killer 3's and Game 4: Power vs. Ball Hogs, will be televised on FS1 starting at 8:00 ET with Custer leading the call.
2018 BIG3 ROSTERS
POWER: Record (6-1)
Head Coach: Nancy Lieberman
Players: Corey Maggette, Cuttino Mobley, Glen Davis, Xavier Silas, Ryan Gomes, Quentin Richardson, Chris Andersen
3 HEADED MONSTERS: Record (6-1)
Head Coach: Gary Payton
Players: Rashard Lewis, Reggie Evans, Mahmoud Abdul-Rauf, Jamario Moon, Kwame Brown, Salim Stoudamire, Qyntel Woods
3'S COMPANY: Record (5-2)
Head Coach: Michael Cooper
Players: Dermarr Johnson, Baron Davis, Drew Gooden, Andre Emmett, Jason Maxiell, Dahntay Jones
TRI-STATE: Record (5-2)
Head Coach: Julius "Dr. J" Erving
Players: Jermaine O'Neal, Amar'e Stoudemire, Nate Robinson, David Hawkins, Bonzi Wells, Robert Hite
TRILOGY: Record (2-5)
Head Coach: Rick Mahorn
Players: Kenyon Martin, Al Harrington, Rashad McCants, Al Thorton, Derrick Byars, James White, Dion Glover
KILLER 3'S: Record (2-5)
Head Coach: Charles Oakley
Players: Chauncey Billups, Stephen Jackson, Metta World Peace, Josh Powell, Alan Anderson, Ryan Hollins, Mike James
BALL HOGS: Record (1-6)
Head Coach: Rick Barry
Players: Brian Scalabrini, Josh Childress, Deshawn Stevenson, Andre Owens, Corsley Edwards, Jermaine Taylor
GHOST BALLERS: Record (1-6)
Head Coach: George Gervin
Players: Mike Bibby, Ricky Davis, Carlos Boozer, Ivan Johnson, Marcus Banks, Lee Nailon, Mario West