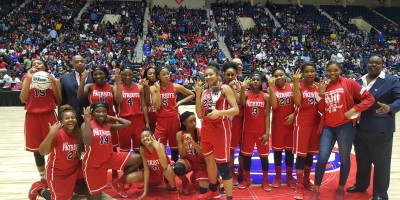 Greenville's girls won their first state title as Brittany Davis starred with 30 points.
Greenville won its first-ever girls basketball title after defeating Marion County in commanding fashion at the Centreplex in Macon on Wednesday. The Lady Patriots fell to Marion in the Region 4-A championship game in February after winning the first two matchups — the second by just one point — and Wednesday's finals gave Greenville the 3-1 advantage over Marion for the season.
"We showed that we cleaned up our mistakes from when we played them the first times," said head coach Waqueisha Tenney after the finals win. "We cleaned up our mistakes and got better on the boards and we scored the basketball."
The Lady Patriots opened up a 21-10 cushion after the first quarter, and by halftime, the lead had ballooned to 43-26. Mississippi State signee Brittany Davis led all scorers with 14 points on just 2-of-10 shooting. The 5-foot-9 senior made up for the lackluster shooting performance from the floor with nearly flawless shooting from the free-throw line in the first half, going 9-of-10. Teammate Shabrica Lewis helped with 10 points.
"It means a lot," said Davis following the game. "We practice hard every day, sometimes night, we put in a lot of work. We know we didn't play our best last time so we had to come out here and show them that we are the real deal."
Greenville continued applying pressure in the second half with a quick drive and score by Davis, and the Lady Patriots never looked back. A late scare by the Lady Eagles cut the lead to 13 points, but a technical foul on Marion's Ashley Whitley with 4:40 left in the game gave Greenville's Davis two shots from the line and her team possession. Any momentum for Marion was lost.
Davis finished with 30 points and 11 rebounds. The Starkville-bound guard ended the game shooting just 5-of-20 from the floor. But her performance from the charity stripe – 19-of-20 – was her saving grace. Lewis finished with 14 points on 4-of-11 shooting. Jabrika Leslie finished with 12 points on 6-of-12 shooting, and Nuriyah Sutton grabbed 16 rebounds for the Lady Patriots.
Marion County was paced by Torri Myers who scored 15 points on 5-of-14 shooting. Whitley helped with seven points and 18 rebounds. Jameisha Williams added eight points for the Lady Eagles.
"She is the best high school player I've ever seen, from the inside and the out," Tenney said of Davis.