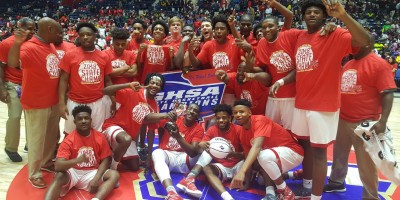 Reggie Perry holds the trophy after Thomasville's win.
The Bulldogs overpowered Vidalia on both sides of the court en route to a blowout 66-31 victory over Vidalia in the Class AA boys championship on Wednesday in Macon. Confidence played a big part in the Thomasville victory.
"I knew my team was good," said Thomasville's 6-foot-9 power forward Reggie Perry, the No. 2 player in the state according to 24/7 Sports. "I knew we could beat anybody in the country we feel like, anybody in the state, any classification. That's what we feel like. We come out and play the hardest and you never know what could happen."
The Bulldogs utilized a severe size advantage against Vidalia and expanded the lead to 19-5 following the first quarter. By the 4:30 mark in the second quarter, it was a 33-9 game in what became a dunk-a-thon for the Bulldogs.
"We knew this was our second time coming to the state championship and we just had to come out with a lot of energy and play together," Perry said. "With us playing together, it gives you a lot of open looks and a lot of dunks."
The Bulldogs continued the onslaught in the second quarter, compiling a 22-5 run that gave Thomasville a 41-10 lead at the half. Perry, a Mississippi State signee and McDonald's All-American, led Thomasville with 13 first-half points on 6-of-8 shooting. Von Woolbright added 12 points on 6-of-9 shooting.
"With the help of Coach (Ben) Tillman, he always tells us that the third quarter is the most important quarter," Perry said of Thomasville's ability to protect a big lead. "That was one of the main things he got us to do was to stay focused and play together and win."
Both Perry and Woolbright finished the game with 17 points, Perry on 7-of-11 shooting with eight rebounds. Woolbright was 7-of-12 shooting from the field and 3-for-4 from the free-throw line. Titus Wright added 11 points for Thomasville. Vidalia was led by Tahj Jones, who scored 10 points for the Indians.
"It's come to an end but it was fun," Perry said of his prep career coming to a close. "I just have to get prepared for the next level."