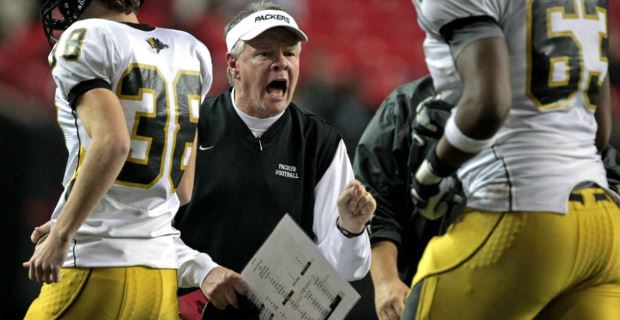 Photo By USA Today HS Sports, USA TODAY Sports
By: Andrew Deichert
Two hundred and sixty five career wins, a .761 overall winning percentage and 7 state titles between Alabama and Georgia is what Colquitt County lost after Head Coach Rush Propst was suspended on June 16, 2016. The news shocked all of Georgia and was set to have serious implications heading into the first year of Class AAAAAAA football in the state.
All it took was one headbutt to kicker Luis Martinez in the middle of an intense AAAAAA State Playoff semi-final against Mill Creek to put Rush's 2016 season and Colquitt County's season in limbo. Colquitt County beat Mill Creek 52-31, however the headbutt overshadowed the teams' victory that sent them to the State Championship.
Propst has always been a fiery coach who has let his emotions show on the field, but in this instance, the Georgia Professional Standards Commission (GPSC) decided to dole out a one-year suspension for his actions. The GPSC stated that the headbutt was deemed, "inappropriate physical contact with a student" and the sole reason for his year-long suspension.
After receiving the suspension last month, Rush immediately appealed the decision, but avoided the media after the appeal. Due to the nature of the incident, Propst's ability to coach the 2016 season was in doubt, until the GPSC's decision yesterday, on July 14.
Instead of keeping the one-year suspension, Rush and his attorney were able to agree to a public reprimand with the GPSC. The reprimand ensures that Coach Propst will not miss a single game in the 2016 Colquitt County season, a certain win for the Packers.
Propst immediately released a statement following news of his victory. Rush showed remorse in the statement, saying that it was unfortunate that the suspension brought any negative light to Colquitt County and their football program. Coach Propst made sure that he thanked the GPSC for their acceptance of a reduction and finished the statement by saying, "Above all, I appreciate the opportunity to be able to continue to coach the Colquitt County Packers, and look forward to continuing my work to prepare our team for the 2016 season," in a prepared statement to AL.com.
Colquitt County is currently participating in a 7-on-7 tournament in Hoover, Alabama. The Packers will be at full strength, with Coach Propst leading the way when they open their regular season on August 20 at the Corky Kell Classic, as they meet Mill Creek once again. It is only fitting that Rush and the Packers open the season against the very team who the incident took place against, the drama now coming full circle and to a close.