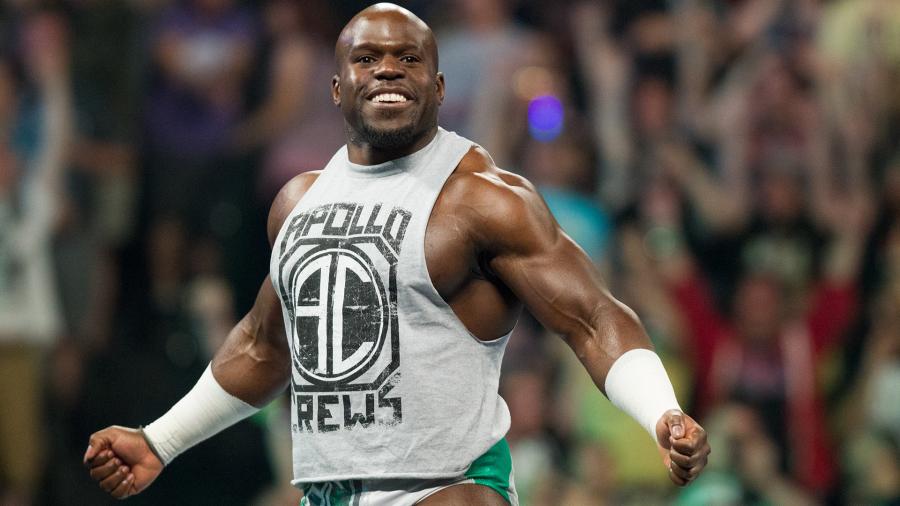 Photo By WWE
Following in the footsteps of AJ Styles, Apollo Crews became the latest Hall County product to crack the WWE roster, making his main roster debut on April 4 when he defeated Tyler Breeze. It didn't take long for Crews to make an impact at the pinnacle of wrestling and entertainment as in his very first pay-per-view match, Crews beat Sheamus at Money in the Bank. His whirlwind of rising to WWE relevance was capped recently by being selected to the SmackDown! Live brand with the 45th overall pick in the ninth round of the WWE Draft; the first draft since 2011 which will now split the talents across each show.
Sesugh Uhaa, who goes by the stage name Apollo Crews, was born in Sacramento before moving to Stone Mountain, Ga. where he grew up. He attended Riverside Military Academy in Gainesville where he was a four-sport star, playing soccer, football, wrestling and track and field.
"In high school around 10th grade was the time I actually chose to make that decision [pursue wrestling]," explained Crews on how he got his start in the sport. "I think I was sitting in computer science class with my best friend. Our teacher would let us get on the internet after we finished our projects and we would always go to WWE.com and check out what was going on."
Once his interest was piqued, Crews decided to pursue his new found dream.
"I was like, you know what? I think I can actually do this, so when I got out of college I found a school in Atlanta, the WWA4 [World Wrestling Alliance 4], and started training there and I haven't looked back since."
From there, Crews met Curtis Hughes, better known as simply "Mr. Hughes". The longtime wrestler took Crews under his wing and began to train him at age 21 in 2008.
"He's a very interesting guy," told Crews. "He actually got me my first couple of bookings. He taught us how to talk to promoters and how to find certain bookings and what to take and what not to take. He's a very good guy in that way. He helped me an extreme amount, introduced me to some great people."
Uhaa Nation
"When I started amateur wrestling, Kurt Angle was somebody I looked up to. Chris Jericho, I actually got a chance to be in the ring with. Eddie Guerrero. A lot of those guys I try to take some of their styles and fit in with my own," explained Crews about which wrestlers he tried to patent his style after.
One name that Crews mentioned was AJ Styles. The Gainesville-native that graduated nine years before Crews at neighboring Johnson High School just 19 minutes away from Riverside Military, has quickly become a close friend of Crews' thanks to their Hall County bond.
"AJ is a good friend of mine. I never knew him before I got here [WWE], but we talk about Gainesville," said Crews. "He's another guy I look up to and he's obviously so knowledgeable and talented. For me to be able to learn from a guy like that and to share the same locker room with a guy like that is an honor."
Before Crews and Styles crossed paths in the WWE, much like Styles, Crews paid his dues working up the rungs of the wrestling ladder. Crews debuted in his first match on August 17, 2009 under the ring name "Uhaa Nation". Crews earned the nickname in high school when a coach told him he was "as strong as a single nation".
Not Going To Miss My Shot
After multiple stops around the world, in October 2014 Crews found himself in a WWE tryout camp.
"When I got my tryout back in 2014 with WWE, I didn't expect anything because I know how things go. I wasn't telling anybody 'I'm gonna get signed out of this'. I just came in there with a humble mentality. Just go out there and do what I have to do," explained Crews about his first chance at breaking through and realizing he could have a sustainable career in professional wrestling.
"When they said they wanted to sign me, I was like man, I have a chance to feed my family off this and make a long career. I never have to sit behind a desk or work at Dollar Tree; I used to work at the airport – I never have to do that again."
Crews got to work at the WWE Performance Center where he cut his teeth with the NXT developmental brand in April of 2015. Three months into crafting his skills, the moniker Uhaa Nation was dropped and Apollo Crews was born.
The Call
"A year later I was called up to the main roster. It was a dream come true. I live my dream every single day. It's the reason why I smile all the time. I have nothing to be upset about at all," beamed Crews when reminiscing about his move to the main roster just three months ago.
Though it was a quick one-year stint with NXT, Crews enjoyed his time learning and growing as a performer.
"I was enjoying my time down there so I wasn't in a hurry or anything. I wanted to make sure I was fully developed and prepared to come to the main roster. I didn't want to come here before my time or anything like that," said the powerful yet high-flying superstar, one of the newest on the WWE roster.
"It was unexpected for me. Originally I thought it was a joke at first when they told me I was going to debut but I really enjoyed my time in NXT. I developed a skillset there that I can use here to be the biggest and best superstar I can be."
Crews found out he was heading to the main roster two days before Wrestlemania when he was in Dallas for NXT TakeOver.
"Friday after NXT Dallas they said hang tight, Triple H wanted to talk to me. I get there and I see there's cameras around and I was like what's going on?
"He gave me a speech about how the hard work is just starting. He said so on Monday you're debuting on Raw. It was April 1st, so I was like this has got to be an April Fool's joke. I was like are you serious? This can't be real. Once it hit me I broke down crying," said Crews. "I texted my mom, I told my girlfriend and my dad.
"I didn't get to talk to my mom and hear her reaction but just over text I could feel how proud and how genuinely happy she was."
Cashing In
On June 19 at T-Mobile Arena in Las Vegas, Nevada, Crews put his stamp of stardom on the WWE by making his first pay-per-view appearance and earning a win over Sheamus, a four-time world champion, at Money in the Bank.
"It's still kind of hard to grasp sometimes. Is this real life? Am I going to wake up one day?" said Crews of his meteoric ascension to the WWE. "At the pay-per-view, Money in the Bank being a part of that, is again for me, I keep saying it, there's been so many things that have been happening for me so quick that just keep topping the last thing that happened.
"It started with my debut in Brooklyn for NXT. Then we got to go to England for NXT, then be in Dallas and debuting on Raw. It's just things that keep topping everything. I just want to take time and enjoy it all, suck it all in, because I don't want it to pass me by and me not truly enjoy it."