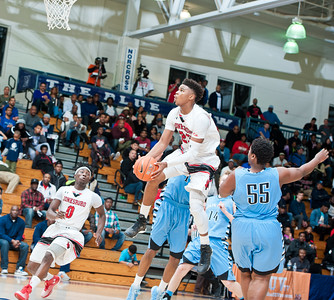 Photo by Ty Freeman
#2 Woodward Academy (14-14) @ #1 Liberty County (22-4)
The Panthers needed overtime to escape Henry County, 74-72 in round one. Richard LeCounte exploded for 30 points to help find off the Warhawks. LeCounte averages 18.2 points and 9.9 rebounds while point guard Devion Mitchell goes for 18.9 and 7.2 assists. Woodward used a late fourth quarter push to get past Grady, 58-48. The War Eagles look to control the tempo and spread the ball on offense. Seven players average over five points per game and keep defenses honest. Bobby Kannady III is the team's leading scorer are rebounder at 9.6 points and 7.2 rebounds.
#2 Americus-Sumter (25-5) @ #1 Cartersville (19-9)
After graduating the five top scorers from last year's team which reached the Elite Eight, the Canes are back in the hunt searching for a Final Four appearance. Zack Hacker, Miller Forristall, and Bryce Gober, three seniors, all played big roles in their 56-33 win over North Hall. Dwight Harris leads a strong Panthers team in scoring with 16 points per game. Juwan High is Americus-Sumter's second leading scorer. The Panthers blitzed Mary Persons, 81-49 in round one.
#2 St. Pius (25-4) @ #1 Jonesboro (28-1)
The Cardinals have run roughshod through the competition this year and have their sights set on repeating as state champs. MJ Walker Jr. is heralded as one of the best sophomores in the nation and leads his team in scoring at 17.3 per game. Tracy Hector Jr. and Deantre Mack both average over 11 points per game and harass opposing ball handlers. Jonesboro is riding a 27-game winning streak and has crushed teams in its path including first round victim Thomson, 81-54. St. Pius uses a great system and an overall high IQ team to pick apart opponents. Aaron Parr leans on Christian Merrill, Hamilton Crane, and Kerney Lane to overwhelm opponents. Wins over Lithonia and Colombia prove that the Golden Lions have some bite. Sandy Creek was the latest opponent to submit to St. Pius, 63-46.
#2 Mt. Zion-Jonesboro (24-6) @ #1 Lithonia (26-2)
The Bulldogs claimed the Region 6 crown after another classic over St. Pius. Rodney Chatman, Kesean Warren, Tyheem Freeman all pace the Lithonia attack which took care of Fayette County, 66-46. Mt. Zion relies on big scorers Paul Miller and Ari Zorns who combine for over 38 points per game. The Bulldogs hounded New Hampstead 72-55 in round one.
#4 Cairo (18-11) @ #3 Monroe Area (18-12)
Two underdogs meet in the second round after upsetting their opposing teams in the opening round. The Syrupmakers used a sticky defense to slow down No. 1 Perry, 56-50. Stacy Masten (19.8) and Trey Sparrow (18.9) give Cairo two big scoring options. Monroe Area slipped by Heritage-Catoosa, 60-59. Unlike Cairo, nobody sticks out offensively for the Hurricanes. A balanced offense sees six players average over six points per game led by senior Marquez Williams'11.8 per game.
#2 Burke County (24-3) @ #1 Carrollton (26-2)
Big man Montae Glenn and Jarel Rowe helped lift the Trojans over a dangerous Columbia team, 54-43. Glenn has signed to play at Georgia Southern while Rowe is also a standout on the gridiron. Tristan Hunter, D'Zarious Holmes, and Malik Maloyd are all viable options on offense for Burke County Head Coach Purvis Dukes. The Bears are coming off a 76-60 win over Griffin in round one.
#4 Upson-Lee (18-9) @ #2 Buford (16-12)
The Knights disposed of No. 1 Albany, 66-54. O'Qualon Harris and Malik Crafter can light up the score board for Upson-Lee. They will face a tough task with Buford, who is better than its record indicates. The Wolves spanked Northwest Whitfield 87-54. Tre Hansborough is a high scoring guard who poured in 48 in a game this year. Running mate Taylor Mills gives Coach Allen Whitehart a tough backcourt to handle.