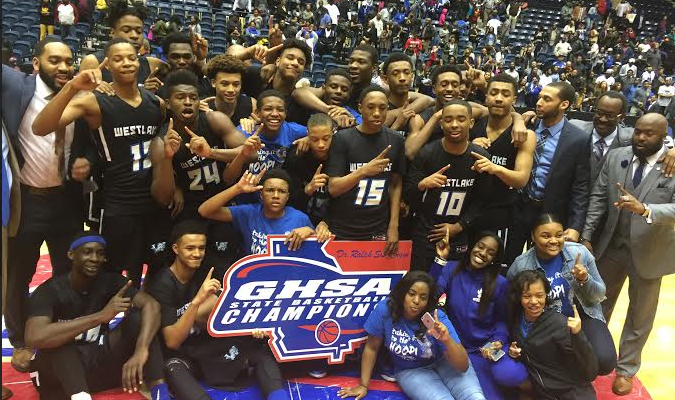 No. 2 Westlake (27-4) raced out to a 15-6 lead and looked like they were going to demolish No. 7 Pebblebrook (23-10) and hand them their second-straight blowout loss to the Lions, and fourth loss overall during the season.
Collin Sexton had other ideas. The potent guard came away with a layup in transition to end the quarter after Westlake was attempting to hold for one shot, cutting into the lead 15-12.
It was just the beginning of a monstrous second quarter run for the Falcons. Coach George Washington's electrifying group stunned the bigger Lions by using Sexton and JJ Smith's athleticism to counter Westlake's length. A 26-7 run ended the half with the Falcons on top 32-22, but like in their Region 3 championship meeting, Pebblebrook held an eight point lead before falling 79-57.
Sexton netted 14 of his team-high 18 points in the first half while living at the foul line, sinking all eight attempts. In the second half the Falcons continued to soar. Smith threw down a dunk and helped Pebblebrook to its largest lead of the game, 42-31.
Jamie Lewis wouldn't let Westlake fade into oblivion however.
The super sophomore poured in 12 of his game-high 21 points in the third quarter and added nine assists on the night to draw the Lions within three, 46-43. The interesting coaching tactics of Darron Rogers came into play. He called three timeouts within the first three minutes of the fourth quarter including one after a Lewis to Ronald Bell alley-oop tied the game at 48 with 5:13 to play.
Chuma Okeke shot just 1-of-3 in the first half for three points but slowly began to wake up when the game was on the line. His seventh point of the game gave the Lions the lead with 4:43 left. Westlake's 9-2 run pushed the lead to 52-48. Sophomore Dwight Murray knocked down a three to keep the Falcons in striking distance at 53-51. Lewis extended the lead to 58-53 when he found Okeke inside with under a minute to go.
After a Pebblebrook bucket, Okeke was sent to the line for a one-and-one. He missed both and Auburn signee Jared Harper, who had a modest finish to his elusive high school career scoring 11 points in each of his last two games after averaging 28 on the season, drilled a three with 19 seconds left to tie the game and send it to overtime at 58. Little did he know, his 15th point of the game coming on 6-of-19 shooting, was the final basket of his career.
In overtime Coach Rogers elected to hold the ball and melt the first three minutes off the clock as the crowd erupted in boos. When the Lions finally attacked it was Okeke spinning through the lane for a hoop to go up 60-58 with a minute left. Danny Lewis came up with a runout and connected on a layup but was intentionally fouled too. He hit both free throws turning it into a 4-point play which resulted in a 6-point possession as on the ensuing inbound, Okeke slashed to the hoop for an open layup, 66-58 with now just 27 seconds left, stunning the Falcons a year after falling to Wheeler 59-58 on two last second free throws from Jaylen Brown.
Okeke scored 10 of his 13 points in the second half and added seven rebounds. Danny Lewis finished with 14 points and Raquan Wilkins chipped in nine points and six boards. Smith was Pebblebrook's third leading scorer with 13 points and five rebounds.