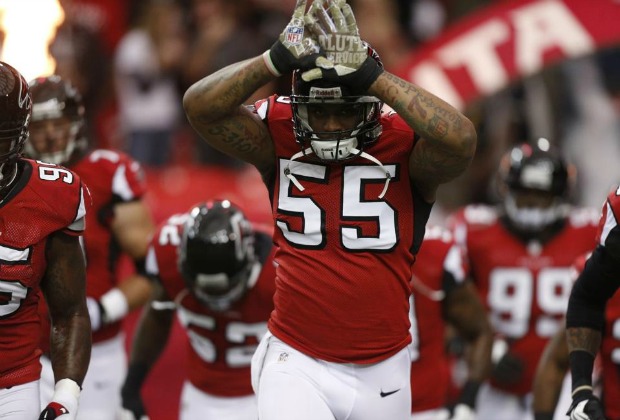 Atlantafalcons.com
The Falcons' 23-19 win over Arizona moved Matt Ryan's career home record to 31-4, the best best home record to start a career in the Super Bowl era. Atlanta's home winning streak grew to nine games and remains a perfect 5-0 this season. This prominent home record can explain how five Ryan interceptions, six total turnovers and recurring miscues could barely phase the 9-1 Falcons en route to last Sunday's victory.
Injuries were the question mark going into the contest and remained a factor as the game unfolded. Sean Weatherspoon did not dress for a third straight week and a limited Julio Jones dressed but was a non-factor after aggravating his injured ankle early. Asante Samuel missed most of the game with an injury to his right shoulder. Robert McClain came in for Samuel and proved valuable enough to patch up the secondary. McClain was one of the many unsung heroes, and his airtight pass coverage and physical tackling helped rally the defense.
John Abraham made several big plays Sunday, forcing a fumble and directing teammate Jonathan Babineaux to pick it up and score. Abraham added two sacks to his career total (121), becoming only the 15th player to post 120 career sacks.
THIRD-DOWN MONSTERS
"The third-down defense today was outstanding," said coach Mike Smith. "I really liked how our defense played today and helped carry the team when we needed them to."
The unit was unyielding in its third-down defense, which proved to be enough to offset the offense's six giveaways. Arizona was just 2-for-16 on third downs.
BUCS CALLING
Atlanta's next test is a division clash with Tampa Bay. After a poor 1-4 start, the Bucs have won five of their last six games, and rookie running back Doug Martin has already reached 1,000 yards on the season. Mike Nolan's defense will likely have Weatherspoon back in the line up, but it is clear the firepower of this division rival will outweigh that of Arizona and some previous challengers.
Tampa has been competitive every week and all four losses were within a touchdown. The Bucs boast the top-ranked run defense in the league, but are statistically the league's worst pass defense.