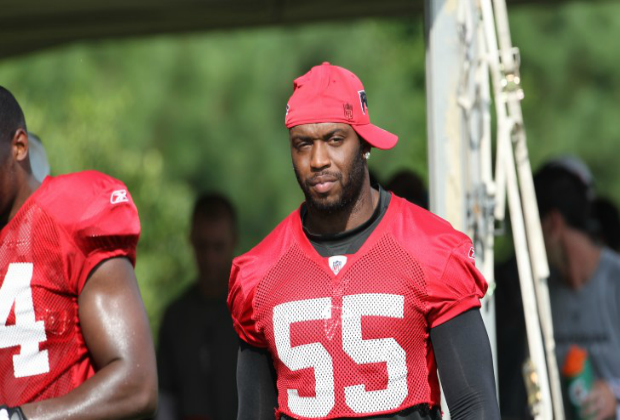 Jimmy Cribb/Atlantafalcons.com
If there is one aspect the Falcons' game they would like to improve it would be the pass rush. Atlanta racked up 33 sacks last year, putting them 19th in the league and 17 sacks behind the leaders the Minnesota Vikings and the Philadelphia Eagles.
Out of the 33 sacks, John Abraham had 9.5 and has been the team's most consistent pass rusher since his arrival to Atlanta in 2006. So it was vital to have Abraham return because there was a chance that he was going to sign with another team after last season. But the Falcons were able to resign the 34-year-old to a three-year deal, and he's glad to still be wearing the red and black.
"I'm glad to be back," Abraham said after training camp practice on Saturday. "The Falcons organization has been so good to me the last six years. I couldn't see myself ending my career someplace else. It was a personal decision to come back here."
Another reason Abraham is back with the Falcons is the fact he feels like this team can do something special.
"A few of the teams that I was talking to, I didn't feel like they had the potential that we had," Abraham added.
Having Abraham return is also beneficial for defensive coordinator Mike Nolan because they worked together back when Abraham was a rookie with the New York Jets.
"[Nolan] has done a lot and shown he's a good coach," Abraham said. "I'm glad to be back with him."
With a new coordinator in Nolan, Abraham and the rest of the defensive linemen are looking to have more than 33 sacks. Abraham said they are trying some different things this year in terms of getting to the quarterback.
"It's a little more diverse," Abraham said. "More people will be coming like the defensive ends and linebackers."
Abraham has accomplished a lot since he entered the league in 2000. Abraham is the all-time active sack leader with 112. He is also the 25th player in NFL history to notch over 100 sacks and is ranked 16th on the all-time sack list.
Abraham is also tied for second on the all-time Falcons list with 58.5. But for right now, Abraham's focus is not on individual records because he has his eyes on a bigger prize: reaching and winning the Super Bowl.
"My personal goals don't mean anything to me right now," Abraham said. "My main reason for staying here is I want to see something big happen for this organization and for Atlanta.
Abraham may be 34-years-old and not have too many years left in him, but he's still one of the better pass rushers in the league, and the Falcons are glad to see the "Predator" back where he belongs.