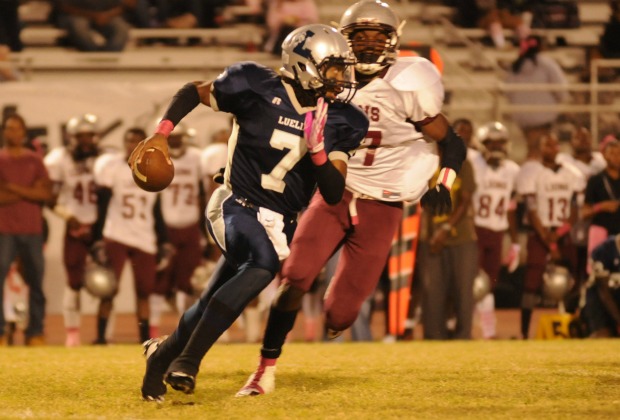 Nick Vasilchek
Under head coach Nick Vasilchek, the Luella Lions have improved each season and this could be the year that the Lions break through to the playoffs for the first time since 2008. Interestingly enough, the team that ended the Lions' last playoff run in 2008 will be the team against whom Luella opens the 2012 season: Lowndes.
The Lions will hit the road and head south to face the Vikings, but don't look for Luella to be overmatched. Vasilchek has plenty of firepower returning to the field this season.
The offense will be anchored by a tremendous backfield attack with Jared Hendricks under center and Gabrien Smith and Trae Bonner at running back. Hendricks is a threat with his arms and his legs, passing for 976 yards one year ago and rushing for another 366 with 12 combined touchdowns. The rising senior has received interest from Elon, Middle Tennessee State, Navy, Georgia Southern and Alabama State.
Hendricks' backfield mates Bonner and Smith combined for 748 yards and 10 scores on the ground and both are receiving threats out of the backfield. Bonner is just a junior, but he is already receiving recruiting interest from Clemson, Vanderbilt and Georgia Tech, among others.
Bonner also stars on the defense at the safety spot and is just one of a handful of talented defensive backs suiting up for the Lions. Bonner registered five pass breakups one year ago. Amonde Bolden picked off three passes with seven additional pass breakups and 41 tackles as a safety. Aaron Davis is as close to a shutdown corner as you will find in Region 2-AAAAAA next year. Despite missing all of 2011 with an injury, Davis is still a ballhawk with three interceptions in 2010 as he earned Region 2-AAAAA honorable mention as a sophomore.
The front seven for Luella is just as impressive with Smith joining Steve Osondu at linebacker behind senior defensive end Tevin Jones. Osondu had 74 tackles one year ago as a sophomore while Jones registered 7.5 TFL and has received interest from Clemson, Missouri and Duke, among others.
If Luella is to move past Lovejoy to the top of the region, special teams may help Vasilchek's team post important region wins. Bonner is a threat to return any kick for a score (25.8 yards/return, one touchdown in 2011) and Andrew Roberts can split the uprights and flip the field on punts.
Luella has a manageable schedule with six home games, including the tilt against Lovejoy. Should Luella be able to split its home games and road games, the Lions likely will punch their playoff ticket.