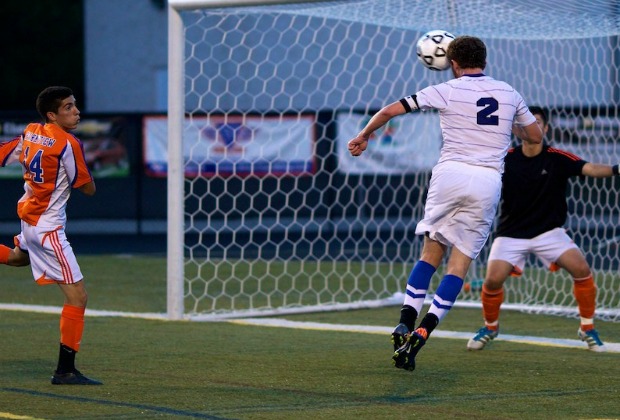 Mauricio dos Santos
The lone change at the top this week was Atlanta International taking over for Paideia at No. 1 in Class A as the Eagles upset the Pythons 2-1 last Tuesday. Paideia, however, rebounded to whip Galloway 6-0 Thursday while AIS beat Pace 3-2 Thursday. Fellowship Christian leapt into the rankings at No. 7 after beating former No. 4 Holy Innocents'.
Meadowcreek broke through in Class AAAAAA with wins over Mill Creek and Clarke Central. The Mustangs are now 9-2 and ranked No. 10. Lambert lost again, this time to Centennial, but rebounded to beat Walton and remain in the top five.
In Class AAAAA, No. 4 Allatoona lost to Lithia Springs last week and dropped to sixth as a result. Lithia Springs, meanwhile, moved into the rankings at No. 8. Lakeside-Evans defeated No. 10 Greenbrier and debuted in the rankings.
Dalton defeated No. 4 Northwest Whitfield Thursday to justify its No. 1 rankings. Northwest did not drop due to the quality loss. However, former No. 5 Stone Mountain is unranked this week after losses to Chamblee and Lakeside-DeKalb. Mary Persons is back in the poll after a brief exit.
In Class AAA, Blessed Trinity jumped to No. 2 after an impressive win over former No. 2 Dawson County Thursday. Dawson County beat West Hall decisively (3-0) last Tuesday and dropped only one spot after the loss to the Titans. Grady and North Hall joined the poll after quality wins last week.
Class AA saw No. 5 Lovett drop after seeing its losing streak grow to three. Murray County joined the top 10 as reward for an impressive five-game winning streak and 9-2-1 record.
Class AAAAAA
1. Lassiter
2. Centennial
3. Central Gwinnett
4. East Coweta
5. Lambert
6. Brookwood
7. Roswell
8. Harrison
9. South Forsyth
10. Meadowcreek
Class AAAAA
1. McIntosh
2. Glynn Academy
3. Starr's Mill
4. Houston County
5. Heritage-Conyers
6. Allatoona
7. Clarke Central
8. Lithia Springs
9. Lakeside-Evans
10. Greenbrier
Class AAAA
1. Dalton
2. Chestatee
3. Carrollton
4. Northwest Whitfield
5. Johnson-Gainesville
6. Alexander
7. Grady
8. Spalding
9. Mary Persons
10. Southeast Whitfield
Class AAA
1. St. Pius X
2. Blessed Trinity
3. Dawson County
4. North Murray
5. Woodward Academy
6. West Hall
7. Cartersville
8. Cross Keys
9. North Hall
10. Grady
Class AA
1. Greater Atlanta Christian
2. Calhoun
3. Westminster
4. Westside-Augusta
5. Coosa
6. Thomasville
7. Atkinson County
8. Benedictine
9. Murray County
10. Lovett
Class A
1. Atlanta International
2. Paideia
3. Hebron Christian
4. Pacelli
5. Pace Academy
6. Galloway
7. Fellowship Christian
8. Holy Innocents'
9. Savannah Christian
10. Savannah Country Day