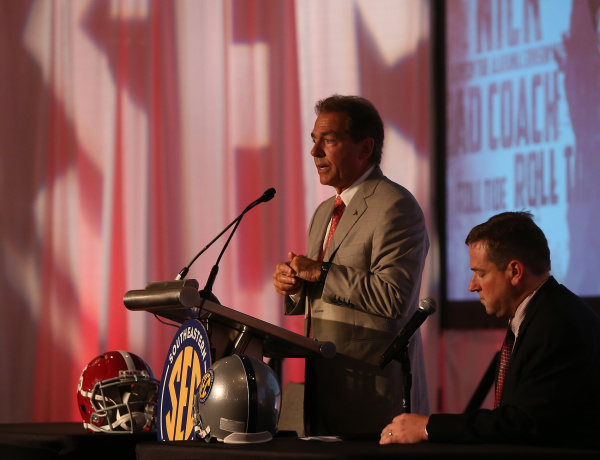 Kent Gidley/ RollTide.com
HOOVER, Ala.- – Ever since 2012 Alabama has begun their football seasons with neutral site games against 'power five conference' teams. The good news is they've won every single one of those games.
2015 will begin the same way, with the Crimson Tide heading to Arlington to battle the Big Ten's Wisconsin Badgers at AT&T Stadium. They're not going to stop their either with a return trip to "Jerry World" in 2016 to play Southern Cal and the opening game of the Atlanta Falcons new stadium in 2017 against Florida State for the Chick-Fil-A Kickoff Game.
You're probably asking yourself why Alabama does this to themselves. After all, they do play in the arguably hard division in college football.
All seven SEC West teams made bowl game appearances in 2014 and the Crimson Tide finished 6-1 in that tough division. The lone loss was a close road contest against Ole Miss.
Head coach Nick Saban has shown that he isn't afraid to play against teams like Wisconsin, USC, and Florida State to begin their football seasons.
"I've always been an advocate of playing all 'Power 5 conference' games," Saban said. "So it's very difficult for us to schedule those kinds of teams, especially in home-home situations. More people are interested in doing it early in the season in neutral site games and it's worked out well for us. I think it does a good job for our overall team to play a good opponent in the first game. They're more motivated in the offseason, they look forward to the game more, I think it gets your more prepared early on and certainly an opportunity to see where you're at against a good opponent. Because (we're) going to play a lot of tough game, especially in our league."
Alabama brought three seniors to Hoover to represent the program for SEC Media Days. Running back Kenyon Drake, center Ryan Kelly, and linebacker Reggie Ragland only know what it's like to play in season opener's like the one they'll have this year.
In 2012, Alabama went to Arlington and demolished the Michigan Wolverines 41-14. In 2013 and '14 they played in the Georgia Dome for the Chick-Fil-A Kickoff Game(s). They beat Virginia Tech 35-10 and West Virginia 33-23.
Alabama's Kenyon Drake is back this season, after a gruesome leg injury ended his 2014 season against Ole Miss. He says games like the one they'll play against Wisconsin are why you play for the Crimson Tide.
"It's definitely something that we accept because of the nature of the beast of playing at the University of Alabama," Drake said. "In any regard, we're going to get any team's best game. Because of who we are, what we stand for and how we strive to be champions year in and year out."
Reggie Ragland gets to book-end his career with a game inside the Dallas Cowboys home stadium. It's a date that he's already looking forward to.
"Playing against a team like that gets you hyped," Ragland said. "It makes you do the necessary things you need to do to get better and if you don't bring your lunch pail/hat you'll get beat on national TV. But, getting to play in Arlington? That's a great experience. I started there my freshman year and it's a great feeling that I get to play there going into my senior year."
It's another year in the SEC for the Crimson Tide and many (me included) have picked them to win the West and the conference as a whole. But Ragland says anyone is a favorite and they need to be prepared to face them. He's not scared to play tough teams outside their league.
"I am a competitor," Ragland said. "Getting to play these games week in and week out playing those teams, anybody in our division can win the SEC Championship. You've got to have the right mindset going into each week, starting the next day after you get done playing your opponent and you have to be humble in the experience who you're going against."
Even with these senior players, Alabama has a young team hitting the field in 2015. Six out of their projected 22 starters are either sophomores or freshmen.
Ryan Kelly believes that youth does not mean immaturity for them.
"This team is a little bit special," Kelly said. "I've never seen a team that is selfless since I've been here. Everybody is willing to help each other out. We are a young team, but we're full of talent just like every year. I know that Wisconsin is going to be a big challenge for us and I think it's going to be a great testament to what we do around here. I'm looking forward to seeing how we come out."
Alabama will have to find a starting quarterback and they're also young in the wide receiver group. Plus, they need to replace three starters from last year's offensive line.
The good news is that they have eight returning starters on defense. Many believe this will be one of their more stout defensive groups in recent years.
The Crimson Tide are still the favorites to win the SEC and while Nick Saban is in Tuscaloosa that trend will continue.
Alabama Predicted Finish: 1st (West) & SEC Champs