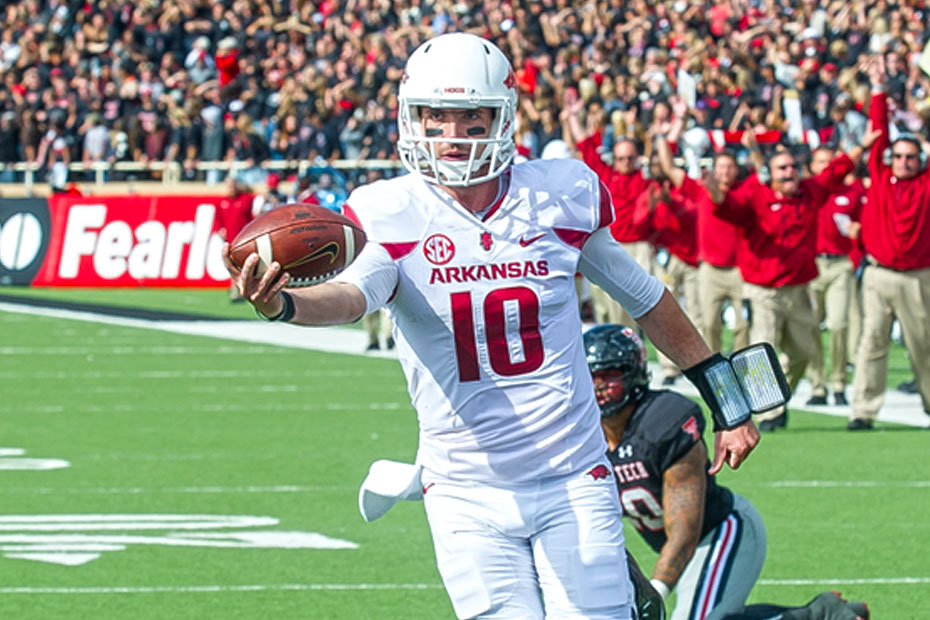 ArkansasRazorbacks.com
HOOVER, Ala.–  2014 seemed to have everything for the Arkansas football team, as they roared onto a 7-6 finish. It saw them lose close games late in the fourth quarter and then saw them blow out opponents with winning records.
The Razorbacks ended their two year slump of losing records and ended the year with a 31-7 beating of their neighboring state rival- Texas Longhorns 31-7 in the Texas Bowl.
Arkansas has 15 out of 22 starters returning from last year's team and head coach Bret Bielema believes he's got a good squad coming back.
"I think we've got a good team coming back in Fayetteville," Bielema said. "I think we've got a group of guys that have been through some trials/tribulations before I arrived and after I arrived. We're going to go through some again this year, but we'll champion them together. I'm excited where this group is and the makeup they have for a lot of different reasons."
One of the many reasons could be the fact he's got his leading rusher coming back to a group that averaged 218 yards a game on the ground. Running back Jonathan Williams is back for his senior year, following a 1,190 yard season with 12 touchdowns.
He shares the backfield with Alex Collins and has four out of five starting offensive linemen back. The offensive line's average weight is 322 pounds and he's excited they're opening holes for him. It made the thought of coming back to Arkansas very pleasant.
"That was part of that potential that I saw in this football team," Williams said. "I think we have nine returning starters on offense and six on defense. So, just knowing what we were getting back on this team made it a pretty easy decision to come back."
2014 seemed like a tail of different seasons for Arkansas and it wasn't until November that this team showed the fire power they possessed on their most consistent basis. With a 17-0 win over LSU and 30-0 win over Ole Miss at home that was shown.
The Razorbacks quarterback Brandon Allen is one of the nine returning starters, but looks back at when the fortunes started to come their way after the shut out of LSU. He says it taught them a valuable lesson.
"We can win," Allen said. "We can beat top teams. We've shown we can play with anybody and now we've shown we can beat them. I think the confidence level that the team got from the LSU game and from the Ole Miss game went through the roof."
Arkansas was known for their running game last season and will likely be known for it again in 2015. The passing game didn't get as much notoriety, with the Hogs averaging only 188 yards per game.
Numbers like that in a pro-style offense start to give quarterbacks a certain name— 'game manager.' Allen doesn't mind being called that.
"If you play the quarterback position and you're not labeled as a 'game manager' you're doing the wrong thing somehow," Allen said. "Quarterbacks call the play and get the team lined up. I don't know how you can play the position without having the term 'game manager' go along with it."
Even with the winning season in 2014 and all the returning players for this season, Bielema still wants more for the program. He in fact even told his team that seasons like last year are not acceptable.
"I'm not going to take lightly to a 7-6 season," Bielema said. "It was equal to the worst season I ever had in my coaching career at Wisconsin. It's by no means acceptable or enjoyable by any means to where we're going to be."
Arkansas has almost everyone back in 2015 and a schedule that has them playing Auburn, Mississippi State, and Missouri at home. They have to go on the road to face Alabama, Tennessee, Ole Miss, and LSU.
Bielema has this program on the right path and will likely get them in contention again for the SEC West. This year still just feels like they'll be a year away behind some of the schools just mentioned in the west.
Arkansas Prediction: 5th in the SEC West