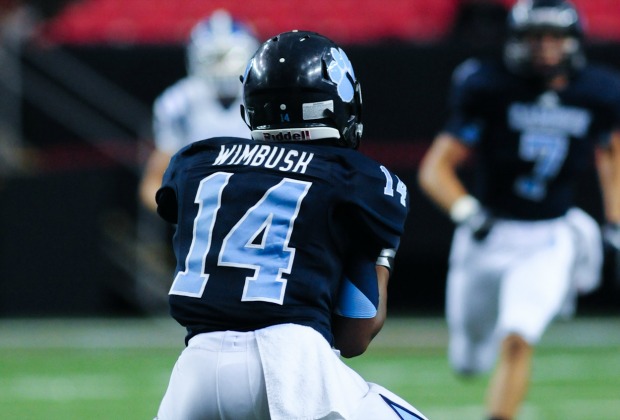 Photo by Sonny Kennedy
Georgia high school football has long been divided by its North vs. South rivalry Regardless of personal preference, all eyes will be on south Georgia tonight and Region 1-AAAAAA. The six teams skated through non-region play with a combined 29-0 record and it will be the first time ever that you will see this type of action take place within one region on a single night.
(5-0) Valdosta at (5-0) Camden County
Valdosta's win total has decreased the last four seasons, but that trend looks to be part of the past. The 5-0 Wildcats are one win away from matching last year's six-win season. Camden County won last season's matchup 14-10 and will face an even better Valdosta defense this year. Joshua Norwood is arguably the best defensive back in the state and leads a ball-hawking and hard-hitting secondary. The Valdosta secondary allows the defense to blitz and be aggressive. In five games, only Thomas County Central has put up points. The Wildcats are allowing a state-best two points per game.
Camden County will aim to increase the tempo of this game. The Wildcats of Kingsland have averaged 42 points per game this season while allowing just 15.6 points per game. 10 different players have scored rushing touchdowns and Camden County will look to keep the ball on the ground against Valdosta. The key for Valdosta will be forcing Camden into passing situations. Camden County has only had to attempt 22 passes this season with a 377 rushing yards per game average.
(5-0) Lowndes at (5-0) Colquitt County
No other team in Region 1 has been tested like Colquitt County. The 5-0 Packers have wins over Mill Creek, Hoover (Ala.) and Enterprise (Ala.) and have won each game by at least 17 points. Chase Parrish has been fantastic at quarterback for Colquitt County. The junior is completing 71.6 % of his passes and has thrown nine touchdowns with just two interceptions. Junior wideout Qwazavia Lee leads the Packers receiving corps with 20 catches for 348 yards and five touchdowns.
Lowndes battled past Newton two weeks ago in a 17-14 win and has victories over Plant (Fla.) and Roswell to add to its resume. The Vikings fell 37-7 last season to Colquitt County and will look to keep the football on the ground. Lowndes has averaged 237.8 rushing yards per game and junior Dezmond Copeland has paced the backfield with 94.8 rushing yards per game and five touchdowns.
(4-0) Lee County at (5-0) Tift County
Tift County's defense has allowed just 4.2 points per game, while winning all five games by at least 22 points. The Blue Devils have not won more than five games in a season since 2008 and have won just 2-of-12 region games the last two seasons. Lee County has won with its defense and has outscored its last two opponents 101-18.
The Trojans finished 10-2 in Class AAAAA last year, and Tift County will be Lee County's first-ever Class AAAAAA opponent.