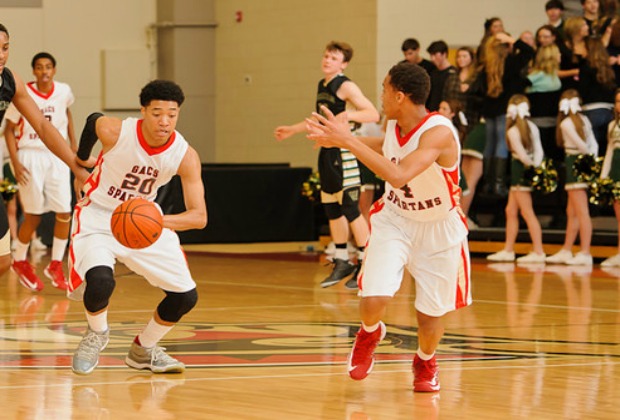 Ty Freeman
The polls saw some movement last week as teams settled back into region play following a busy holiday tournament season. Class AAAAAA No. 3 North Gwinnett moved up from No. 4 and Shiloh climbed as well after beating No. 9 Archer. No. 6 Norcross scored a nice win over North Gwinnett last night to solidify its spot in the poll. Luella also enters the rankings at No. 10, despite a loss to Walton Saturday. Brookwood, Roswell and Chattahoochee just missed the No. 10 spot.
In Class AAAAA, Allatoona moved up to No. 3 and Sequoyah bumped up to No. 4 after beating previously-ranked Pope. Lithia Springs ended a successful week topping Marietta and South Paulding by moving up to No. 5. Tucker, which fell to No. 9 Mays, dropped to No. 10, behind No. 6 Evans, No. 7 Northside-Warner Robins and No. 8 McIntosh.
Statesboro moved up to No. 7 after beating Wayne County, which fell from the rankings. South Atlanta climbed up to No. 8. No. 9 Grady and No. 10 Westover are also new to the rankings as Wayne County and Westside-Macon fell from the polls.
Class AAA No. 8 Johnson-Savannah stayed in the same spot as last week after falling to Oak Hill Academy over the weekend. The Atom Smashers have been hot since the turn of the year, but Oak Hill dominated the visitors over the weekend. St. Pius X moved into the rankings at No. 10 after most of the teams shifted up one spot as Dawson County fell to No. 7 and Woodward Academy dropped out of the rankings.
CLASS AAAAAA
1. Tift County
2. North Cobb
3. North Gwinnett
4. Shiloh
5. Hillgrove
6. Norcross
7. Wheeler
8. Westlake
9. Archer
10. Luella
CLASS AAAAA
1. Miller Grove
2. Effingham County
3. Allatoona
4. Sequoyah
5. Lithia Springs
6. Evans
7. Northside-Warner Robins
8. McIntosh
9. Mays
10. Tucker
CLASS AAAA
1. Columbia
2. Eagle's Landing
3. Monroe
4. Glenn Hills
5. Marist
6. Jonesboro
7. Statesboro
8. South Atlanta
9. Grady
10. Westover
CLASS AAA
1. Cartersville
2. Savannah
3. Morgan County
4. North Hall
5. Buford
6. North Murray
7. Dawson County
8. Johnson-Savannah
9. Washington County
10. St. Pius X
CLASS AA
1. GAC
2. Manchester
3. Vidalia
4. Laney
5. Bleckley County
6. Dade County
7. Dublin
8. Calhoun
9. Westside-Augusta
10. Taylor County
CLASS A – Private
1. North Cobb Christian
2. Athens Christian
3. Greenforest Christian
4. Landmark Christian
5. Mt. Paran
6. Excel Christian
7. W.D. Mohammed
8. Holy Innocents'
9. St. Francis
10. Aquinas
CLASS A – Public
1. Mitchell County
2. Wilcox County
3. Wilkinson County
4. Lanier County
5. Turner County
6. Seminole County
7. Hancock Central
8. Portal
9. Stewart County
10. Treutlen