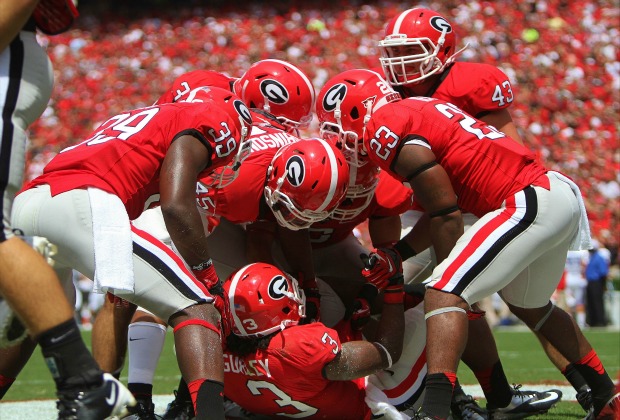 Rob Saye
The Georgia Bulldogs entered the season with one major injury, offensive lineman Hunter Long's broken foot. Other than Long, the team was not faced with an injury that may hold a player out more than a day or two.
However, attrition reared its ugly head during the Bulldogs' season opener against the Buffalo Bulls.
In his first collegiate start, freshman offensive tackle John Theus fell victim to a left ankle sprain. Watts Dantzler came into the game as Theus' replacement at right tackle and also sustained a left ankle sprain. Sophomore cornerback Malcolm Mitchell (ankle) and senior wide receiver Marlon Brown (hamstring) missed the Buffalo game with injuries.
The Bulldogs did not suffer another ankle injury against the Missouri Tigers but starting left guard Dallas Lee suffered one in Week 3 against Florida Atlantic. Left tackle Kenarious Gates shifted over to guard to replace Lee and junior college transfer Mark Beard took Gates' place at tackle.
After starting the season with a healthy roster, a rash of ankle sprains has the Georgia Bulldogs piecing together an offensive line for this weekend's game against Vanderbilt.
The right side of the line, center David Andrews, right guard Chris Burnette and right tackle John Theus, will all play against the Commodores. Kenarious Gates will also play on the left side but his position depends on the status of Dallas Lee. The left side could consist of a combination of Austin Long, Mark Beard, Xzavier Ward, Lee and Gates.
Lee has practiced everyday this week but in a limited capacity. In the portion of practice open to the media Wednesday, Dallas was seen in a green jersey walking around the field with Dantzler, who has yet to return to the field. Head coach Mark Richt believes Lee will play but would not give a firm commitment. He also said that if he does play, there still may be a rotation at guard to take pressure off his left guard's ankle.
What would a rotation at guard mean for the Bulldogs?
The rotation would allow the team to learn more about its depth at the position and determine whether the team possesses quality replacements. Normally, playing backups in a game is a great chance for them to grow as a player, but against an SEC rival, the scenario is less than desirable.
Mark Beard transferred to Georgia over the winter after playing at the junior college level and is the favorite to benefit from the absence of Lee. Beard drew the ire of his coaches in early August but has come on strong in recent weeks. He is the most athletic of all of Georgia's backup lineman, which is why he was moved to left tackle against Florida Atlantic.
Austin Long drew praise from Richt during the last week of fall camp for a strong performance on the practice field. He started the season above Beard on the depth chart but was not able to hold off the transfer. Long knows Georgia's offense system and is an SEC-caliber replacement.
Ward redshirted last year to rehab a knee injury and to add weight to his frame. Xzavier is a physical prospect but reported to Georgia in the range of 260 pounds his freshman year. He now weighs 293 pounds. Ward has seen time in games this year, but Richt does not believe his is 100 percent recovered from his injury. Perhaps if he was, he would have been the choice at left tackle for Georgia.
The loser in this battle for extra time is Dantzler. The Dalton product opened the season as the backup to John Theus and was seen as Georgia's third tackle. So far, Watts has missed two games and there is no word on whether he will play this weekend. Injuries never happen in a timely manner and his ankle sprain has surely cost him a chance for an extended look in the starting lineup.
Defensive coordinator Todd Grantham said last week that "injuries create depth." Georgia will hope that its depth will perform well enough to hold off Vanderbilt.