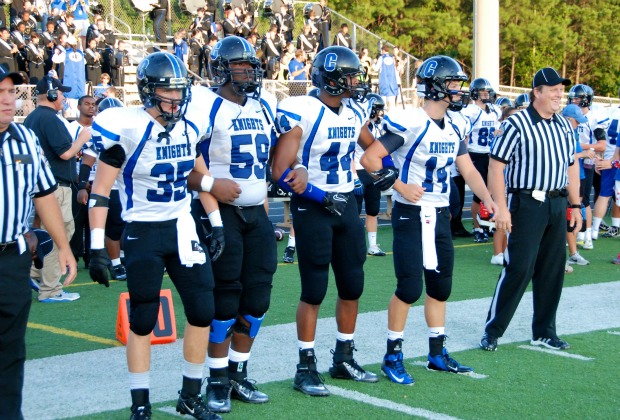 Elisa Herring
New Centennial football coach Jeffrey Carlberg is quickly putting his fingerprints all over the Knights program, and he has invited Score along for the ride during his first year at the helm. Here are highlights from this week.
Obviously we are off to a slow start, but the players are working hard to make the adjustments from the old style to what our coaches are asking them to do right now. It is a process and we knew there would be an adjustment period. What really excites me as a coach is the energy and enthusiasm shown by both the coaches and the players each and every day at practice.
Our offense played its best game thus far against Milton last Friday. The defense made a few too many mistakes to give us a chance for a victory. We need more consistency on both sides of the ball to have a chance to win.
Despite the slow start, the support from the community continues to amaze me. The Centennial community wants a well-rounded program that instills character, discipline and teamwork. That is what we have strived to do from Day 1 and the Centennial administration is very supportive of our efforts and energy so far.
When we came to Centennial, we wanted to reshape the entire program, starting with the community to the freshman team to the varsity team. Our freshman team is off to a fast start with a 2-0 record after knocking off Alpharetta and Chattahoochee the past two weeks.