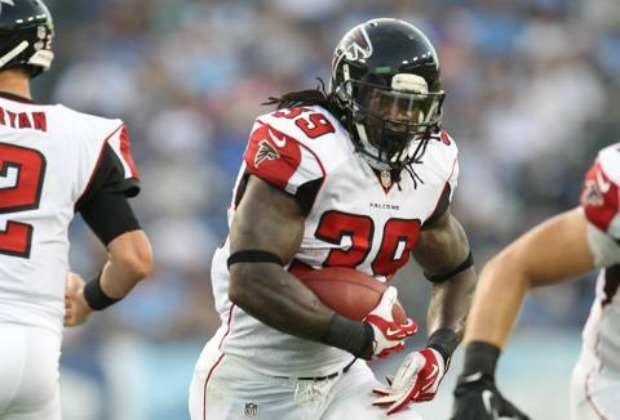 atlantafalcons.com
During the offseason, Thomas Dimitroff inked running back Steven Jackson in mid-March to a three-year deal to bring the former St. Louis Rams running back to Atlanta.
"I think this is a very big signing for us," Dimitroff told the Associated Press at the time. "It continues to bolster our offensive firepower. It gives us not only strength, power in running ability, but also the versatility to catch out of the back-field, which is a very important part of this offense."
Jackson demonstrated his value in the League by essentially doing the impossible during his nine-year career in St. Louis. He remained consistent in the midst of unremitting change and, at times, chaos. The former Ram rushed for more than 1,000 yards in each of his last eight seasons and did so while playing under six coaches, three sets of owners and four general managers.
On the field he was constantly confronted with change, playing with 13 different quarterbacks, 20 tight ends and 50 offensive linemen over the nine-year span in St. Louis. His leadership qualities were seen on and off the field and Jackson kept his unwavering positive attitude. As variables kept changing around him, Jackson's focus never did.
"For nearly a decade, Steven Jackson served as an inspiration for his St. Louis Rams teammates and our fans," said Rams owner Stan Kroenke. "Off the field, his generosity and unselfishness improved the lives of many families in the St. Louis community. We will always be thankful for his contributions to our team and region, and wish him success moving forward."
Upon arrival in Atlanta, his new coaches and teammates immediately sensed his value.
"When he is on the field, he is a businessman," said Falcons running backs coach Gerald Brown. "He will make us a better football team."
The 6-foot-2, 240-pound back is a nightmare to bring down and can wear down defenses. With so much talent around him this year his carries may dip, but his impact will remain elevated. He offers many playcalling possibilities and his versatility will be one of the main engines of this offense.
"The thing I like about Steven is that Steven is not just a running back, he's a receiving back as well, so he gives us a lot of flexibility in our personnel groupings. Whether or not we are putting out a run or a pass grouping, they [defenses] won't be able to tell." said Falcons Head Coach Mike Smith.
Having a productive receiving threat out of the backfield is important to the offense.
"It slows down the rush, number one," said Falcons wide receivers coach Terry Robiskie. "When you are connecting on screens, the defensive line cannot get upfield at your quarterback as quickly and aggressively. (If they do) you will dump it down to the screen and get them out of position."
Robiskie also explained that receiving threats out of the backfield will force defenses from doubling one of the receivers or dropping deep into coverage.
"Linebackers can't drop as deep, so it helps from that standpoint," said Robiskie. "The screen game is a phenomenal weapon to have and we become an explosive offense when we can throw the screen."
The Falcons have been led by a talented core of guys that ranks up with the best in the League. Ryan, Gonzalez, Roddy White, Julio Jones and Jacquizz Rodgers are all coming off career seasons and are poised for more breakout years.
Jackson could be the finishing touch on the organization's championship aspirations. His toughness and attitude on the field is sure to ignite the Dome this season and give the team an added confidence.
"I think he will make the other players better. This guy has already done it all," beamed Offensive Coordinator Dirk Koetter.
It is safe to say the Falcons are happy to have Jackson aboard.