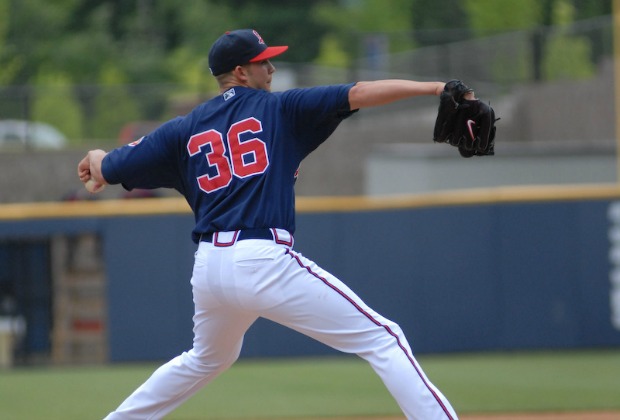 Jon Barash
The Gwinnett Braves concluded their 2013 schedule on Labor Day. Like many minor league teams their record (60-84) is not necessarily the biggest part of the picture in their framework to the Atlanta Braves organization.
First year manager Randy Ready learned all the benefits to working with a major league contender's highest minor league affiliate. Often times, the G-Braves hosted bona fide major league stars on rehab assignments, but those stars didn't stay long in the clubhouse at Coolray field and rarely travelled with the team.
Ready also had to deal with the staples to his line-up being called-up to the big club and disrupting his lineups at the last minute. As an example, on Tuesday, August 13, do-it-all player Tyler Pastornicky was taking batting practice at Coolray Field. A couple hours later, Pastonivcky was in uniform for Atlanta at Turner Field as a stop-gap measure while Dan Uggla adjusted to LASIK surgery. By Thursday evening's end, Pastornicky tore his ACL in a collision with Jason Heyward. Pastornicky was done for both the Atlanta and the G-Braves for the remainder of both seasons..
Pastornicky was one of several G-Braves having a good year. In Gwinnett, he was maintaining a .292 average and ranked among the club leaders in several categories despite bouncing between the two clubs all season.
Joey Terdoslavich is another example of a player too good to help Gwinnett win more games. "Terdo" was hitting .318 and had been named an International League All-Star when the big Braves called him up on the Fourth of July. Despite two months down I-85, Terdoslavich was second in RBI for Gwinnett this summer but again he couldn't help the AAA win games in the second half of the season.
All said, the G-Braves had their share of stars in 2013 that were primarily based in Lawrenceville. First baseman Ernesto Mejia continues to prove that should something happen to Freddie Freeman, he's ready to step-in and help out in "The Show." Mejia led the G-Braves with 28 Home runs and 83 RBI.
On the mound, lefty Yohan Flande was one of a pair of aces on the G-Braves staff. Flande led Ready's staff in wins with nine (and came in for one save), despite grabbing just 19 starts. Flande's co-ace in 2013 was righty Omar Poveda. Poved led the G-Braves starters in innings pitched (164), strikeouts (133) and WHIP (1.30).
The G-Braves did get the benefit of the big club's super-rookie, Evan Gattis for the final weekend. Gattis was 6-13 with three doubles and one home run over the final weekend for the G-Braves before returning to the parent club.