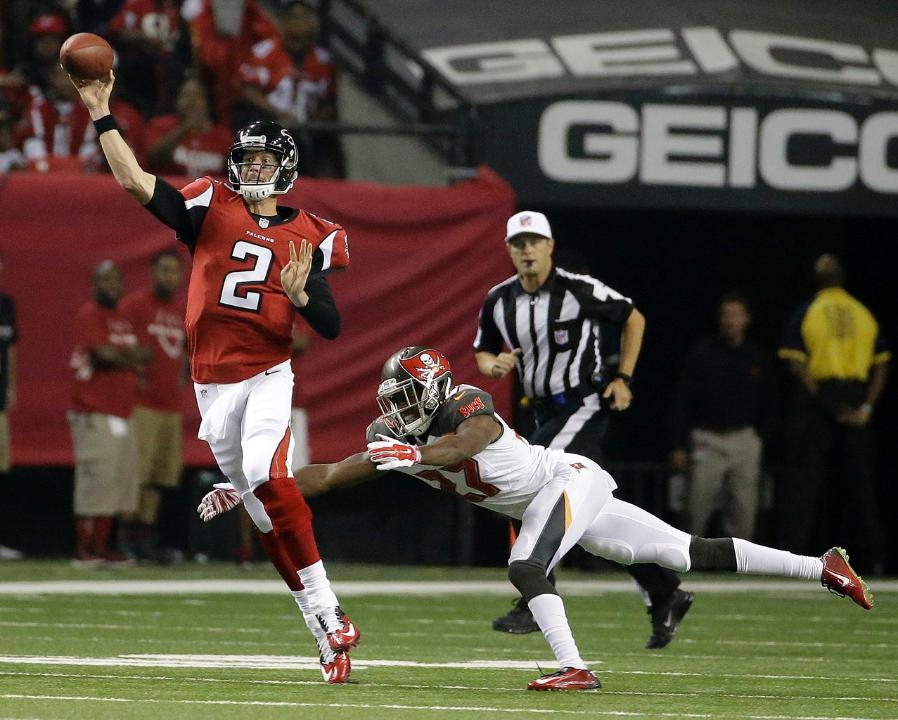 AtlantaFalcons.com
For the second time in the last three weeks, Falcons quarterback Matt Ryan picked up NFC Offensive Player of the Week honors. This second time comes after the Falcons dismantled the Tampa Bay Buccaneers 56-14 on the strong 21 of 24 completed passes for 286 yards and three touchdown performance from their QB.
So far this season, Ryan has thrown for just under one thousand yards at 965 through his first three games. Through this time last season, Ryan had thrown for 909 yards. He threw for 793 through three games in 2012.
So now this begs the question of whether or not we're seeing a "new" Matt Ryan?
He's been a two time pro-bowler and named rookie of the year in 2008. So, the accolades have been there for the Falcons QB. Yes people still question whether the guy can win in the postseason and he does only have one win in extra football.
A couple things are for sure with this team, they believe their guy is a winner and that he has improved coming into this season. Just ask head coach Mike Smith.
"I think he's got a pretty good understanding of what people are trying to do (on defense) and how they're trying to take it away," Smith said. "The pre-snap read is so important and then you've got that first second once the ball is snapped where you've got to be able to process what's going on because people are going to try to disguise their coverages. I think he's got a very good understanding of how people are trying to defend us. I've said it from the very beginning, Matt is an elite quarterback in the NFL and thus far he's played like one of the elite quarterbacks in the NFL."
It's been talked about a lot this season during the television broadcasts about the work that Ryan put in over the offseason with the Falcons strength and conditioning staff to get ready for 2014. He says it's been the norm for him over the years to be a workout warrior in hopes of taking his game to a new level.
"I feel like really for the last two-three years I've gotten a feel of what it takes to get yourself ready to go and I feel like I've made really good strides," Ryan said. "I don't think it's any one thing in particular. I think it's kind of the combination of all those things and being consistent year in and year out. I think I'm at a good place physically and I feel really good when I go out there on Sunday."
Ryan does have some outstanding players to spread the football around to on this Falcons offense. You don't have to go any further than looking at wide receiver's Roddy White and Julio Jones. Both players have spent four seasons with Matt Ryan, while Roddy has seven all total. Jones knows what type of quarterback Ryan can be and that's why this season isn't a surprise to him.
"He's just getting recognized now," Jones said. "Matt has always had the talent. He's been a great quarterback here and a great leader."
Consider Roddy White to be another player of the belief that Ryan isn't surprising anyone with his play to this point. He just hopes it continues for the Falcons in the next 13 plus games of the season.
"He's gone through stretches where he's played like this," Roddy said. "It's just the third week of the season, so we've got a long way to go. As long as he keeps playing this way, then we'll be fine. We'll win a lot of games and we'll set ourselves up to where we want to be playing at home for the playoffs."
The Falcons get their second road test of the season on Sunday, when they take on the Minnesota Vikings. So far the Vikings defense is in the middle of the pack in the NFL, in terms of defending the passing game. They have given up an average of about 225 yards per game with three touchdowns on the season. That has them ranked 13th in the league. The last two weeks, they have gone up against the Saints Drew Brees and the Patriots Tom Brady.
Ryan will no doubt be another challenge for them this week in Minneapolis