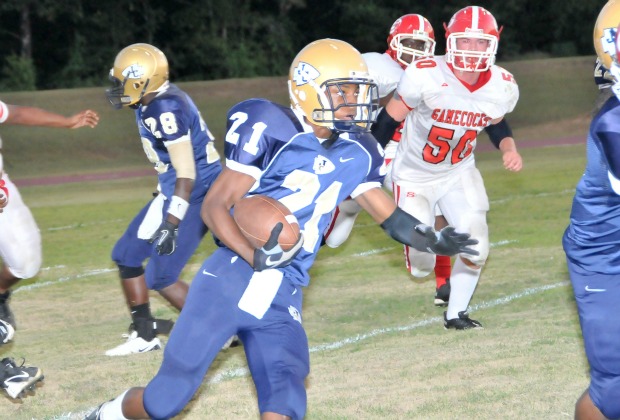 J.B. Arnold
A major AA showdown looms tonight in South Georgia as the No. 2 Cook Hornets travel to Fitzgerald to take on the No. 5 Purple Hurricane. The two programs have combined to win the past three Region 1-AA titles with Fitzgerald taking the crown in 2009 and 2010 and Cook in 2011. This year, Brooks County will try to get in the way of either Cook or Fitzgerald taking the region title, as the Trojans are ranked No. 3 in the state. Fitzgerald has won five of six and 10 of 13 in the series and holds the all-time edge 26-14-1, according to GHSFHA.org. The winner of this year's game will gain an early edge in the region race.
Surprising Thomson will face another Atlanta-area program this weekend as it visits Greater Atlanta Christian, ranked No. 8 in Class AA. The Bulldogs, ranked fourth in AAA, have defeated St. Pius X and Westminster already this season and will look to add a third victim to their list of Atlanta private school wins. Milan Turner's team opened the season with an eye-opening 21-14 victory over defending Class AAA champ Burke County. The Bears have since won four straight games and are ranked third in Class AAAA. QB Chris Tutt and RBs Chris Jordan and Torrie Battle combined for most of the Bulldogs' load against St. Pius X last week as Thomson totaled 295 yards on the ground. The Bulldogs' defense struggled against LaGrange a couple weeks ago and will be tasked with containing GAC QB Rafe Chapple, who threw for 219 yards and five scores last week against Howard (Tenn.). The Spartans won that game 42-20 and come into tonight at 4-1, with their lone loss to Chamblee, when they were held to a season-low 24 points.
There's a big Class A battle in the Classic City tonight as Athens Academy visits Prince Avenue Christian. Both teams are undefeated and the host Wolverines claim a No. 5 ranking. PAC has won the last two meetings in the six-game series after dropping the first four games against the Spartans. The Wolverines won their first-ever Region 8-A title last season with a 6-0 record as a win over Athens Academy in the region opener helped spur them to the title.
In Barnesville, first-year Lamar County coach Franklin Stephens will look to get is second region win against Class AA No. 10 Northeast-Macon. The Trojans, ranked No. 6, have started Stephens' inaugural season off with a bang at 3-0-1. The Raiders, meanwhile, are 4-0 and have allowed just 12 points so far. Northeast has dropped the only two games against Lamar County in series history, both coming in the last two seasons. The winner of this one gives it a leg up in the Region 4-AA race.