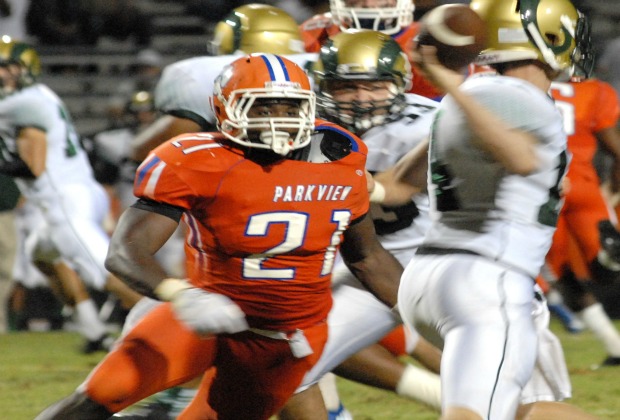 Jay Turner
While it may not be the East Cobb Super Bowl III, but North Cobb faces South Cobb tonight with both teams entering the game undefeated. North Cobb's Xavier Borishade poses a threat not just at receiver, but also as a returner. He returned a kick for a score against Walton and returned a punt for a score against Kennesaw Mountain. Meanwhile, J'Vonte Herod has been a star out of the Warrior's backfield. He posted 136 yards and a score against Harrison. The North Cobb defense, which forced five Harrison turnovers last week, will have to contain South Cobb quarterback Stephon Masha, a threat with his arm and his legs. With a good game, Masha could surpass the 1,000-yard mark for passing for the season. He has also rushed for nearly 400 yards through four games.
Central Gwinnett's Eman Westmoreland is just 110 yards away from setting the Gwinnett county record for passing yards, but it may be tough for Westmoreland to reach that number tonight. The Black Knights quarterback is recovering from an ankle injury and will face a loaded Grayson defense that boasts six BCS-level senior prospects on its defense in addition to the nation's No. 1 recruit Robert Nkemdiche. Westmoreland has 1,024 passing yards this season according to the Gwinnett Daily Post, but a talented Rams' secondary could make adding on to a Gwinnett-record 62 touchdowns very difficult.
Not many people would have believed before the year that the Shiloh/Archer game would be a playoff elimination game in Region 8-AAAAAA, but that seems to be what it is. Each team enters the game at 1-2 in region play, looking up at Parkview, South Gwinnett, Grayson, Central Gwinnett and Brookwood. Shiloh has dropped its last two games but still has Brookwood, Parkview and Central Gwinnett yet to play, so a victory here could give the Generals an important tiebreaker. Meanwhile, Archer needs a win before traveling to Central Gwinnett and South Gwinnett over the next three weeks. Archer's region point differential is zero after losing to Brookwood by one and Parkview by two, then beating Dacula by three.
In other metro action, North Gwinnett hosts Duluth as the Bulldogs look to keep pace in the race for a playoff spot.
Collins Hill is undefeated in region play but starts a four-week stretch of Peachtree Ridge, Norcross, Meadowcreek and North Gwinnett with a trip across Suwanee to face the Lions.
Finally, Wheeler looks to snap its two-game skid and pick up a big region win at Roswell as the Hornets try to give Justin Sanderson his second win of the year.