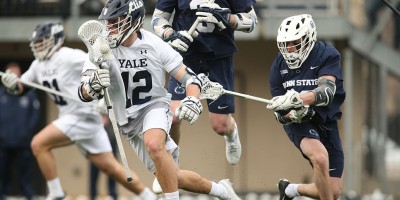 On Sunday, lacrosse juggernaut and reigning national champion Yale will make the long trip from New Haven, Conn., to midtown Atlanta to face-off against Michigan of the Big Ten at 1 p.m. in the Atlanta College Lacrosse Classic.
Yale's first lacrosse title in school history came after their stellar 2018 season where the Bulldogs went 17-3 behind head coach Andy Shay to give him his eighth 10-win season during his nine-year career at Yale. While en route to national championship, the Bulldogs also boasted a perfect Ivy League season record (7-0), their first since 1956.
This season, Yale (2-1) seems to be right where they left off with a squad that is currently ranked fourth in the country.
"Considering teams we've had in the past they are bigger, faster and stronger," said Coach Shay, "we score a lot. We have some really good players."
Among these players is junior Jackson Morrill, an attacker who's found the back of the net five times already this season. As a sophomore, he was named second-team All-Ivy League, put on Ivy League All-Tournament team, and scored seven goals in the Bulldogs first-round win over UMass to achieve the record of most goals scored by a Yale player in the national tournament.
Senior Jack Tigh represents another force to be reckoned with on offense, sitting just one goal behind Morrill with four on the season. While the attacker has no issue displaying his skills against any opposing team, his personal best performance came last season against none other than the Michigan Wolverines with a five-goal outing.
The matchup at Grady Stadium will be just the fourth match of the 2019 season for Yale, giving the lacrosse world an early look into their potential repeat of last season's success.
"For us its an honor that people want us to come down and play," said Shay. "We are a humble group, but we're excited that someone wants us to come on down and show how we play."
Michigan was promoted to NCAA Division 1 status in 2012 and trudged through five losing seasons before going 8-6 in 2017. Now in his second year as head coach of the Wolverines, Kevin Conry is looking to expand on his inaugural season that showed the program is moving in the right direction. Conry views the development of culture as a crucial part in the growth process.
"We're still in the growth process,'' he said. "When you transfer from club to varsity, there are certain steps you have to take. Culture builds programs, culture wins championships. We live our lives like we play the game and play the game like we live our lives."
Conry led his team to five straight home victories at the new U-M Lacrosse Stadium in 2018. This season, Michigan (3-1), with wins at Cleveland State, Jacksonville and Drexel, dropped its only match of the season at home and won't return from the road until they host Notre Dame on March 19.
Sophomore Alex Buckanavage and 2018 Team MVP and Offensive MVP senior Brent Noseworthy currently lead the Wolverines offense with 10 goals each. Noseworthy led the Big Ten in goals per game (2.93) in 2018, putting the midfielder fourth in the nation. At 6-foot-4 and 220 pounds, Noseworthy is an intimidating player who can attack the goal, shown by his eight hat tricks last season.
As a freshman, Buckanavage ranked fourth on the team in goals with 19 and is well on his way to surpassing that total this season. While the sophomore plays the attacker position, he can apply pressure against opposing teams to create turnovers and scoop up the loose ball.
"They want to be successful," said Conry about his young team. "They are willing to take the steps needed to be successful. We have a lot of guys that can do it all."
The Wolverines' trip to Grady Stadium to take on the defending champs is an opportunity that Conry and his team plan to learn from but it also gives them a chance to make their mark as an up-and-coming program.
"This is a tremendous opportunity for our guys," said Conry. "Going into a non-traditional lacrosse area, we want to be a part of the growth process. We want the young guys to come out and see how we play."
A victory over Yale would be a significant win for Conry and the Wolverines as they're out to prove they are ready to compete at the highest of levels, and the second-year coach knows exactly what this win could do for the program.
"They were the national champs for a reason," Conry said. "You can't be the best until you beat the best."
Gates at Grady Stadium will open at 9 a.m. as Georgia Tech and UConn will face each other in the morning in a matchup of club teams.
Tickets are available by Clicking Here:
https://www.eventbrite.com/e/atlanta-college-lacrosse-classic-tickets-55358797654