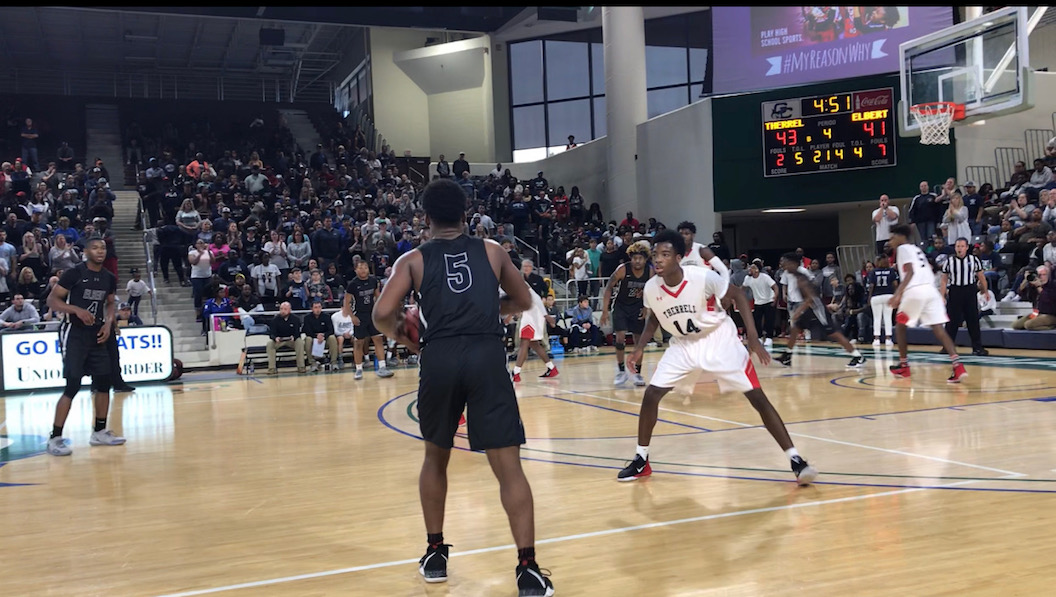 Milledgeville – The Early County girls advanced past Model 74-60 and will face the Douglass at 2:00 p.m. on Thursday at the Macon Centerplex. The Therrell boys defeated Elbert County 57-47 and will face Vidalia at 4:00 p.m. on Thursday.
Boys
Therrell 57, Elbert County 47
Therrell overcame a slow start and rallied back in convincing fashion in what turned into a dominant second half to advance past Elbert County. Therrell trailed the Blue Devils 12-6 at the end of the first quarter and were down 34-20 at the half.
"These boys have been playing together for the last three years," said Therrell head coach Eddie Johnson of his team's strong showing in the second half. "They have a strong brotherhood and will support one another out there on the court whether we are up or down. I couldn't be prouder of their resiliency today."
The Panthers opened the third quarter on a 17-2 run to take their first lead of the game and closed out the quarter with a 39-38 lead
"This is why I make sure that we schedule tough games throughout the season," said Johnson. "Our boys are battle tested, they have been in situations like this before. They didn't get nervous, they didn't get shook and they fought back and did exactly what we are supposed to do. I'm so proud of their mental toughness."
Elbert County's Jamison Syphore tied the game at 45-45 with 2:31 left before Therrell used a 12-2 run to close out the victory. Senior Robbie Armbrester provided the go-ahead basket with two minutes left and a wide open 3-pointer by junior Ra'Sean Frederick put the Panthers up by five with 1:08 left. Camerson Fortson and Corey Donerlson converted both attempts in one and one opportunities and Frederick dunked in an exclamation point at the buzzer to square the double-digit victory.
Ambrester finished with 17 points and 10 rebounds and Fortson added 13 points and 14 rebounds. Zyquan Morton provided 11 points and Frederick finished with 10.
AJ James paced Elbert County with 15 points and teammates Jaqirus Harris and Ty Hill each finished with 11.
Vidalia 53, Laney 44
Vidalia has held its fourth-straight playoff opponent to 46 points or fewer and defeated Laney to play for its first-ever state championship next Thursday against Therrell in Macon. Offensively, the Indians opened the game on a quick 9-0 run, but Laney was able to bring it back within 13-11 at the end of the quarter. The offensive production slowed down in the second quarter for Vidalia and a spell of turnovers helped Laney grab a 19-17 lead with 1:52 left in the half
"We had 12 turnovers in the first half and we felt like that is why Laney was able to keep it close," said head coach Tommy Dalley.
Vidalia responded with a 7-1 run and closed out the half with a four-point. In the second half, the defensive intensity stifled Laney as the Wildcats were kept scoreless for the first three minutes of the third period.
"I thought we did a really good job at growing that margin early in the second half," said Dalley. "Our guys are just so relentless with their defensive effort and they understand that defense is going to win you a lot of games and that attitude is something you can always bring to the game."
Vidalia led by as many as 34-23 in the third quarter, but a 7-1 run by Laney in the final three minutes cut the deficit to 35-30 heading into the fourth. The Wildcats brought it within 45-41 with 2:25 left in the game, but Vidalia outscored Laney 8-3 to close out the victory.
Xavier McClendon led Vidalia with 16 points and 10 blocks and was the only Indian to finish in double-figures. Antrell Williams finished with nine points and Johnathaon Moody and Anthony Jones each finished with seven.
Laney was paced by Jarvis Washington's 12 points and a 10-point night by Matthew Jones.
Girls
Early County 74, Model 60
Early County jumped to a 34-26 lead at the half and took a 53-44 lead into the final quarter. Sophomore Makayla Timpson's presence was felt on both ends of the court, and she hustled her way to a game-high 30 points and 22 rebounds to lead the Bobcats to the championship.
"Makayla stepped up during the region playoffs and she has continued to step up in the state playoffs," said head coach Kimmie Graham after the game. "She has stepped up and become the type of player that she was today today. She's everywhere on the court and everywhere where we need her to be."
Model tried to chip into the lead, and at one point brought it within 53-47 early in the fourth quarter. Early County, however, was able to get some key transition points to stay out in front and senior Janya Williams delivered the dagger with 3:11 left when she netted her fifth three-pointer of the game to make it 66-51 with 3:06 to go. Williams finished with 21 points and teammate Ta'Ziaya Jones finished with 13 points and nine boards.
Libby Upton led Model with 16 points and 12 rebounds and Montana Moats (15) and Madison Harper (13) also notched double-figures.
Douglass 66, Laney 60
Douglass faced a 30-20 deficit in the second quarter and trailed 34-28 at the half before storming back to defeat two-time defending state champion Laney.
"We were a little nervous," admitted Douglass head coach Alana Allen after the win. "But I told the girls we are in good shape. We were only down six points. That's just two baskets. I told the girls if we can win the third quarter, we are going to win the game."
Laney's fast start was in large part to a dominant first half by Camille Smith. Sixteen of the senior center's team-high 18 points came in the first half.
"Their center was bodying us," said Allen. "If we kept guarding her from behind, she was going to keep bully us in the paint, so we wanted to start fronting her. That made a big difference, but we had to also start rebounding better."
Defense, rebounding and an explosive scoring night by Jacksonville State signee Nekiyah Thomson turned the momentum in favor of the Astros in the second half. Douglass took its first lead of the game 41-40 with 1:11 left in the third quarter and it sparked a 12-0 run that gave the Astros a 49-40 lead midway through the fourth.
"In order to win the championship, you have to beat Laney," said Allen. "We just had to take it to them and We stepped up in the second half."
Thomson finished with a team-high 27 points to pace Laney. Ashuntez Weems added 15 points and nine rebounds and Ikenya King finished with 17 rebounds and nine points. Ashley McKee also notched double figures with 11 points.