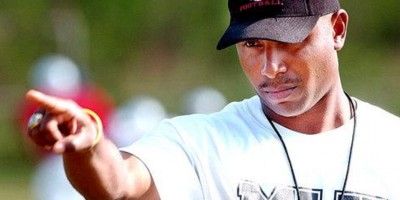 The Atlanta Falcons Coach of the Week program recognizes high school football coaches across the state of Georgia for their hard work and dedication to making a difference in student-athletes' lives on and off the field. Dooly County head coach Corey Jarvis is the sixth winner of the 2018 season and he has led the Bobcat program to new heights his first year as head coach.
Jarvis arrived at the central Georgia program in 2016 and served as the defensive coordinator for two seasons before taking over this season for longtime head coach Jimmy Hughes, who left in June to become Crisp County Athletic Director. Prior to his stint with the Bobcats, Jarvis had already become a fixture on the Georgia high school football scene. As head coach at M.L. King High School, he led the Lions to 49 victories from 2005-09. He took over a struggling Duluth program in 2010 that had just six wins in its previous six seasons combined. Jarvis led the Wildcats to 12 victories over the following three seasons before accepting the head coaching job at Mays High School in 2013. With the Raiders, Jarvis posted 30 victories in his three seasons at the helm.
Dooly County resides in a talented Region 4 in Class A and has battled a schedule this year that has been scattered with ranked opponents. On Sept. 28, the Bobcats defeated No. 10 Macon County 46-40 and began garnering consideration from the pollsters. They followed it with a 32-6 win at Hawkinsville this past weekend and the result lifted them to No. 10 in the latest poll.
Leading the explosive Dooly County offense is dynamic senior quarterback Bo Lawson. The 3-star athlete put on an epic performance in the season-changing win over Macon County, completing 9-of-11 passes for 320 yards and five touchdowns, while adding 141 rushing yards and a rushing score off just seven carries.
This new winning culture and exciting brand of football has generated a lot of excitement in the Bobcat community as they gear up to host region opponent Crawford County this Friday night. But it's not just a new attitude on the field that has been brewing in Dooly County. Coach Jarvis has encouraged his student athletes to participate in multiple programs, including Fellowship of Christian Athletes, Dress for Success, Real Men Read, Clean up Dooly County Initiatives, the NFL Fuel 60 program, other student health programs, study halls and mentoring programs.
Each week, one coach will be selected to be the Atlanta Falcons Coach of the Week based on his commitment to his team, community and player safety. The winning coach will receive a $1,000 equipment grant, a commemorative football and tickets to an Atlanta Falcons home game.
To nominate a varsity football coach: Click Here
Rolling nominations will be accepted until Nov. 1.