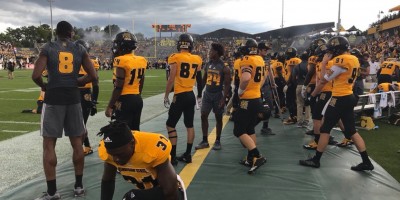 Allen Perez
Kennesaw State is inching closer to playing the football they want to play after defeating Presbyterian 56-0 on Saturday at Fifth Third Bank Stadium in their Big South Conference opener.
"We are heading in the right direction of what we need to do as a program to continue to play to our standard. This is the expectation of what we need to do to be the best we can be," Kennesaw State coach Brian Bohannon said. "We took a positive step in that direction today and I think we did last week as well. We need to continue to build on that."
The Owl's victory against Presbyterian marks the fourth shutout in its history and tied the record for consecutive home wins in the BSC with 13.
It was a solid day for the Kennesaw offense as the Owls finished with 485 yards rushing while the defense only allowed Presbyterian to garner 141 total yards.
Quarterback Chandler Burks added to his already impressive season with four touchdowns, 135 yards rushing, and 53 yards passing, but for Burks, the chance to meet the team's standard is imperative in going forward into their next games.
"We are definitely getting closer, but we are still not there to having that perfect game," Burks said. "We are trying to take our program to an elite level. That's our challenge each week and something we are trying to attack each day at practice."
Kennesaw showed evidence of that elite level when they opened the first quarter with a 25-yard touchdown pass from Chandler to Darnell Holland. Burks scored a 1-yard touchdown, a 10-yard touchdown and a 3-yard touchdown to push the Owls ahead 28-0 at halftime.
Burks wasn't quite done there, as he opened up the second half with a 39-yard touchdown run.
Tommy Bryant and Daniel David both got a chance to lead Kennesaw in the third and fourth quarter as David scored a 1-yard touchdown in the third and Bryant finished with 56 yards passing stemming from a 55-yard touchdown pass to Kevin Ficklin in the fourth. Isaac Foster also added a 12-yard touchdown run in the third and finished with 44 yards rushing. Trey Chivers added 62 yards rushing and Kyle Glover added 49 yards rushing for the Owls.
The Owls will travel to North Carolina to take on Gardner Webb on Oct. 13th with kickoff at 1:30 p.m. where they hope to build upon their already solid standard.
"We talk about our standard and how we go about our business, how we try to practice, how we try to go to the team meetings, and how we jog off the field for practice. How we do what we do. It's all about us and how we go about our business," Bohannon said. "I told the guys that if they want to be elite, they need to worry about us and our standard, and that's how we have approached this season."