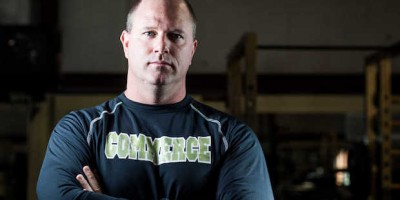 The Atlanta Falcons Coach of the Week program recognizes 12 high school football coaches across the state of Georgia for their hard work and dedication to making a difference in student-athletes' lives on and off the field over the course of the season. The seventh winner of the 2017 season is Michael Brown of Commerce High School in Commerce.
Brown was nominated by Will Smith, the principal and athletic director at Commerce.
"Coach Brown is a person with great values and knowledge of the student-athletes that he coaches," Smith said. "He holds the students accountable for their grades, discipline and attendance in school."
This year, in his fifth season at Commerce, Brown has led the Tigers to a 5-1 start. Last season, the Tigers finished 9-3 after advancing to the second round of the playoffs. In his short time at Commerce, Brown has been to the quarterfinals and semifinals two times each.
The Tigers will face Riverside Military Academy on Friday and, with just four games left in the regular season, should be poised for another playoff run.
The impact Brown has on his program and community is impressive, as he gets his players involved in volunteer work in downtown Commerce.
"The football players help with the Commerce Downtown Development Council," Smith said.
Brown also supports proper safety on and off the football field and makes sure the younger players in the junior program are well educated in that regard.
"Coach Brown is an avid teacher of safety and proper use of safety equipment," Smith said. "He oversees the middle school program and is involved with the recreation department football program."
According to Smith, Brown has helped a special needs student become involved with the Tigers program.
"Coach Brown has taught him, over the past two years, how to become a great team manager," Smith said. "He has given the student the skills necessary to impact his life after high school."
Each week, one coach will be selected to be the Atlanta Falcons Coach of the Week based on his commitment to his team, community and player safety. The winning coach will receive a $1,000 equipment grant, a commemorative football and tickets to an Atlanta Falcons home game.
To nominate a coach, go to AtlantaFalcons.com/CoachoftheWeek. Rolling nominations will be accepted until Nov. 1.