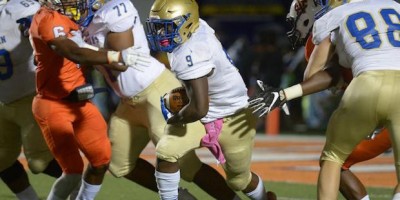 McEachern's Jalen Thornton runs against North Cobb. Daniel Varnado/AJC
There was no change in the Class AAAAAAA Top 10 this week, as every team that played won. Grayson (6-0) and Lowndes (7-0) stayed unbeaten at the top, and Archer survived a one-point win at Newton. North Gwinnett, Colquitt County and Tift County were off, and McEachern was the only other team to play a fairly close game, defeating North Cobb 27-21.
Previous No. 4 Mays took on No. 5 Douglas County over the weekend, and Mays came back a convincing 35-3 winner. Douglas County's body of work and single loss keeps it in the Top 10, and Mays jumps Harrison one spot after the Raiders' impressive win and Harrison's 63-41 win over struggling Sprayberry.
In Class AAAAA, Eagle's Landing fell 31-13 to Ola and was replaced at No. 10 by Bainbridge after the Bearcats' 28-14 win over Veterans.
Class AAAA saw No. 10 Mary Persons defeat Upson-Lee 28-21 and no other ranked opponent winning by fewer than four touchdowns.
Calvary Day reenters the A-Private rankings this week at No. 9, and Aquinas comes back as No. 10. One week after achieving its first Top 10 ranking, Mt. Vernon Presbyterian drops out after a 34-14 home loss to Wesleyan.
Class AAAAAAA
1. Grayson
2. Lowndes
3. Archer
4. Walton
5. North Gwinnett
6. Colquitt County
7. Mill Creek
8. Brookwood
9. McEachern
10. Tift County
Class AAAAAA
1. Tucker
2. Lee County
3. Mays
4. Harrison
5. Northside-Warner Robins
6. Coffee
7. Winder-Barrow
8. Alpharetta
9. Dalton
10. Douglas County
Class AAAAA
1. Rome
2. Buford
3. Stockbridge
4. Jones County
5. Warner Robins
6. Carrollton
7. Starr's Mill
8. Kell
9. Wayne County
10. Bainbridge
Class AAAA
1. Cartersville
2. Thomson
3. Marist
4. Troup
5. Blessed Trinity
6. Jefferson
7. Ridgeland
8. Burke County
9. Woodward Academy
10. Mary Persons
Class AAA
1. Cedar Grove
2. Peach County
3. Greater Atlanta Christian
4. Calhoun
5. Jenkins
6. Bremen
7. Lovett
8. Monroe Area
9. Crisp County
10. Westminster
Class AA
1. Benedictine
2. Hapeville Charter
3. Screven County
4. Rabun County
5. Thomasville
6. Callaway
7. Brooks County
8. Jefferson County
9. Dodge County
10. Heard County
Class A-Private
1. Eagle's Landing Christian
2. Prince Avenue Christian
3. Mt. Paran Christian
4. Athens Academy
5. Tattnall Square
6. Stratford Academy
7. Wesleyan
8. Mt. Pisgah Christian
9. Calvary Day
10. Aquinas
Class A-Public
1. Manchester
2. Irwin County
3. Macon County
4. Clinch County
5. Mt. Zion-Carroll
6. Commerce
7. Charlton County
8. Taylor County
9. Emanuel County Institute
10. Trion