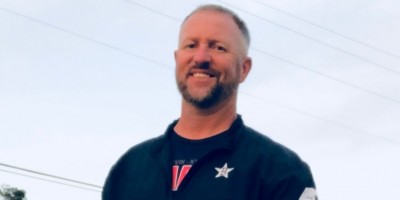 The Atlanta Falcons Coach of the Week program recognizes high school football coaches across the state of Georgia for their hard work and dedication to making a difference in student-athlete's lives on and off the field.
The eighth winner of the 2018 season is Baconton Charter head coach Randy Grace who has helped his team and community through a tough season which was interrupted by Hurricane Michael in early October. Grace is in his second season at Baconton after coaching at Wheeler County for one season (2015). His longest tenure was from 2011-2014 at St. Anne Pacelli.
In early October, Hurricane Michael tore a path across the Florida panhandle and into southwest Georgia—leaving behind a trail of destruction. Baconton Charter, which is about 13 miles directly south of Albany, took a near direct hit from the Category 2 Hurricane. The community woke up the following morning with no power, contaminated water and severe damage throughout it. Fallen trees made dirt roads especially impassible and left many players stranded. One of the team's trainer's house was destroyed by fallen trees and the community had to completely shut down to before the recovery could begin.
Once it was declared safe, the Blazers program began chipping in throughout the community.
"The players aided in storm damage clean up in the community by removing debris from yards and streets within Baconton," said Buster Connally, the PA announcer at Baconton and former athletic director at St. Anne Pacelli. "Coach Grace delivered water to all of his players and their families during the aftermath of Hurricane Michael."
The Blazers were expecting to play in their new stadium that week, but the storm denied them the opportunity, so Baconton was forced to drive to Camilla to play their home games. The stadium in Camilla suffered storm damage also and the crew had to fix the scoreboard and the goal posts, which had been knocked down by the destructive winds. The scoreboard, although it was on the ground, worked and the goalposts were repaired for the game.
"Due to Hurricane Michael, the Blazers will have played 3 games in nine days," said Connally.  "His team was without power and couldn't go to school due to damage from the hurricane. He and his staff were still able to get the team ready."
Baconton's 10-6 victory against Stewart County on Oct. 19 pulled the Blazers to 3-5 on the season before the loss against Chattahoochee County on Oct. 25, the third game in nine days.
"Coach Grace pulled out a win against Stewart County with just two days of preparation," said Connally.
Those two days of preparation were scattered, as efforts went to the expedited game plan, and towards the community that supports them . Now, just a few weeks removed from the storm, the Blazers can begin to shift their focus back to football and their final regular-season game on Friday against Calhoun County.
Coach Grace's ability to lead his team and community through the hardships and difficult times are reflective to the person and coach he is. His experience through the years of lifting programs up from tough times can also be seen when looking back at his tenure at Pacelli.
"He took over a team at Pacelli that hadn't won a game and took them to the playoffs," Connally said. He is currently doing the same thing at Baconton Community Charter School. He has taken programs that had a history of underachieving and turned those programs around."
In his first year at Pacelli in 2011, Grace suffered a 1-9 season. In his second year, he improved the team to a 4-6 finish. By 2014, his last year there, he led the Vikings to a 7-3 finish and a playoff berth. Last year, he led Baconton to a 3-7 finish. Currently, Baconton sits at 3-6 and a victory on Friday would be a perfect way to end a tumultuous season.
"Last year he set the record for most wins at the school and has the same number of wins this year with one game to go. Simply put he teaches kids how to win," Connally said.
Each week, one coach will be selected to be the Atlanta Falcons Coach of the Week based on his commitment to his team, community and player safety. The winning coach will receive a $1,000 equipment grant, a commemorative football and tickets to an Atlanta Falcons home game.
To nominate a varsity football coach: Click here

Rolling nominations will be accepted until Nov. 1.