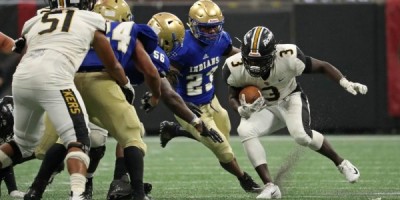 Our Class AAAAAAA Preseason No. 1 Colquitt County continued its dominance this weekend, defeating Tift County 45-7 and holding the Blue Devils to just one total yard of offense in the second half. Not only have the Packers had a firm grip on the top spot all season, but their 9-0 start has them cracking the top 10 in several national polls. Junior quarterback Jaycee Harden tossed two touchdown passes, and junior running back Daijun Edwards finished with 19 carries for 190 yards and four touchdowns. Hillgrove defeated Marietta 48-24 and sent Marietta down to No. 10.
Top-ranked Lee County beat Houston County last week to remain flawless on the season. No. 2 Creekview took out Sprayberry last week and will face No. 7 Harrison, a new-comer in the rankings, this week. No. 3 Tucker, No. 4 Allatoona and No. 5 Valdosta make up the top-5 this week.
The Class AAAAA top 10 remains the same as No. 1 Rome clinched its 37th straight win and closed out back-to-back perfect regular seasons with a 62-7 win over Villa Rica.
In Class AAAA, Blessed Trinity scored a 10-7 win over Marist to clinch the Region 7-AAAA title.
In Class AAA, Calhoun and Cedar Grove are again at the top of the classification with Monroe Area, Peach County and Westminster chasing. The polls did not change from last week.
Hapeville Charter leads Class AA again this week with Rockmart chasing. Hapeville beat Washington last week, Rockmart beat Gordon Central. Heard County's victory over Lamar County kept it firmly locked at third. Callaway and Bremen round out the top-5.
Eagle's Landing Christian beat Mount Vernon Presbyterian on Friday after being down early in the game. The Chargers lead Athens Academy again this week. Prince Avenue Christian held off No. 6 George Walton Academy last week to keep its place in the poll.
In Class A-Public, Commerce dropped to No. 9 after a 20-19 loss to Riverside Military.
Class AAAAAAA
1. Colquitt County
2. Parkview
3. Grayson
4. Hillgrove
5. Roswell
6. Walton
7. North Gwinnett
8. Westlake
9. Archer
10. Marietta
Class AAAAAA
1. Lee County
2. Creekview
3. Tucker
4. Allatoona
5. Valdosta
6. Northside-Warner Robins
7. Harrison
8. Stephenson
9. Johns Creek
10. Dacula
Class AAAAA
1. Rome
2. Buford
3. Dutchtown
4. Warner Robins
5. Stockbridge
6. Jones County
7. Wayne County
8. Ware County
9. Southwest DeKalb
10. Kell
Class AAAA
1. Blessed Trinity
2. Mary Persons
3. Troup
4. St. Pius
5. Cartersville
6. Eastside
7. Marist
8. Pickens
9. Flowery Branch
10. Cairo
Class AAA
1. Calhoun
2. Cedar Grove
3. Monroe Area
4. Peach County
5. Westminster
6. Greater Atlanta Christian
7. Benedictine
8. Dawson County
9. Jefferson
10. Pace Academy
Class AA
1. Hapeville Charter
2. Rockmart
3. Heard County
4. Callaway
5. Bremen
6. Rabun County
7. Brooks County
8. Dublin
9. Dodge County
10. Washington County
Class A-Private
1. Eagle's Landing Christian
2. Athens Academy
3. Prince Avenue Christian
4. Fellowship Christian
5. Savannah Christian
6. George Walton Academy
7. Mt. Paran
8. Calvary Day
9. North Cobb Christian
10. Aquinas
Class A-Public
1. Irwin County
2. Clinch County
3. Pelham
4. Marion County
5. Mt. Zion-Carroll
6. Charlton County
7. Schley County
8. Mitchell County
9. Commerce
10. Greene County