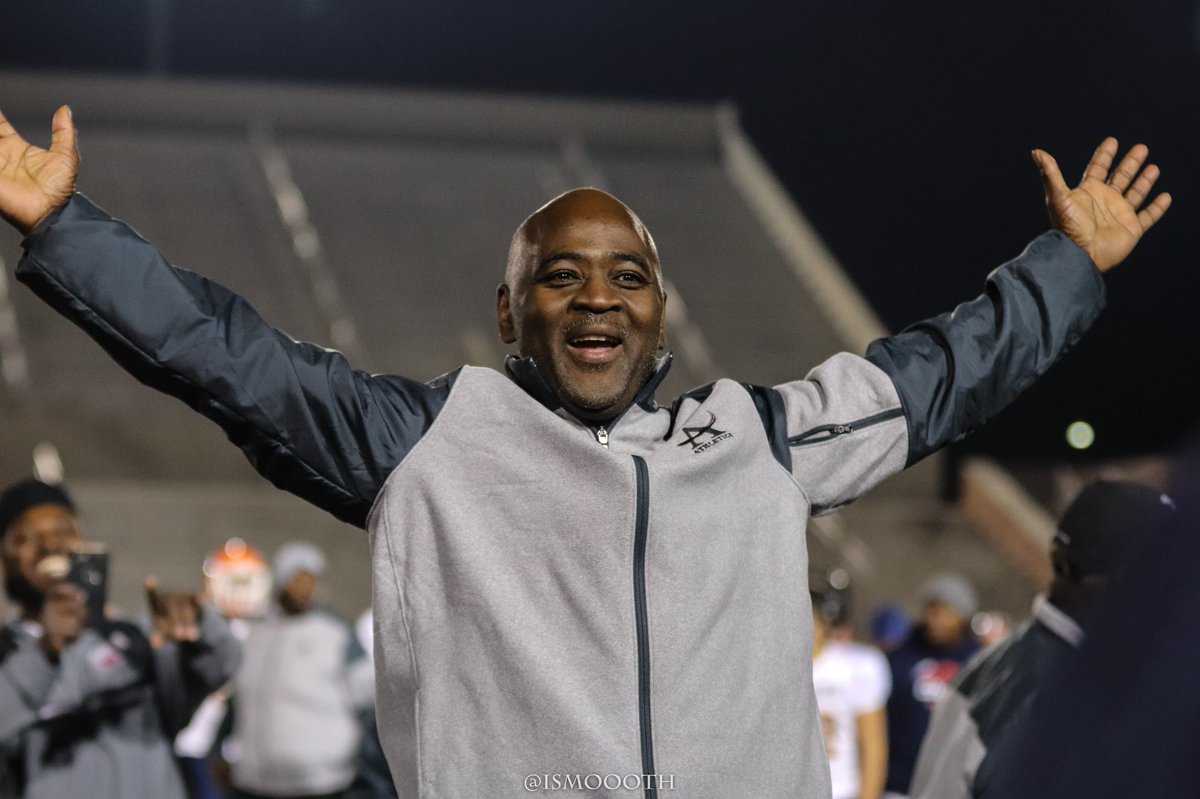 Photo by @ISmooothShots
The Atlanta Falcons Coach of the Week program recognizes high school football coaches across the state of Georgia for their hard work and dedication to making a difference in student-athletes' lives on and off the field.
The first winner of the 2018 season comes just five miles down the road from Mercedes-Benz Stadium with Douglass High School Athletics Director and head football coach Rodney Cofield, who has been leading student athletes within the Atlanta Public School system for more than two decades.
Cofield was inspired to become an educator and coach during his own playing days at Fulton High School in the early 1980's under his celebrated head coach Willie Hunter. As Hunter's quarterback, Cofield led the Redbirds to back-to-back region titles (1982-83) and when he accepted his first-ever head coaching job at Booker T. Washington High School in 1995, it wasn't long before his former head coach joined his staff. The Bulldogs had tremendous success during Cofield's 13 seasons spent as head coach and he would remain on campus in the role of assistant principle from 2008-11.
A chance to return to coaching and also turnaround a struggling program opened up down the road at Douglass High School in 2012 and Cofield stepped in as the head coach and athletics director.  The Douglass football team had gone 1-49 in their last 50 games when Cofield arrived, but he quickly drove up participation numbers and the program successfully turned the corner. Now, the Astros have posted three straight winning seasons, have reached back-to-back playoffs and have no intention of slowing down anytime soon.
Sparked by their electric senior quarterback, receiver and cornerback Juan Powell, this year's Douglass Astros are 3-0 for the first time since the 2006 season. The offense is averaging 48.7 points per game and Powell has already racked up 180 yards passing, three passing touchdowns, 507 rushing yards, six rushing touchdowns and an 81-yard interception return for a touchdown.
"Coach Cofield exemplifies everything it takes to be a true leader and coach," stated Chick-fil-A Play it Smart Academic Coach Stephanie Wallace." He is passionate about his job, he loves his players, but he also knows how to be tough when he needs to be. His greatest desire is to see these young men who live in an area that is considered disfranchised succeed in life."
Each week, one coach will be selected to be the Atlanta Falcons Coach of the Week based on his commitment to his team, community and player safety. The winning coach will receive a $1,000 equipment grant, a commemorative football and tickets to an Atlanta Falcons home game.
To nominate a varsity football coach: Click Here
Rolling nominations will be accepted until Nov. 1.