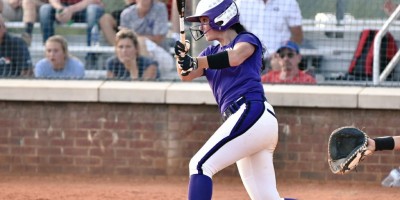 Todd Forrest Twitter
East Coweta holds the top-spot again this week in Class AAAAAAA. The Lady Indians moved past Whitewater 7-1 on Aug. 29 and Hampton 6-0 on Aug. 27 and will ride the momentum into their game against Campbell on Sept. 5.  Mill Creek, Grayson, North Gwinnett and Mountain View round out the top-5 this week.
Coffee went on a tear beating Valdosta (11-0), Ware (8-0) and Northside-Warner Robins (12-4) to top the Class AAAAAA rankings this week. Allatoona, Houston County, Creekview and Alexander round out the top-5.
Jones County takes the top-spot this week ahead of Locust Grove, Starr's Mill, Harris County and Bainbridge in Class AAAAA. The Lady Greyhounds defeated Ola (6-5), Veterans (14-4) and Stockbridge (14-1) last week.
Class AAAA has a new No. 1 with Chapel Hill taking over at the top. Northside-Columbus is second this week with Central-Carroll at third. Heritage-Ringgold holds the No. 4 spot and Madison County is at fifth. Chapel Hill moved past LaGrange and Cedartown last week and will face Troup County on Tuesday.
Unbeaten Lovett moved past Cass, St. Pius and Pace entering its game against Cedar Grove on Tuesday. The Lady Lions lead Calhoun, Jackson County, Jefferson and Pike County at the top of the class. Sonoraville, following its loss to Calhoun on Aug. 30, fell to fifth.
In Class AA, Rockmart, Harlem and Monticello fill out the top-3 again with Heard County and Banks County moving to fourth and fifth, respectively.
Wesleyan and Tattnall are one and two in Class A-Private with Mt. de Sales, First Presbyterian and Stratford filling out the top-5. In Class A-Public, Gordon Lee, Trion, Marion County, Bowdon and Schley County make the top-5.
Class AAAAAAA
1. East Coweta
2. Mill Creek
3. Grayson
4. North Gwinnett
5. Mountain View
6. Newnan
7. Archer
8. Lassiter
9. Lowndes
10. North Paulding
Class AAAAAA
1. Coffee
2. Allatoona
3. Houston County
4. Creekview
5. Alexander
6. Richmond Hill
7. Northgate
8. Lee County
9. South Paulding
10.  Pope
Class AAAAA
1. Jones County
2. Locust Grove
3. Starr's Mill
4. Harris County
5. Bainbridge
6. Carrollton
7. South Effingham
8. Whitewater
9. Union Grove
10. Ola
Class AAAA
1. Chapel Hill
2. Northside-Columbus
3. Central-Carroll
4. Heritage-Ringgold
5. Madison County
6. West Laurens
7. Hampton
8. Marist
9. Eastside
10. Heritage-Conyers
Class AAA
1. Lovett
2. Calhoun
3. Jackson County
4. Jefferson
5. Sonoraville
6. Pike County
7. Franklin County
8. Brantley County
9. Crisp County
10. Rutland
Class AA
1. Rockmart
2. Harlem
3. Monticello
4. Heard County
5. Banks County
6. Jeff Davis
7. Bacon County
8. Vidalia
9. Bleckley County
10. Chattooga
Class A-Private
1. Wesleyan
2. Tattnall Square
3. Mt. de Sales
4. First Presbyterian Day
5. Stratford
6. Prince Avenue Christian
7. George Walton
8. Brookstone
9. Hebron Christian
10. Mt. Paran Christian
Class A-Public
1. Gordon Lee
2. Trion
3. Marion County
4. Bowdon
5. Schley County
6. Hawkinsville
7. Telfair County
8. Baconton Charter
9. Charlton County
10. Echols County