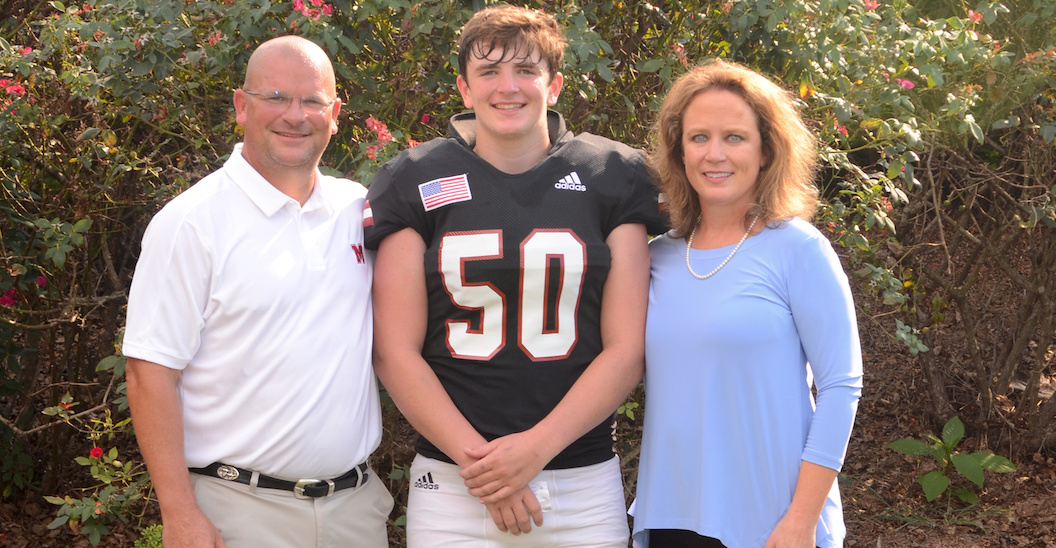 The Atlanta Falcons Coach of the Week program recognizes high school football coaches across the state of Georgia for their hard work and dedication to making a difference in the lives of student-athletes both on and off the field. This season's sixth winner is Morgan County head coach Bill Malone, who has led his Bulldogs to a 5-1 overall start this season with a 2-0 start in Region 8-AAA.
Malone has spent 26 of his 30 years coaching and teaching at Morgan County, and he has served as head coach of the Bulldogs since 2007. His years of experience and familiarity with the Morgan County School System has cultivated a special relationship that Malone shares with its students and surrounding community.
"When we first moved to Morgan County and my wife and I had children, we really and truly fell in love with the school system," said Malone. "Our daughter graduated from here and our son plays for us now, he's in the 10th grade. This is our home. …A number of kids at the school now, I may have taught their uncles or aunts, or their brothers and sisters. I know those kids and their families know me and it gives me a vested interest in the genuine welfare of the kids and of their happiness. That's what I look for in a school and as far as a school's climate goes. I want my kids to be happy, and I want them to have a good time, and I want them to learn, and I think we accomplish all of those things, because of the relationships that have been built with the families over the years."
In the classroom, Malone has taught government courses in years past, but this school year he is also doubling as the teacher of the school's brand new Outdoor Education Class that he worked with Principal Dr. Miki Edwards to introduce. Since its introduction, Malone and his students have worked on various projects, using a hands on approach to learn new skills and also benefit the school.
"We have a pond on campus, and we cleared a trail all around the pond," said Malone. "On Friday or Thursday before we have a home game, we come out with weed eaters, leaf blowers and lawn mowers and we do a lot of maintenance work around the high school. We also fish, practice archery, and we teach outdoor skills like how to build a fire without a match and other outdoor skills. It's a really hands on class that takes on projects that make our school look better, and that the kids are interested in being a part of."
As for his football team's impressive start to this season, Malone credits the high expectations his players set for themselves, and also believes that the youthfulness found throughout his coaching staff is helping with the overall connection with the players. Among the young assistants on Malone's staff is defensive coordinator Brett Bell, a former Morgan County quarterback that was pivotal in introducing the "Feed The Bulldogs" nutrition-based program before the start of this season.
"I went to Presbyterian College with Valdosta head coach Alan Rodemaker and listened to him speak at a clinic about his 'Feed the Cats Program," explained Malone. "Coach Bell has taken those ideas, as well as the ideas from other colleges and clinics, and has been leading that charge with our "Feed the Bulldogs Program' since February of last year.
With donations and support from many members of the local community, the program accomplished its mission of emphasizing the importance of proper nutrition in order to boost athletic performance and improve recovery time. And although the season is still far from over, Malone acknowledges the impact that the 'Feed the Bulldogs Program' may already have had.
"I'm knocking on wood now, but we are as healthy as we've ever been at this point of the season," said Malone. "I can't remember a season where our kids are in as good as shape as they are at this point of the season and I think that has a lot to do with what we had been doing with this program."
The Bulldogs host Franklin County this Friday night and then will close out Region 8-AAA play with home games against No. 10 ranked Jefferson and No. 5 Hart County and a trip to East Jackson.
"Coach Malone has been a pillar in our community and has built a program based on growing the character of his players and challenging them to be good citizens," said Morgan County Assistant Principle Greg Thompson. "He is not only our football head coach, but also an amazing teacher in the classroom that has had an impact on countless students over the past 26 years at Morgan County."
If you know a varsity head football coach dedicated to making a different on and off the field, CLICK HERE to nominate them for the Atlanta Falcons Coach of the Week Award.