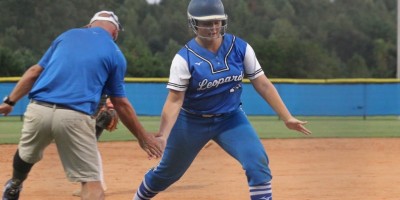 The regular season has ended and teams will begin the GHSA fast-pitch softball playoffs with a double-header series Wednesday-Thursday (Oct. 9-10) for classes AAAAAAA, AAA, A-Public and A-Private. Classes AAAAAA, AAAAA, AAAA and AA will begin their double-header series Tuesday-Wednesday (Oct. 8-9).
The second round will begin Oct. 16-17 for classes AAAAAAA, AAA, A-Public and A-Private and Oct. 15-16 for classes AAAAAA, AAAAA, AAAA and AA. The second-round double-header will determine the eight remaining teams from each classification which will travel to the Columbus Softball Complex for the finals which begins Oct. 24 for all classes.
East Coweta is the team to beat in the state's highest classification ahead of North Gwinnett, Grayson, North Forsyth and Colquitt County. In Class AAAAAA, Lee County takes over the top spot as Houston County falls to No. 2. Evans, Creekview and Pope round out the top 5.
Locust Grove leads Class AAAAA with Buford at No. 2, up from No. 4 in last week's poll. Carrollton, Whitewater and Walnut Grove finish out the top of the class. Heritage-Catoosa takes the No. 1 spot in Class AAAA as former No. 1 Eastside fell to No. 3. Northside-Columbus is chasing at No. 2 with Northwest Whitfield and Marist at No. 4 and No. 5, respectively.
Ringgold is at the top of Class AAA with a new No. 2, Franklin County, in the fray. East Hall slid from No. 3 to No. 4 with Sonoraville at No. 3, down from No. 2, with Jefferson at No. 5. In Class AA, Banks County enters the playoffs at the top ahead of Heard County at No. 2. Harlem climbed up one spot to No. 3 this week. Rockmart fell one spot to No. 4 and Vidalia is No. 5 again.
In Class A-Public Gordon Lee is at the top again. Trion is at No. 2 again with a new No. 3, Schley County, up from No. 4. Bowdon fell from No. 5 to No. 6. Commerce climbed from No. 8 to No. 5 this week. In Class A-Private, Wesleyan is at the top. Tattnall Square is No. 2 ahead of No. 3 George Walton, No. 4 Mount de Sales and No. 5 Eagle's Landing Christian.
Class AAAAAAA
1. East Coweta
2. North Gwinnett
3. Grayson
4. North Forsyth
5. Colquitt County
6. Mountain View
7. Cherokee
8. Archer
9. Hillgrove
10. Lassiter
Class AAAAAA
1. Lee County
2. Houston County
3. Evans
4. Creekview
5. Pope
6. Dacula
7. Effingham County
8. Northgate
9. Alexander
10. Greenbrier
Class AAAAA
1. Locust Grove
2. Buford
3. Carrollton
4. Whitewater
5. Walnut Grove
6. Statesboro
7. Starr's Mill
8. Jones County
9. Harris County
10. Ware County
Class AAAA
1. Heritage-Catoosa
2. Northside-Columbus
3. Eastside
4. Northwest Whitfield
5. Marist
6. Hampton
7. Madison County
8. Perry
9. Central-Carroll
10. LaGrange
Class AAA
1. Ringgold
2. Franklin County
3. Sonoraville
4. East Hall
5. Jefferson
6. Calhoun
7. Brantley County
8. Jackson County
9. Coahulla Creek
10. Pierce County
Class AA
1. Banks County
2. Heard County
3. Harlem
4. Rockmart
5. Vidalia
6. Bacon County
7. Screven
8. Bremen
9. Lamar County
10. Berrien
Class A-Public
1. Gordon Lee
2. Trion
3. Schley County
4. Marion County
5. Commerce
6. Bowdon
7. Academy for Classical Education
8. Georgia Military College
9. Emanuel County Institute
10. Lanier County
Class A-Private
1. Wesleyan
2. Tattnall Square Academy
3. George Walton Academy
4. Mount de Sales
5. Eagle's Landing Christian
6. Stratford Academy
7. Strong Rock Christian
8. Mount Paran Christian
9. Christian Heritage
10. Hebron Christian