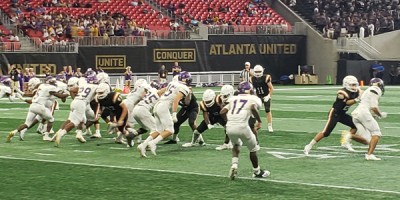 There is now a really good chance the GHSA Football State Championships will be pushed back several days after Atlanta United knocked off the New York Red Bulls 3-0 in the first leg of the MLS Eastern Conference Championship at Mercedes-Benz Stadium this Sunday.
The MLS clubs will play again Thursday in New York where United can likely secure a spot in the winner-take-all MLS Cup, which would be played in Atlanta on Saturday, Dec. 8.
If this is the case, the GHSA Football State Championships scheduled for Friday and Saturday, Dec. 7-8, will be moved to Tuesday and Wednesday, Dec. 11-12. The GHSA has been aware of this situation for several months and a contingency plan was put in place in July for the state championships if the MLS Cup became Atlanta's right to host. If the games are moved, the original times for the schedule will be kept in place Tuesday and Wednesday and all tickets purchased for the original dates will be good on the new ones.
On Tuesday, the Class A Public Championship would be played at 10 a.m., followed by Class AAA at 1 p.m., Class AAAAA at 4:30 p.m. and Class AAAAAA at 8 p.m. On Wednesday, the Class A Private Championship would be played at 10 a.m., followed by Class AA at 1 p.m., Class AAAA at 4:30 p.m. and Class AAAAAAA at 8 p.m.
According to the MLS rules, the conference finals are a two-game series based on an aggregate score. If the teams score an equal number of goals over the course of both matches, the team with the most road goals in the series advances to the MLS Cup. If at the end of the 180 minutes the teams are tied on both total goals and away goals, the teams will play two 15-minute extra time periods in which away goals do not count, followed by, if necessary, penalty kicks to determine a winner.
Atlanta can advance to the MLS Cup with a win, tie, one- or two-goal loss in New York. If United scores a goal or more in New York, the Red Bulls would have to win by at least four goals to advance. If the Red Bulls win 3-0, the extra period and a last resort shootout would come into play.