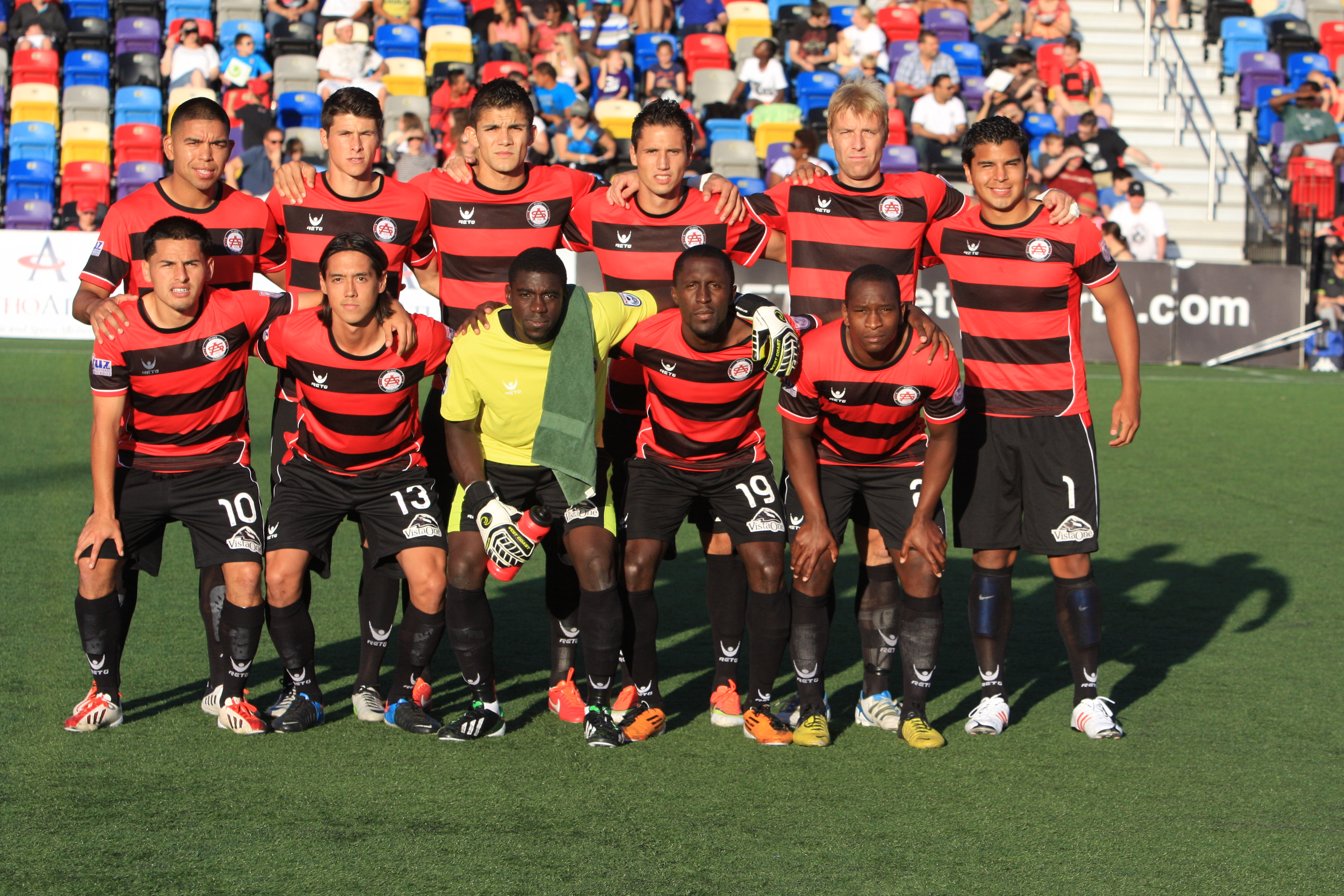 The players were cooling down following a recent practice when I arrived at Silverbacks Park. The red, blue, yellow, black and grey seats in section 304 of the home side of the stadium were my temporary home until Pedro Mendes, the 'Backs starting forward, their No. 9, and his teammates were done with the day's preparation leading up to a huge July 4 match. More on that in a moment.
The NASL spring season has come down to two remaining regular season matches and three teams. The standings are clear, mathematic in their bluntness when they show Atlanta behind the Carolina Railhawks by two points for the title. A win this Thursday at Minnesota and a Carolina loss to the Scorpions in San Antonio (the Carolina vs. San Antonio match starts 30 minutes after the Silverbacks vs. Minnesota United match does) will secure a championship for the Silverbacks.
Unfortunately the results are not solely in the hands of the Silverbacks. Fortunately, the 23-year-old forward born Pedro Ferreira-Mendes is on Atlanta's side. I had arrived on the Silverbacks' home turf looking to interview the Brazilian-born forward before what could easily be considered the most important match of his young career. Born in the town of Goiania, the 13th largest city in the country, Mendes, like every boy and girl in the soccer-mad country, played the game at a very young age.
"I have been playing the game since I was small," said Mendes while we looked for a spot in the stands that could provide some shade from the afternoon sun. "We would play in the street until dark, until you could barely see anymore."
The beautiful game came easy to young Pedro, there was always a soccer ball and goals of some sort available to play with while growing up.
"Put two rocks on either end of the street and just play," said Mendes, "We always had enough kids for a game."
"My mom would have to call me home to eat or else I would stay out all night playing."
Ever the proud Brazilian, Mendes took time to watch his home country's national team win the Confederations Cup this past weekend against powerful Spain.
"I was so happy, the crowds yelling, beating Spain. Amazing. The pressure to win was so intense, but they did it."
Supported by his family, he pursued a career that would take him on a journey to the United States, of all places. The United States is not the soccer wasteland it once was, but still pales in comparison to the many European outposts that host leagues, not to mention South America, Africa and Asia.
In 2009 Pedro played a season of college soccer in California at Foothill Community College before turning professional. That decision brought him to the Peninsula Soccer League's (PSL) and the DV8 (Ca.) Defenders for a season before moving on to the Rhode Island Reds and then to Cal FC. Mendes had to work his way up from the fourth division to what is the United States professional second division in the NASL (behind Major League Soccer).
Arriving late last season after signing on with Atlanta, Mendes the vagabond soccer orphan, had finally found a home for his swashbuckling playing style.
Mendes has been playing beautifully this season having scored three goals.
"I'm really enjoying myself," he said. "I love it here, we have a great coach in [Brian] Haynes, and the team is in the position we are in now because everyone is really putting in the work."
The atmosphere at home matches has impressed the Brazilian forward (who has also played a bit of midfielder as a professional), "The Ultras (fan section that brings banners and noise makers to matches at home and on the road) have been doing a great job of supporting us. They even made it out to Carolina."
That match in Carolina could have virtually locked up the championship for Mendes and his mates, but a 1-1 draw put this Fourth of July weekend in an even bigger spotlight.
Mendes believes and opportunity if not a match was lost. "We should have won, but it is what it is at this point. We got a point out of it and ruined their party."
Carolina was in the driver's seat at that point with a solid lead in the standings due to goal differential. A loss and a Silverbacks win will nullify that advantage.
"It's all going to come down to this Thursday," said Mendes. Joga Bonita (Beautiful game) to one and all.