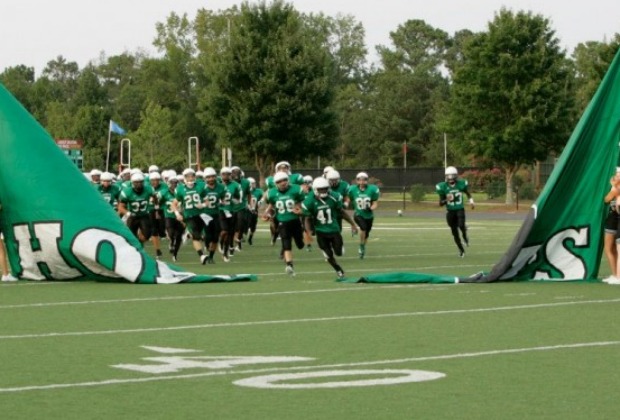 Courtesy of roswellfootball.org
Honorable Mention CARTERSVILLE (2012 record 13-1)
The Purple Hurricanes were 13-0 last season before falling victim to visiting Buford (21-10) in the semifinals. In order to improve they are going to have to play near perfect football, but that is exactly what their returning quarterback did last year. Head coach Frank Barden took over the Cartersville program in 1996 and led it to a state title in 1999. This upcoming team looks as good as any in his 17 seasons. His son, Brooks Barden, quarterbacked his way to Class AAA Player of the Year honors last season as a junior. Barden passed for 2,878 yards and threw 39 touchdowns with only five interceptions. The 6-foot-3 quarterback has offers from Arkansas State and the University of Massachusetts.
Wideout T.L. Ford is the playmaker of the offense, and at 6-foot-3, the flanker is the perfect target for Brooks. Ford has over 11 confirmed offers including Kansas State, Cincinnati and Appalachian State. The explosive duo paced an offense that averaged 38.0 points per game last season, and the sky is the limit for them this season.
With plenty of talent at the coach's disposal, optimizing it is the challenge. "You do not look at your opponents," said Barden. "Our biggest opponent is going to be ourselves."
Rising sophomore Tiamon Pennymon is a guy that can find holes on offense and plug them on defense. Pennymon is an excellent ball carrier and uses his same field of vision to succeed at linebacker.
Kobie Whitfield is another key guy that, like Pennymon, made an impact as a freshman. Whitfield will be able to play receiver and defensive back this season. Rising senior, Mark Quattlebaum will also compliment the offense from receiver while starting in the secondary.
The early curb of this team could be on its line of scrimmage,but with Cartersville's rich football tradition, it is expected that Barden will find linemen on his roster to fill these roles.
Top Newcomer CAMBRIDGE (2012 record 1-9)
2012 landmarked the school's first football season, and Cambridge fought valiantly. It was no easy task and now with a year under its belt, and the facilities to rival any school, the Bears look ready to make their next steps forward in Class AAAAA. The 2012 team finished with a 1-9 record and 1-4 region mark. In the eighth game of the season they beat North Springs 45-13. This is an area of the state filled with talent, and it will not be long until the team is contending in region 7A.
TOP 10 MOST IMPROVED
10.  PRINCE AVE. CHRISTIAN (2012 record 11-3)
This past February, renowned head coach Jeff Herron left Class AAAAAA-powerhouse Camden County to accept the position at PACA, and championship aspirations were immediately restored in Bogart. The Wolverines made it to the Class-A state title game in 2012, but were shutout 33-0 by ELCA. Despite the runner-up finish, they were 3rd place in their region. There is definitely room for improvement. The smaller roster at Herron's new Class-A home is half the size of his previous teams at Camden County.
"I am really enjoying getting to know each kid, and getting that individual time when you have a group of new players to coach is very important," said Herron.
Assisting the new coach is Richard Bell who returns to his role as the Wolverines' valued defensive coordinator this season. The leader of the team looks to be Christian Payne and the linebacker/tight end has earned his praise from coach Herron.
"Christian is a great player, and the type that would have been a standout for me any year at Camden."
Zach Graham, Conner Sibley and Chandler Gray are all rising seniors that Herron believes are poised for breakout years.
This is the biggest senior class Prince Avenue has ever had with the 20 guys. This record senior class will be backed by a talented group of underclassmen including Herron's son Tyson, who is a rising sophomore quarterback and could see time this year.
Herron plans to implement his same wing-T offense from Camden this season, which contains a fast tempo and heavy doses of no huddle attacks. The pace wears out opposing defenses, but the smaller roster at Herron's disposal will add challenges of its own for the head coach. Almost all of the starters will be two-way players, so preserving his guys throughout the game is going to require a busy offseason of conditioning.
In Herron's 23 years as a head coach he has a career winning percentage of .843 and four state titles. His titles came at Oconee County in 1999 and at Camden in 2003, 2008, and 2009.
9. GREATER ATLANTA CHRISTIAN (2012 record 10-4)
The Spartans have 18 starters returning including quarterback Rafe Chapple, offensive lineman Britt Lee, wide receiver Chris Williams and safety Ross Wood. Chapple shattered records last season and passed for 366 yards with five touchdowns against Heard County
Lee, who stands 6-foot-3, 273 pounds, can play on both sides of the ball, but is more known for his physical play on the offensive line where he is the Chapples main protector. Lee has been shown strong interest by college programs such as Air Force and Navy.
GAC went 10-4 last season, and lost 42-14 to eventual state champion Jefferson in the semifinals. In the season ending defeat they were overwhelmed when Jefferson gained momentum and let them run away with it. With the firepower to match any team, and a defense loaded with returning starters, this could be the Spartans year.
8. PIERCE COUNTY (2012 record 10-2)
Pierce County went 10-2 last season before falling victim to Class AAA-powerhouse Peach County 43-15 in the second round. The Bears' posted a flawless 7-0 record in Region 1-AAA and beat each region foe by double digits with the exception of Appling County (36-34). Hitting their stride in the regular season, but not their potential in the playoffs is something that Bears' head coach Sean Pender believes can change with more confidence this season. Playoff success is where I see this team making improvements.
"When we got matched up with Peach County last year I think our players saw their track record and No. 1 ranking for most of the season and thought that they were better than they were," said Pender. "They [Peach County] are a great team, but we just left so many plays on the table. We were not confident enough."
Confidence and having something to prove is the tune of this 2013 football team. At quarterback is Tyler Harris who could be the best college quarterback prospect in his class right now. While splitting time with Micah Lareson last season, Harris threw for over 2,500 yards and 29 touchdowns. Harris has been considered as high as the top 10 recruit in the state this year, and his first offer came from the Alabama Crimson Tide. SMU, Mississippi State and South Florida are all trying to get a pledge from the 6-foot-3 pro-style quarterback, and Pender believes a college decision could come as soon as the end of June.
Junior running back Josh Henderson has proven to come up clutch in the big moments, and as a sophomore ignited the offense.
"Josh has such a great work ethic," said Pender. "He is a tough kid and shows up for the big games."
The Bears' offense was balanced last season with Harris under center and Henderson at ball carrier, and they will house that same versatility this year. Sennua Lawson is a solid 204 pounds and can play tight end or the slot. Lawson is the primary target for Harris and his physicality and great hands gives Pender belief that he can make plays when they need them this year.
"I think he [Harris] is going to be the best college quarterback out of this class, and he [Harris] understands that winning a title makes all the difference. He wants to prove it to everyone that he's the best."
The Bears will be set offensively and have a very strong secondary leading the defense.
"The secondary and perimeter guys are as good as any team I have had," said Pender. "The depth is not necessarily there however, so as long as we can stay healthy we will be fine."
7. KELL (2012 record 10-2)
The Longhorns were a solid team last year. They played 12 games, finished 10-2 and beat region rival Pope for the 8th straight season. The defense was exposed by Gainesville in the quarterfinals last season, and luckily there is the personnel on this team to improve it. Gainesville quarterback Deshaun Watson made a lot of defenses look non-existent last season, and in his 61-42 win over Kell it was the same story. The Longhorns were able to go score for score with the Red Elephants for much of the game, but they could not get the big stop when they needed it.
Head coach Derek Cook is without Brendan Langley and Quincy Mauger (both at UGA), but Jay Moxey, Taylor Henkle and Julian Burris are all big time playmakers returning. Ethan Elliot had 10 sacks last season and also returns. Offensively Cook will be able to have a steady attack while having the luxury of bringing his defensive playmakers into the playbook. Matthew McGuigan and Cameron Rosendahl both took reps at quarterback in the spring and if the offensive line comes together this will be a tough team to beat in Class AAAAA.
6. STARR'S MILL (2012 record 3-7)
The Panthers face a tough schedule again this year and felt the full force of it in 2012. Injuries struck the team early and in their non-region games they faced North Cobb week 1 and West Forsyth in week 3. Those two Class AAAAAA teams were perhaps the most explosive offenses in the state a season ago. North Cobb broke the Cobb County single season scoring record with a 41.0 points per game mark. West Forsyth scored 40.0 points per game and scored seven or more touchdowns in four different games last season.
The banged up Panthers were outscored 105-17 in these two games. When region play opened Starr's Mill was without their offensive leader and averaged just 5.8 points per game in their five game region schedule. In 2013 head coach Chad Phillips will have a team filled with young guys that had to step in mid season. Expect the Panthers to make a comeback in 2013
5. HILLGROVE (2012 record 6-5)
Hillgrove made the playoffs last season with a 6-5 record. They were ousted by Camden County 52-17 in the opening round. Turnovers and poor starts held this team back tremendously. With head coach Phillip Ironside's son Elijah at quarterback, the mistakes will be limited. Elijah looks to be on the verge of a breakout season. He started as a sophomore in 2011, but was injured before the 2012 season. Senior Troy Thompson got the starting job, but Ironside would come in as relief in several games. The younger Ironside completed 32 of 61 passes for 519 yards and eight touchdowns in limited action. The 6-foot-1 quarterback is a dual threat and can take off and scramble at any point.
"Our main goal this year is to turn the ball over less and Elijah did a great job last year by not throwing any interceptions," said Ironside.
Omar Black, Errol Breaux, Justin Denton and Zach Katz are all starting caliber receivers and the corps will have four players in rotation this year that found the end zone in 2012. Evan Engram played a lot of tight end while having the versatility to flex out wide. He ended the year as the team's leading receiver and will suit up for Ole Miss next season. Without Engram, the receivers will become a bigger part of the offense and Hillgrove has the personnel for it.
"It [the depth] helps us because we will play four wide with Zach Katz at the slot," said Ironside.
Katz was just one of the many Hillgrove players injured last season, and a healthy team in 2013 will leave Ironside with a multitude of options. Running back Richardre Bagley broke his ankle last season, but showed glimpses of what Ironside expects to be his major role this season.
"I think he [Bagley] is going to be the guy to get us moving next season," said Ironside, and added "This is also as deep as we've been at wideout," said Ironside.
Coach Ironside has always stressed his intent to spread the football offensively. Hillgrove has a chance to make the playoffs and find themselves in contention with McEachern, Marrietta and North Cobb for the 4-AAAAAA region title this season.
4. SHILOH (2012 schedule 3-7)
Shiloh has not had a winning season since 2003 when it made the playoffs at 6-5. They are in a brutal region 8 with teams like Brookwood, Parkview, Central Gwinnett, Grayson, Archer and South Gwinnett. In Troy Hobbs first season as head coach, Shiloh fell victim to the region, going 1-7. Hobbs did not have it easy last season as he stepped in for Brian Montgomery who submitted his resignation after just one season (2011).
The new head coach came from North Gwinnett and is more than qualified to bring stability back to Shiloh. Former Berkmar head coach Wendell Early was St. Pius' secondary coach last season and will come in as the Generals defensive coordinator this season. At quarterback is Will Larimore and at running back is region champion track star Grant Swinton. Cam Stewart returns as one of the best wideouts in the state. Defensively Shiloh brings back three of four lineman and has Amari Newsome anchoring the unit at linebacker.
3. WALTON (2012 schedule 7-4)
One would not think a team would be improved after losing Tyren Jones (Alabama), Parker McLeod (Alabama), and Brandon Klubanow (UGA), but when you consider that all three of these guys and 10 other Raider starters last season missed games with injuries then it makes sense. When Walton hosted Etowah in the ninth game of the season, Jones sprained his MCL in the first half. The Raiders trailed 10-7 at the intermission and the amount of injuries was almost inconceivable. With half the offensive line injured and the quarterback (McLeod) out with a severe high ankle sprain, Walton did not go to the locker room at halftime.
Instead they went to the practice field to line-up and do a walk-thru to teach guys the plays. DJ Smith was Walton's go to guy last season and proved to be the star of this team heading into this season. He filled in at tailback for Jones and helped Walton pulled off the 21-16 comeback, rushing for two scores and receiving another.
On defense, last year's group was stepping in the shoes of the 2011 defense that was led by the Blaylock twins. Just two starters returned from that defense in 2012 and new defensive coordinator Chris Stewart stepped in. Stewart's unit improved each week and looks impressive heading into this season.
Having the blazing speed needed on defense to compete with the state's best teams is a weakness Walton has run into deep in the playoffs. In 2011 they had that speed to combine with Walton's history of tough defenses, and this year they have it also. In fact 2013 could have the fastest defense that the school has seen. Dreyon Williams was unblockable in spring practice. While the Walton offense tried to get going, they had to take Williams out at times just so they could see the play develop. Zach Williams missed last season with an ACL injury and will be an animal on defense. Smith and Taquar Stewart have moved from corner back to their natural position at safety and Walton will have one of the best safety nets in the state with that duo. In 2012, safety Colby Billings led the defense in tackles, and the safety position in the Walton system will put them in position to make big plays. Linebacker Amani Parker was injured in the first game of the season last year and returns this season as another standout.
On offense, sophomore running back Karekin Brooks will share carries with Breyon Thomas. This will allow weapons like Smith and rising sophomore Chad Clay to step in at receiver, rather than the backfield. With the weapons on this team spread out from the backfield to the boundaries, this will be a dynamic offense. Quarterback Price Wilson was 3-1 last season when he filled in for Parker McLeod and with an entire offseason to prepare for the starting role, looks poised for a breakout season.
2. ROSWELL (2012 record 3-7)
Former head coach Justin Sanderson made a statement in week 1 of the 2012 season. After going 0-10 in 2011, they opened last year by surpassing their 2011-win total with a 42-13 route over Centennial. The Hornets would drop the next six games however, and had just three remaining games to put a positive spin on another disappointing season.
They rolled past Cherokee 34-6 for their second win of the season and then battled with the No. 1 ranked team in the state, Lassiter. Roswell made a ballgame out of it, but fell 28-14. In the final game of the season they upset Walton 28-24. The 3-7 campaign was not enough to keep Sanderson, and they promoted offensive coordinator John Ford to be the new head coach. Last season this team was 1-6 heading into the final three weeks and showed they still have the heart to compete as well as the talent. Expect the Hornets to continue climbing their way back up to the top.
1. JEFFERSON COUNTY (2012 record 4-7)
Jefferson County was bumped up to Class AAA in 2012 and had to battle its way into the playoffs with a young offense. The Warriors are one of the smallest schools in the classification and were pinned in a five-team region with four particularly good teams. Their previous region in Class AA was nine teams and they played eight region games a year. Head coach J.B. Arnold and his team had to adapt to the new schedule, because with only four region games a season, each one mounts itself as a must win.
In spring practice before the 2012 season, Arnold's starting quarterback broke his leg and sophomore Will Jordan had to step in. Jordan sparked play after play and paced the young offense.
"He [Jordan] is a gamebreaker," said Arnold.
Getting his offense primed for the season has been Arnold's mission this summer as he continues to test them.
"We are going to return 10 of the 11 starters on offense this year," said Arnold. "Four of the starters were only sophomores."
With the starting role secured by Jordan, the quarterback can finally have his first offseason commanding the starting offense. This responsibility puts Jordan in control of his team in 7 on 7′s and summer workouts. Under Jordan's leadership, the team is thriving. In the National Select 7 on 7 at North Gwinnett they held a perfect record before losing in overtime to Mississippi powerhouse Olive Branch. Just weeks later Jordan led them to a championship win in the Mark Richt 7 on 7 Invitational in Athens. The Warriors finished with an 8-1 record in their first place run and played Richmond Hill, Westlake, Lanier, Stone Mountain, Washington-Wilkes, McEachern Columbia and ultimately Callaway in the championship.
"We want the stiffest competition we can find," said Arnold. "When we do 7 on 7′s, we are veterans and we do not want to play just any school."
As seen by the amount of success in the passing competitions, one of the strengths of the Warriors defense is their secondary.
"Strong safety Laderrick Hammon is the leader of this team," said Arnold. "He is just such a big and physical presence on the field."
Hammon is joined by defensive back's Coco West and T.J Clark to form the safety net of the defense. All three of these guys have been three year starters. Arnold goes with different fronts and looks on defense in order to move Hammon around and put him in the best position to make plays.
While the skill players have been lighting up the turf in 7 on 7′s, Arnold can rest assured that the remaining team has also been busy preparing this offseason.
"I have a staff of eight coaches for that," said Arnold.
Jefferson County is riding 10 straight seasons of earning a playoff berth, and this team looks capable of continuing the streak. The youth in this program has traditionally drove the Warriors to be a consistent team year after year. Running back Tyler Williams is only going to be a sophomore, but at 6-foot-1 205 pounds, the sprinter will be one of its stars. Daylan Williams played as a sophomore last year and will get the start at linebacker this season.
Senior running back Cartabius Quarterman will see lots of carries this season, and wideout Terry Lattimore will stretch the field as an exterior weapon. Dexter Grier leads the trenches at right guard and will start as a junior this season.
Kicker Seth Osteen will have to do better in his senior season and Arnold is confident he will.
"I think Seth has really improved and overall the kicking game is a place that has to get a lot better," admitted Arnold. I definitely believe it will be better this season."
The Warriors open up with Fitzgerald, Baldwin, Greenbrier, Evans and Wesleyan before region play kicks off with Dodge County.
CLICK HERE to Tweet us your feedback or a team that you would like to see on the 10 most improved list for 2013.