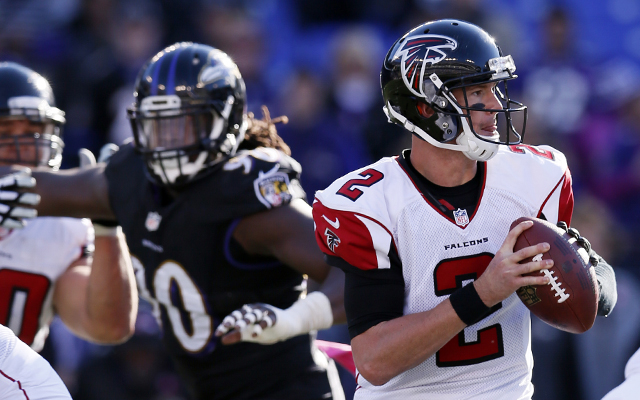 AtlantaFalcons.com
Thursday night will be the final preseason test for the Atlanta Falcons and Baltimore Ravens. The Ravens will open their season with back-to-back road games with Denver on Sept. 13 and Oakland on Sept. 20. Last year, Baltimore bounced back from an 8-8 season and missing the playoffs in 2013 to a postseason return and 10-6 record, despite a turbulent start to the season.
The Ravens secured a wild-card spot and beat the Pittsburgh Steelers 30-17 in the first round of the playoffs before losing a heartbreaker 35-31 to the eventual Super Bowl champion New England Patriots in the Divisional Round.
Offensively, quarterback Joe Flacco used his strong arm to balance out an offense that relied on Justin Forsett to fill the void left by Ray Rice. The passing game overachieved with Steve Smith Sr. leading the charge. The veteran receiver proved doubters wrong last year with his 79 receptions, 1,065 yards and six touchdowns in the regular season.
In the wild card round of the playoffs, Smith caught five passes for 101 yards, helping the Ravens defeat rival Pittsburgh for the first time ever in the playoffs. He caught another touchdown against the Pats in the Divisional Round and then announced on Aug. 10 that 2015 would be his last season.
Baltimore recognized that with the loss of wide receiver Torrey Smith to San Francisco, the team needed to add a new deep threat and used their first-round pick to scoop up former UCF speed demon Breshad Perriman. The 6-foot-3, Lithonia-native will be asked to stretch the field with his elite blend of size and speed.
The most significant change to the Ravens coaching staff this season came at offensive coordinator. Gary Kubiak is out and and Marc Trestman is in after serving as the Bears head coach the past two seasons. The offense will remain much of the same with the zone-run setting up Flacco's deep ball, however, Trestman could also find ways to use Forsett and the other running backs more in the passing game.
The Ravens have become synonymous with defense since joining the League in 1996 and this year's unit boasts a trio of hard-hitting linebackers. Veterans Elvis Dumervil and Terrell Suggs, who chipped in 17 and 12 sacks, respectively last season, joined forces with fellow linebacker C.J. Mosley last season. The former Alabama star was Baltimore's first round selection in 2014 and burst onto the scene with an outstanding rookie season. Mosley finished the year with 133 tackles and tied for the team lead with two interceptions.