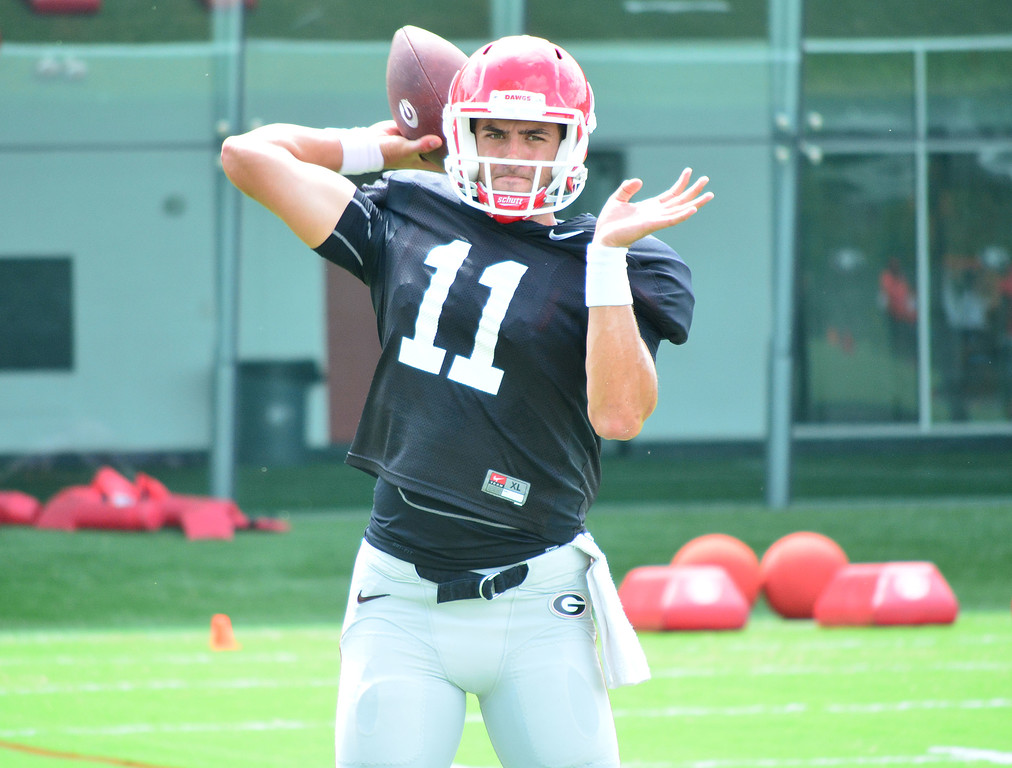 Steven Colquitt/ Georgia Athletics
ATHENS, Ga.- – Throughout this entire process of "who will be the starting quarterback?" The Bulldogs players and coaches have always been consistent on their answer, "it doesn't matter."
Maybe it wasn't in those exact terms and the context of that sentiment would come off as negative. However, Greyson Lambert, Brice Ramsey and Faton Bauta all were showered with compliments from Head Coach Mark Richt/players.
That narrative continued on into the first Tuesday season media session for the Bulldogs, in advance of their home opener with ULM. Richt praised junior quarterback Lambert for being able to come in and learn so much in a short amount of time.
"To be able to learn a new system in the time frame that he had to learn it shows some maturity," Richt said. "We talked about this last night after practice, some of the things that we talked about is maturity. What we might have seen on film at Virginia from the Virginia tape, that was certainly part of the reason we brought him in, but whatever we saw on the Virginia tape had nothing to do with him winning the job. Everything is based on what has happened at Georgia since day one of practice in the fall, that 's how the decision was made. He covered a lot of ground in a pretty short time as far as figuring things out, so you have to give him credit for that."
Richt thinks that Lambert endeared himself to the team with the way he came to campus and jumped in with the team in a quick amount of time. Even though he is an upperclassman, redshirt sophomore Brice Ramsey and junior Faton Bauta have been here longer. He believes the team is 100 percent behind this decision.
"I'm not concerned about the chemistry issue," Richt said. "I think Greyson is a guy who is a team guy and a guy that worked his tail off. I think he gained the respect of the team, just as the other quarterbacks have over time."
We learned yesterday that the players were told of the decision after practice. The quarterbacks found out before Monday's work.
Richt says that even though he's not promising Ramsey or Bauta playing time on Saturday. He did quote Winston Churchill about preparation when talking about their need to stay ready for any unseen opportunities that may arise.
Players like senior wide receiver Malcolm Mitchell says he didn't have any particular feelings about who they were going to name at starting quarterback.
"My reaction was 'let's go, let's play football,'" Mitchell said. "Now we know who is going to lead the team. It's his job to make it happen. I don't think I would have been surprised regardless of who he picked. Like I said, they did such a good job of rotating them, you could have picked any of the three and I feel like everything would have been in sync."
In terms of picking between the three, Mitchell says that he didn't care who the starter was because he would have to "catch the ball the same way, regardless of who throws it."
The man who's name has been mentioned a lot in regards to the position battle is running back Nick Chubb. Why has the sophomore's name been brought up so much? Because people say the starting quarterback can just turn around and hand off to him.
That said, Chubb is glad a decision has been made.
"I like things settled down knowing who you're going to play with so you can plan on that," Chubb said. "So, I'm happy that we have a quarterback going into the first game. I think that also depending on how he plays we still have two other quarterbacks that are very good who are right behind him. I don't think the competition is over, I think we just needed a starter before the season."
It will be interesting to see how the quarterback battle goes into the season. If indeed it will be the Greyson Lambert show or if Ramsey could find his way onto the field.