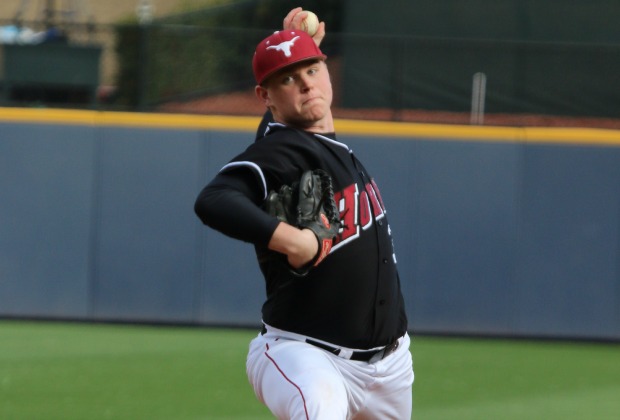 Photo by Whitney Reddin
The first round of the GHSA State Baseball Tournament has already changed the landscape of the upcoming rounds. In Class 6A, the nation's preseason No. 1 ranked team and defending state champion Lambert (20-9) was defeated in three games by postseason arch rival Milton (18-6). The Longhorns were not the only No. 1 seed ousted in the first round. East Coweta (19-8) and Tucker (17-9) were also greeted with rude exits.
In Class 5A, Starr's Mill (21-4), a No. 1 seed and the top ranked team in our final pre-playoff polls, was stunned by South Effingham (20-7). The Mustangs clawed out wins of 2-1 and 14-13 to defeat the powerful Panthers. No. 1 seed Richmond Hill (18-7) saw its season end prematurely thanks to Northgate (15-6). The Wildcats had entered the playoffs on a 12-game win streak. Greenbrier (20-3) fended off No. 4 seed Hardaway (17-12) in three games.
Defending 4A champion Carrollton (12-16) snuck back into the postseason but was quickly turned away by No. 1 seed St. Pius (26-2) in two games. Four-seed Upson-Lee (16-9) knocked off No. 1 seed Crisp County (20-8) in three games.
Out of the eight No. 1 seeds in 3A, three went to series deciding third games. Four-seed Hart County (15-14) upset No. 1 Franklin County (20-6). No. 1 seed Jackson (23-5) held on against Jenkins (13-14). Callaway (20-7-1) knocked off upset-minded four-seed Adairsville (13-12-1). Blessed Trinity (25-2) and Pierce County (26-2) are the top two ranked teams entering the playoffs and proved why in round one. The Titans won 10-0 and 19-0 while the Bears won 10-1 and 15-0.
The only surprise in 2A was four-seed Harlem (16-11) beating Monticello (16-10). The Bulldogs now face the stiff test of Lovett (22-5) in round two after the Lions swept Bowdon (18-0) by a combined score of 32-2.
Two of the three top seeded teams in Class A-Public were challenged in the opening round. No. 2 seed Charlton County (21-5), who is looking to three-peat, beat Lanier County (13-13) in three games, winning the clincher 7-3. No. 3 seed Miller County (16-8) was unable to escape No. 14 Commerce (14-15). The Pirates lost 5-2 in the rubber match.
Round two of Class A-Private will be highlighted by a meeting between the past two state champions. Defending champ King's Ridge (23-3) will lock horns with 2013 champion Eagle's Landing Christian (19-3), who is riding a 16-game winning streak.