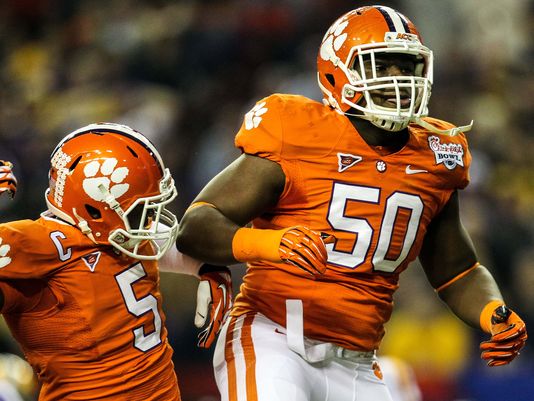 Daniel Shirey/ USA Today
FLOWERY BRANCH, Ga.– The Falcons decided to move up in the fifth round of the draft to pick Clemson defensive tackle Grady Jarrett. That name might sound familiar with their newest addition becoming the second Georgia native to be picked by the team this year.
Jarrett was a three-sport athlete at Rockdale County High School and grew up just an hour from the team's facility in Conyers. He also has a family connection to the team that we'll get into later.
The Falcons moved up in the fifth round to draft Jarrett, by trading picks with the Vikings. They also gave up their sixth round pick so they could take the Clemson defensive tackle.
That being said it was not all positives though for Jarrett on this Saturday. Last night he was watching the second round of the draft, when they noticed something was wrong at his house in Conyers.
"We were just watching the draft and smelt something a little funny," Jarrett said. "We went to the kitchen and nothing was going on in there. Then, some people came running down from upstairs and the fire had already started on the wall. It was too much for water to put out and a fire extinguisher to put out. We couldn't do anything except get everybody out of the house and pray for the best."
Yes, you are reading that right. The house that Jarrett lived in for 20 years went up in flames on the night that he thought he was going to get drafted.
At this moment, Jarrett says they do not know what caused the fire. Jarrett says that trophies and other accolades were lost. He added that it can be replaced and insurance will take care of the rest. He's just thankful that everyone inside got out safely.
The fire happened right around when the Falcons were picking in the second round.
This was the house that his mother Elisha lived and for now they will stay with a cousin of his in nearby Covington.
Back to the family connection and why that name might sound familiar, because Jarrett is the son of Falcons Hall of Famer Jessie Tuggle.
The family connection to the Falcons is definitely there in a huge way. In fact his draft day announcement was made in a special way.
"He's ecstatic," Jarrett said via conference call. "He actually was the one to read my name off on a card at the event (Falcons draft party at the College Football Hall of Fame) he was at and he thought it was a joke. It just couldn't have been a better place, better time, and I'm looking forward to really great things in the future."
What a neat moment that had to be for Tuggle to announce the pick to the nation. It just happened to work out that way, like LSU alum Todd McClure reading off Jalen Collins name in the second round.
Tuggle is not his only NFL connection, because he calls future hall of fame linebacker Ray Lewis his "uncle." They are not directly related, but says that through a friendship with his mother they were able to connect at a young age.
"He's been in my life since I was five years old," Jarrett said. "He's just always been close with my family and we've just been really close. I call him my uncle. Blood couldn't make us any closer. I'm just super fortunate to have him in my life."
Before speaking with the media, Jarrett had a chance to speak on the phone with his father and Ray. Of course they both couldn't have been more proud of him.
Jarrett comes to a good situation in Atlanta, with Quinn taking over the team. That is because Dan Quinn has been highly respected in football for his work with defensive linemen.
Now the Rockdale County native is ready to get to work in a system that he feels fits his skillset.
"I feel like my versatility is an asset to me," Jarrett said. "I can play the one or the three (technique). I feel like the three is going to be my best asset. I love the style that coach Quinn wants to play and I just couldn't land in a better situation."
It just goes to show you that life is full of high's and low's. Jarrett says he's fully realized this today.
"It's almost impossible to get that mix of emotions together," Jarrett said. "All at one point, with the draft going on and then the fire. Just a lot of different things going on."
The Falcons have picked Jarrett and that is a huge positive. He gets to play for the team he grew up watching while living in Conyers and that's another positive. He gets to play for his father's team and that's another positive. Plus, his new employer is sending over clothes  and they've offered to help in any way they can.
All in all, it sounds like positive momentum is rightfully heading his way after a really tough night. Plus, he also gets to join a good friend/teammate in Vic Beasley. That is definitely another positive.