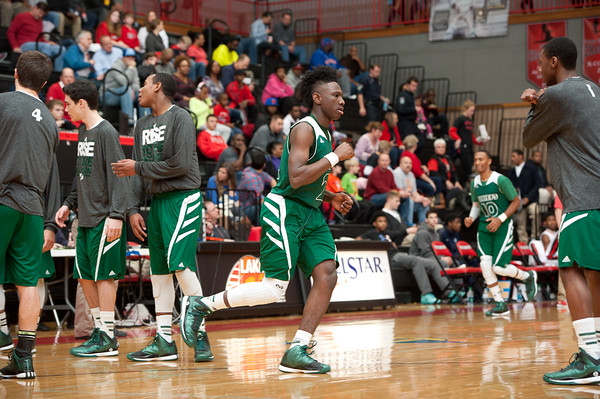 Photo by Ty Freeman
The Osborne girls used a 63-50 road win over Hillgrove last Friday to reclaim No. 1 in Class AAAAAA. Parkview jumped to No. 2 and Mountain View makes its debut in the top 3 after edging Norcross 45-43. North Forsyth avenged its 52-50 loss to South Forsyth last month with a 55-49 win on Friday and improved to No. 4.
In Class AAAAA, the top 10 stayed in tact and Class AAAA saw Americus-Sumter leap Mary Persons for No. 5 and Veterans bump St. Pius for No. 3.
Washington County's 14-point loss to Laney dropped the Golden Hawks to No. 8 in Class AAA and Union County took over No. 10 in Class AA with its eighth-straight win.
In Class A, Mitchell County fell to Terrell County and Atkinson County debuted at No. 10.
BOYS…
In Class AAAAAA, Pebblebrook dominated Douglas County 71-43 and took over No. 2. The loss dropped Douglas County out of the top 10 for the first time and Alpharetta re-entered at No. 10.
Cedar Shoals and Southwest DeKalb dropped out of the Class AAAAA top 10 and Warner Robins (No. 8) and Stockbridge (No. 10) returned to the poll.
Liberty County replaced Stone Mountain at No. 9 in Class AAA and Greene County took over No. 10 in Class A for Coosa.
BOYS
Class AAAAAA
1. Wheeler
2. Pebblebrook
3. Tift County
4. Norcross
5. Shiloh
6. Tucker
7. Pope
8. Hillgrove
9. Langston Hughes
10. Alpharetta
Class AAAAA
1. Miller Grove
2. McIntosh
3. Allatoona
4. Gainesville
5. M.L. King
6. Brunswick
7. Carver-Columbus
8. Warner Robins
9. LaGrange
10. Stockbridge
Class AAAA
1. Jonesboro
2. Johnson-Gainesville
3. St. Pius
4. Lithonia
5. Carrollton
6. Burke County
7. Americus-Sumter
8. Albany
9. Liberty County
10. Columbia
Class AAA
1. Laney
2. Jenkins
3. Cedar Grove
4. Morgan County
5. Johnson-Savannah
6. South Atlanta
7. Blessed Trinity
8. Butler
9. Rutland
10. East Hall
Class AA
1. Pace Academy
2. Seminole County
3. Holy Innocents'
4. Vidalia
5. Crawford County
6. Greater Atlanta Christian
7. Harlem
8. Model
9. Thomasville
10. Greene County
Class A
1. St. Francis
2. Greenforest Christian
3. Athens Christian
4. Wilkinson County
5. Whitefield Academy
6. Hancock Central
7. Calhoun County
8. Treutlen
9. Greenville
10. Turner County
GIRLS
Class AAAAAA
1. Osborne
2. Parkview
3. Mountain View
4. North Forsyth
5. South Forsyth
6. Woodstock
7. Archer
8. West Forsyth
9. Langston Hughes
10. Norcross
Class AAAAA
1. Brunswick
2. Mays
3. Effingham County
4. Sequoyah
5. Stephenson
6. Grovetown
7. Southwest DeKalb
8. Forest Park
9. Greenbrier
10. Woodland-Henry
Class AAAA
1. Jonesboro
2. Buford
3. Veterans
4. St. Pius
5. Americus-Sumter
6. Mary Persons
7. Bainbridge
8. Marist
9. Griffin
10. Northwest Whitfield
Class AAA
1. Dawson County
2. South Atlanta
3. Kendrick
4. Decatur
5. Laney
6. Beach
7. Jefferson
8. Washington County
9. Westminster
10. Morgan County
Class AA
1. Holy Innocents'
2. Pelham
3. Wesleyan
4. Model
5. Vidalia
6. Thomasville
7. Putnam County
8. Manchester
9. Darlington
10. Union County
Class A
1. St. Francis
2. Southwest Atlanta Christian
3. Taylor County
4. Tattnall Square
5. Savannah Country Day
6. Claxton
7. Turner County
8. Calvary Day
9. Stratford Academy
10. Atkinson County