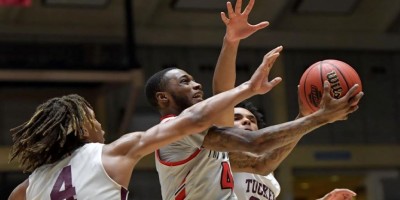 PHOTO: HYOSUB SHIN / HSHIN@AJC.COM
Basketball action continued Saturday and on the boys side, Class A-Private No. 3 Walker took a 78-66 victory over Class AAAAA No. 6 Carrollton to move to 3-0 on the season.
Walker carried a 24-15 lead into the second quarter and extended it with a 20-16 run before halftime. The Wolverines weathered a 24-16 run by Carrollton in the third quarter and responded with an 18-11 effort in the fourth quarter to put the game away.
In Class AAAAAA, No. 5 Chattahoochee defeated Kennesaw Mountain 65-52 to move to 4-1 on the season after victories over Berkmar, Heritage-Newnan and Centennial. It's lone loss came against Pope 67-61. No. 7 Lanier got a 60-41 victory over Class A-Private No. 9 Holy Innocents' led by Iaajah Phillips' 14 points and Sion James' 11 points. For Holy Innocents', Garrison Powell led with 12 points and Chance Moore scored eight points. In Class AAA, No. 7 Greater Atlanta Christian moved past Monroe Area 62-48 to move to 2-1 on the season.
On the girls side, Class AAA No. 5 Dawson County beat Madison County 69-55 after trailing 19-17 entering the second quarter. At the half, the Tigers trailed 31-28 but outscored Madison County 20-9 in the third quarter to take the lead. Maddie Anglin and Sophia D'Oliveira led with 15 points each. Mariah Benson scored 14 points, Marlie Townley netted 12 points and Kirklyn Porter added seven points. Avery Herring finished with six points.
In Class AAAAAA, No. 7 Langston Hughes beat Class AAAAA No. 9 Starr's Mill 58-45 to rebound after losing its first two games.  In Class AAAAAAA, No. 2 Cherokee beat Class AAAAAA No. 4 Creekview 58-37 to move to 4-0 on the season. Class AAAA No. 7 Woodward Academy defeated Paideia 85-46 to stay perfect on the season at 6-0.
See the rest of the basketball scores below.
Boys
Alexander 53, Archer 50
Apalachee 71, Powdersville, SC 59
B. T. Washington, FL 71, Columbus 64
Butler 61, Salem 57
Byrnes 66, Rockdale County 42
Cedar Shoals 55, Cedar Grove 52
Chattahoochee 65, Kennesaw Mountain 52
Cherokee 56, Blessed Trinity 32
Dacula 77, Lumpkin County 66
Dalton 74, Fort Payne, Ala. 65
Greater Atlanta Christian 62, Monroe Area 48
Loganville 59, Loganville Christian 45
Lovejoy 69, Hapeville Charter 54
Mill Creek 56, South Gwinnett 47
Northside-Warner Robins 67, Bleckley County 47
Richmond Hill 63, Hephzibah 60
The King's Academy 59, Lassiter 58
Veterans 76, Putnam County 36
Walker 78, Carrollton 66
Girls
Alcovy 40, Bethlehem Christian 30
Alpharetta 60, Redan 48
Butler 62, Evans 54
Cedar Shoals 47, Etowah 34
Central-Carroll 70, Bremen 55
Cherokee 58, Creekview 37
Cristo Rey Atlanta 59, Chamblee 14
Darlington 58, Model 48
Druid Hills 42, Lumpkin County 40
Glynn Academy 66, Ware County 15
Harris County 48, Newnan 37
M. L. King 46, New Manchester 43
Montgomery County 48, Long County 37
Morgan County 48, North Gwinnett 25
North Cobb 63, Pope 52
Northside-Warner Robins 47, Bleckley County 26
Putnam County 65, Veterans 48
Rome 71, Chapel Hill 36
Savannah Country Day 51, St. Andrews 15
Sequoyah 59, Centennial 16
Stratford Academy 58, Strong Rock Christian 26
Trion 46, Pepperell 38
Walnut Grove 26, Social Circle 23
Wesleyan 51, Norcross 42
Woodward Academy 85, Paideia 46