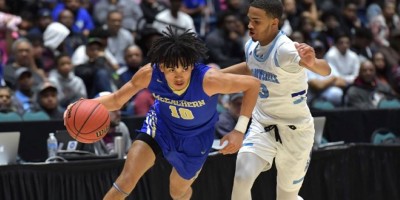 Thanksgiving basketball tournaments continued Monday as teams enjoy the holiday break by competing in one of the numerous events across the state. Here is a glance at some of the action from the evening.
A powerhouse showdown is set when Class A-Private No. 3 Wesleyan and Class AAAAA No. 1 Buford girls meet in the championship game of the Dacula Tip-Off Classic on Tuesday after both teams advanced in the semifinals. On the way to the finals, Wesleyan defeated Class AAAAAA No. 6 Dacula 57-46. Senior Avyonce Carter led the Wolves with 24 points and eight rebounds. Junior Paige Lyons added 16 points and four assists. Junior Alyssa Phillips scored seven points and grabbed 12 rebounds for Wesleyan. Buford moved past Valdosta 66-37 to secure the championship berth. Senior guard Tate Walters led with 15 points and Tamori Plantin, a sophomore powerforward, and Abbi Perkins, a junior wing, each scored eight points. Buford has won the past three AAAAA titles and has seven to its name. Since 2002 when Wesleyan won its first title, the Wolves have won 13 championships and three since 2015 – which includes a streak of six-straight from 2008 to 2013.
In the Charles Cooper Invitational at Lowndes High School, Class AAAAAA's Brunswick, which fell out of the top-10 in the Week 2 Score Atlanta rankings, weathered a 16-point deficit to beat Class AA Thomasville 65-61. Brunswick trailed 13-8 after the first quarter and 38-22 at the break. The Pirates clawed back with a 22-13 effort in the third quarter and gained control with a 21-10 run in the final frame. Jaden Dunham led Brunswick with 21 points and 15 rebounds. Xavier Bean scored 15 points. Cameron Johnson scored 10 points. Clifford Davis paced Thomasville with 26 points.
On the girls side of the Charles Cooper Invitational, Brunswick defeated Calhoun County 45-39 led by Makaila Brown, a junior center, who scored 15 points and grabbed nine rebounds. Brunswick led 14-9 after the first quarter and 27-16 at the break. Calhoun County climbed back into the game with a 16-10 effort in the third quarter but could not make a run. Brunswick senior guard Jaliyah Howard scored eight points and Keya Daniels, a senior shooting forward, scored six points with eight rebounds and five assists.
In the Gladiator Showcase at Johns Creek — a marathon day of basketball, consisting nine games in 12 hours — completed Day 2 and Walton's 60-50 victory over Duluth in the penultimate game of the evening highlighted the action. Luka Avaliani led Walton with 17 points. Pearce Spurlin added 12 points for the Raiders. Tristan Johnson and Will Peaks each scored 10 points for Duluth. The marathon day began with Northview's boys defeating King's Ridge 64-45 in the 8:30 a.m. game. Elbert County's girls defeated Crawford County 66-15 in the second game of the day. Marist's girls bested Oconee County 56-23 in the third game. In the day's fourth game, West Forsyth's boys beat Collins Hill 91-70. The Johns Creek girls were up next and defeated Lambert 60-39. The Johns Creek boys beat Creekside 78-58 in the sixth game of the day. Marietta moved past Centennial 67-20 in the seventh game.
In the Andy Landers Classic at Clarke Central, the Hebron Christian girls, ranked No. 4 in Class A-Private, defeated the hosting Gladiators to move to 5-0 on the season. Junior Malia Fisher, a 6-foot-2 power forward, led with 26 points, 17 rebounds and five steals. Junior Nicole Azar, a 5-11 guard, added 22 points, eight assists and four steals. Jessie Parrish, a 6-2 junior center, scored 16 points, grabbed eight rebounds and had five assists. Junior guard Ella Heard made five 3-pointers on the way to an 18-point performance.
In the Tabo's Tip-Off Classic at Jefferson High School, the AAA No. 10 Lumpkin County girls moved to 5-1 on the season after beating Winder-Barrow 58-39. The Indians were paced by junior Isabel Davenport's 23 points. Freshman Lexi Pierce added 13 points and junior Makenzie Caldwell scored 12 points. Freshman Kate Jackson finished with six points. The hosting Lady Dragons beat Druid Hills 43-39 and were paced by Deshona Gaither's 17 points. Courtney Kidd scored 14 points with 10 in the fourth quarter. Kyia Craft's 19 points led Druid Hills.
At the Piedmont College Hardwood Classic, the Lakeview Academy boys defeated Rabun County 68-55. Declan Weidner, a 6-5 junior guard, led with 24 points. Conley Millwood, a 6-2 junior guard, added 19 points. Senior Sam Stewart, a 6-1 guard, scored seven points. Holden Cooper, a 6-2 senior guard, scored six points.
See the rest of the scores below.
Boys
Brunswick 65, Thomasville 61
Buford 71, Discovery 53
Camden County 53, Glynn Academy 47
Cass 84, Fort Payne, Ala. 73
Cedar Shoals 90, Valdosta 82
Chamblee 67, Stone Mountain 42
Cherokee 67, Dawson County 62
Cherokee Bluff 62, South Forsyth 59
Clarke Central 68, Starr's Mill 47
Decatur 71, Forest Park 51
Deerfield-Windsor 47, Chattahoochee County 45
East Jackson 65, North Murray 51
East Paulding 79, Rome 64
Eastside 87, New Creation 36
Forsyth Central 67, M. L. King 52
Grayson 81, Milton 80
Greater Atlanta Christian 55, Dacula 42
Greene County 58, Putnam County 56
Johns Creek 78, Creekside 58
Lakeview-Fort Oglethorpe 41, Lookout Valley 37
Lassiter 61, Furtah Prep 55
Loganville 53, Social Circle 43
Loganville Christian 67, George Walton Academy 36
Lowndes 74, Crisp County 45
Luella 67, Washington 64
Lumpkin County 77, Monroe Area 67
Mill Creek 66, Marietta 57
Mt. de Sales 61, Brookstone 35
Murray County 87, Ridgeland 45
New Hampstead 62, Tattnall County 50
North Cobb Christian 65, Cumberland Christian Academy 52
North Forsyth 60, Brookwood-Thomasville 51
North Oconee 71, Banneker 36
Northview 64, King's Ridge 45
Paulding County 85, Sprayberry 70
Peachtree Ridge 69, Alexander 68
Pickens 51, Fannin County 44
Rockdale County 63, Madison County 47
Roswell 58, Wando, SC 46
Sequoyah 100, Kennesaw Mountain 72
Shiloh 99, Chattahoochee 95
Signal Mountain, Tenn. 62, Ringgold 39
St. Pius X 78, Flowery Branch 28
Stephens County 73, Pendleton 60
Towns County 73, Highlands 55
Walker 61, Hillgrove 51
Walton 60, Duluth 50
West Forsyth 91, Collins Hill 70
Westminster 63, Grace Christian 39
White County 58, Union County 46
Woodville-Tompkins 55, Bradwell Institute 27
Girls
Alexander 41, North Clayton 32
Alpharetta 48, Shiloh 33
Americus-Sumter 64, Harrison 39
Archer 48, Decatur 15
Armuchee 53, Temple 22
Athens Academy 35, Georgia Military 30
Beach 55, Baldwin 43
Blessed Trinity 50, Chattahoochee 24
Bradwell Institute 59, Woodville-Tompkins 41
Brunswick 45, Calhoun County 39
Buford 66, Valdosta 37
Calhoun 45, Section, Ala. 20
Campbell 79, Lithonia 20
Cedar Shoals 62, Morgan County 38
Central-Carroll 58, Bowdon 50
Cherokee 61, Dawson County 26
Creekview 62, Madison County 55
Darlington 65, Chattooga 51
Denmark 38, Redan 37
Eagle's Landing Christian 56, Heard County 29
East Coweta 63, Columbus 9
East Jackson 55, Berkmar 21
Etowah 47, North Gwinnett 42
Fannin County 80, Pickens 73
Gilmer 41, Hiawassee Dam 35
Glynn Academy 52, Johnson-Savannah 44
Greater Atlanta Christian 58, Stone Mountain 31
Greenville 64, Harris County 38
Habersham Central 61, East Hall 56
Hebron Christian 89, Clarke Central 42
Heritage-Conyers 0, Apalachee 0
Houston County 60, Ware County 29
Islands 47, Habersham Central 20
Jefferson 43, Druid Hills 39
John Paul II, SC 42, St. Vincents 32
Jonesboro 46, Northside-Columbus 42
LaGrange 60, Pike County 45
Lakeview-Fort Oglethorpe 39, Lookout Valley 37
Lithia Springs 54, Dutchtown 51
Loganville 70, Social Circle 32
Lowndes 60, Crisp County 17
Luella 57, Grayson 52
Lumpkin County 58, Winder-Barrow 39
M. L. King 54, Lassiter 21
Marietta 67, Centennial 20
Mary Persons 37, Tattnall Square 30
Model 60, Cedar Bluff, Ala. 45
Monroe Area 55, Mountain View 50
Montgomery County 50, Irwin County 24
Mt. de Sales 40, Brookstone 33
Newnan 64, McIntosh 35
Newton 42, Forest Park 29
Norcross 56, Flowery Branch 41
North Oconee 58, Banneker 30
Northside-Warner Robins 50, South Atlanta 0
Parkview 57, Stephenson 37
Pebblebrook 68, Central Christian 32
Pepperell 54, Unity Christian 23
Putnam County 59, Greene County 27
Ridgeland 63, Murray County 62
Riverwood 62, Cristo Rey Atlanta 45
Rome 70, East Paulding 36
Roswell 77, Grady 73
Savannah Christian 78, South Effingham 47
Signal Mountain, Tenn. 51, Ringgold 50
South Forsyth 74, Cherokee Bluff 42
Southwest DeKalb 51, Woodland-Stockbridge 46
St. Pius X 47, Miller Grove 27
Trinity Christian 63, Westminster 50
Trion 41, Walker 33
Union County 66, West Hall 42
Wesleyan 57, Dacula 46
West Forsyth 44, Rockdale County 35
Woodstock 47, Cambridge 34